UM-Flint Chancellor Susan E. Borrego Delivers State of the University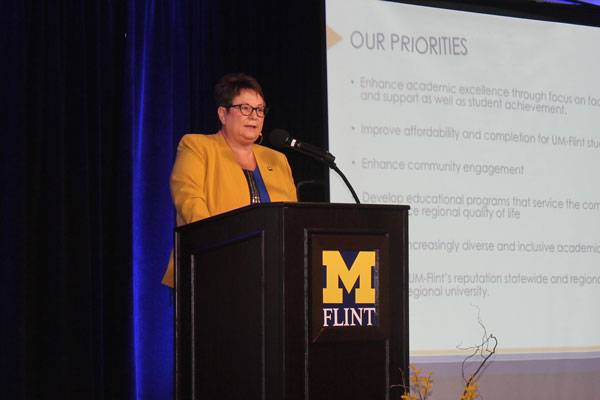 The University of Michigan-Flint will continue to leverage its talents and resources to help the broader community during the Flint water crisis, Chancellor Susan E. Borrego said in her State of the University address Wednesday.
"Flint is a strong and resilient community," Borrego said. "As an anchor institution in Flint, I believe our leadership role as a University is both to address the most pressing and immediate needs that align with our mission, and work shoulder-to-shoulder with this community and its leaders to help define what comes next in Flint."
Borrego again confirmed that UM-Flint drinking water, tested and filtered for more than a year, is safe. However, she underscored the fact that the future of the university and city are intertwined. She pointed to numerous university contributions to tackling the problem so far, such as nursing students helping the Genesee County Health Department with lead testing, the university's water crisis course offered free to the community this semester and for credit to students, and the GIS Center helping to map lead service lines under the supervision for Professor Marty Kaufman, PhD.
"This is home for us and we will work with our community towards creating that stronger future," Borrego said.
Borrego said the university and city's story extend far beyond the water crisis.
"We cannot allow the university and the city to be defined by it," she said. "We must not minimize the impact of the crisis, but Flint is more than a water crisis."
Part of that story is UM-Flint's commitment to public engagement.
"The work of public engagement is a different, powerful, transformative kind of work and absolutely at the core of this university," Borrego said. "We have the opportunity to work with our community to produce research that makes a difference in lives and communities. UM-Flint has a history of public engagement and we will continue to strengthen that commitment with resources organized to enhance the connection between community and university."
During her address, Borrego celebrated numerous achievements by faculty, staff, students, and the overall university, such as a new master's in Applied Communication program; the Physical Therapy department establishing residency programs in pediatric and neurologic physical therapy, in addition to the previously established orthopedic residency; and social work interns working in Genesee Family Court to advocate for parents and children.
"In addition to many examples of progress and engagement, we are laying the groundwork for the future," Borrego said, citing examples such as:
Of the Riverfront and FirstMerit agreements, Borrego said, "This unprecedented addition to UM-flint provides growth opportunities and demonstrates confidence in the university's future."
Borrego also said a major focus of the university is helping students succeed.
"Student completion continues to be a primary focus of our attention," she said. "My commitment to increasing student success is about high expectations and effective support. It's about policies and practices that enhance learning, about providing a coherent curriculum and pathways for progress to degrees in ways that increase retention and completion."
The students at UM-Flint, Borrego said, are "role models for us all."
"Throughout the semester they have gathered in support of each other and their peers throughout the world. They have held vigils and difficult dialogues, laughed, cried, and talked of their fears and hopes. Many of our students have worked together to champion the collective good, to understand and to be understood, and to make the world a better, more accepting place."
Richard Russell, a special projects coordinator in the dean's office of the School of Education & Human Services, said the chancellor's presentation was "encouraging," as the university partners with the city of Flint and utilizes its academic and research skills to help with the water crisis.
"It is one of those presentations that brings me hope, and hopefully brings the community of Flint hope," he said.
Amged Eidelsafy, president of the UM-Flint Student Government, said he liked the chancellor's focus on diversity, inclusion, and student success. And the emphasis that the university is part of a larger community.
"Today was a great reminder," he said.
Contact University Communications & Marketing with comments, questions, or story ideas.