UM-Flint Celebrates Giving Blueday December 1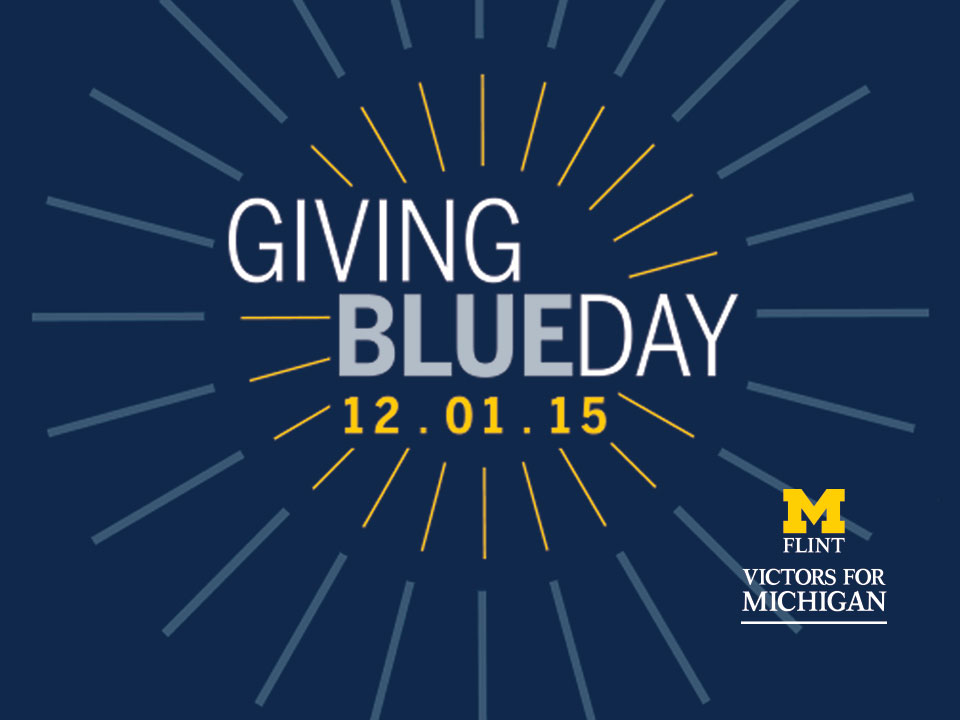 Giving Blueday—a time to celebrate and support what you love about the University of Michigan-Flint—marks its second year on December 1.
The day is a unique opportunity to make a difference in the lives of UM-Flint students. It is held on Giving Tuesday, a global day of giving.
"Giving Blueday is significant in that it gives our alumni, faculty, staff, students, and friends the chance to put the maize and blue spin on Giving Tuesday," said Linda Moxam, the Executive Director of Development at UM-Flint. "Last year, in just its first year, we had more donors on Giving Blueday than any single day in the history of UM-Flint."
On last year's Giving Blueday, 113 donors made 118 gifts totaling $18,920. The gifts were spread out across campus, benefiting each major, school and college, and several different departments, programs, initiatives, and scholarships. One area was the Women's Educational Center, which received 28 gifts for its Critical Difference Grant. This grant helps students experiencing emergency financial hardship.
"The majority of the gifts to UM-Flint on Giving Blueday are within the $5 to $150 range, but it's not the size of the gift that matters," Moxam said. "It's all of us coming together to support our students and our university through the Victors for Michigan Campaign. Giving Blueday is a rallying point for our university community to celebrate all the things that make UM-Flint great."
When making a donation, those who give can designate what school, department, or other entity should receive the funds. Within this designation, the donor can select an area or areas of highest need.
The day features several matching gifts and challenges that can help one's funds have an even broader reach.
Stay connected with UM-Flint on Facebook, Twitter, and Instagram using the #GivingBlueday hashtag for interactive social media content, challenges, and real-time updates.
Contact University Communications & Marketing with comments, questions, or story ideas.