They Joined the Band: Two UM-Flint Students Perform in Michigan Marching Band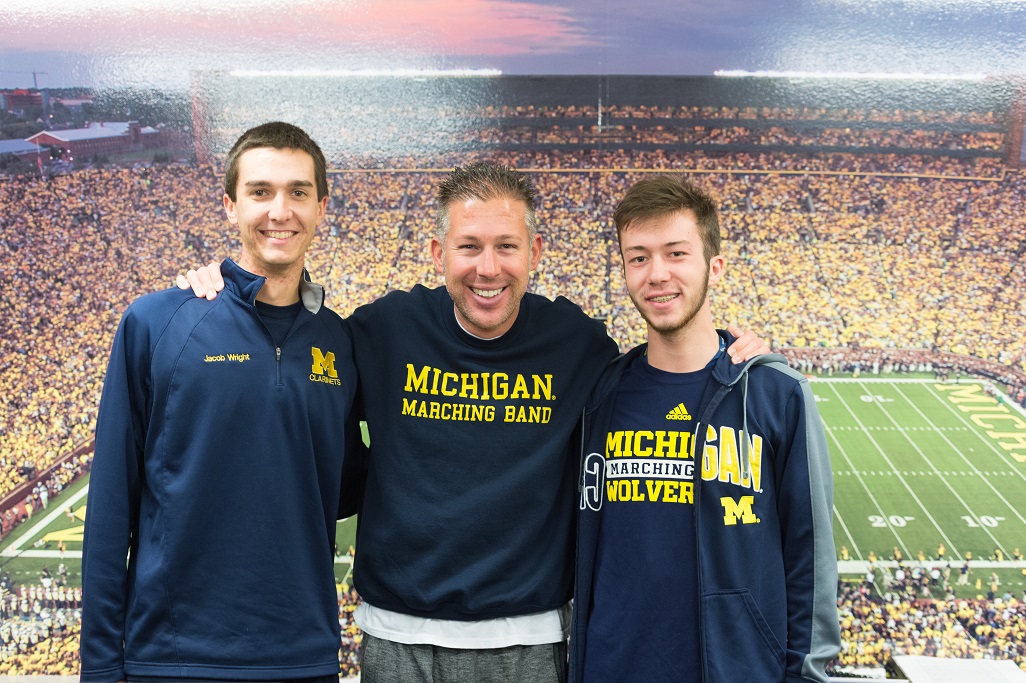 Jacob Wright has reached the pedestal. And the University of Michigan-Flint senior is enjoying every musical moment on it.
Wright joined the Michigan Marching Band this year, one of two students from UM-Flint in the band of about 400. The University of Michigan band includes students from the campuses of Ann Arbor, Flint, and Dearborn.
Wright, who plays clarinet, and freshman Luther Houle, who plays trombone, commute every weekday to Ann Arbor from Flint for rehearsals. Wright said the time crunch is worth it when game time comes along and he's performing with the band at University of Michigan football games at "The Big House" in front of more than 100,000 people. Wright grew up idolizing the Michigan Marching Band.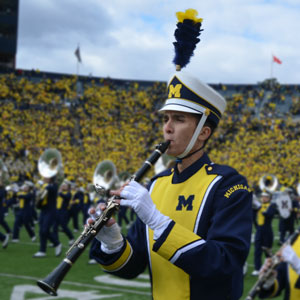 "When I think of when I was in middle school and high school, with how I saw the band, I put them on a super high pedestal. You kind of think sometimes how you walk past crowds and they are looking at you the same way and you just don't believe it," said Wright, a senior majoring in criminal justice.
He attended Swartz Creek High School. This is his second year at UM-Flint after transferring from Eastern Michigan University.
The band typically rehearses 90 minutes every weekday. On game day, rehearsals start several hours before kickoff. In year's past, the band has performed some regular season road games, but this year, the group has focused on regular season home games. If Michigan makes the Big Ten Championship game at Lucas Oil Stadium in Indianapolis, a portion of the band will travel to this contest. Also, a portion of the band will travel to any potential bowl game.
Houle, who attended Bay City Central High School, started his first semester at UM-Flint this fall. Performing in the school band has been a staple in his life since 6th grade, and like Wright, he looked up to the Michigan Marching Band. His impressions of the band inspired him to research UM-Flint, and his research and interactions with the admissions staff left him pleased.
"I was really impressed with the response they were giving me, and the phone calls they were making, and they seemed really interested in me. So I decided to come here," said Houle, who has not declared a major.
This summer, both passed auditions. Wright emailed the staff on the final day of auditions to see whether he could still try out. He received a message back, encouraging him to come but he only had a handful of hours before auditions ended. Wright drove to Ann Arbor, played two pieces, and went home. That night, he received an e-mail that he made it.
"It was all so fast," Wright said.
Houle shared his good news right away with his dad.
"That was a pretty good day. I forwarded it to my dad, who was in his bedroom, and I heard him scream all through the house," Houle said.
There is a "challenge" process for each game which helps decide which students will perform different parts of the production. This is done on Fridays before games, but help set the rosters for not the following day's contest, but for the game after the immediate game, said John Pasquale, director of the Michigan Marching Band. There are 225 students who perform at pregame, and 289 at halftime, he said. All students who perform at pregame also participate in halftime. The rest of the band members are the reserves. They perform in the stands, during postgame shows, and sometimes for portions for the halftime show, he said.
Wright has performed at all six home games so far, including all but one pregame performance. He is slated to perform in the November 28 home game versus Ohio State. Houle has been a reserve so far this season. He will be performing as a reserve at the Ohio State game, which will include performing for part of the half-time show.
Wright said his first game, September 12 versus Oregon State, was "mind boggling." He high-fived head coach Jim Harbaugh, shook hands with Michigan men's basketball coach John Beilein, and felt the thrill of surging out of the tunnel, with more than 100,000 fans cheering.
"You never forget your first game," he said.
The energy at the games, and contributing to the school spirit, makes the long drives and practices well worth it, both students said.
"I love when I am entering or leaving through the tunnel and I'm walking along the sides and there are just crowds of people, and there are kids reaching down there, and they want high fives," Houle said.
Having students from all three campuses contributes to the school spirit, Pasquale said.
"We value the collaborative nature of a unified front to showcase the true Michigan spirit," Pasquale said. "Having three campuses so close to each other I think is invaluable to the experience of the students of all three campuses, and bringing them to one centralized location certainly provides them an atmosphere to experience the true Michigan spirit."
Wright said the experience has been something to cherish.
"I feel it motivates me. Every day I get up is another chance for me to live the dream," he said.
Contact University Communications & Marketing with comments, questions, or story ideas.