UM-Flint Grad Student Combines American Indian Heritage with Teaching Goals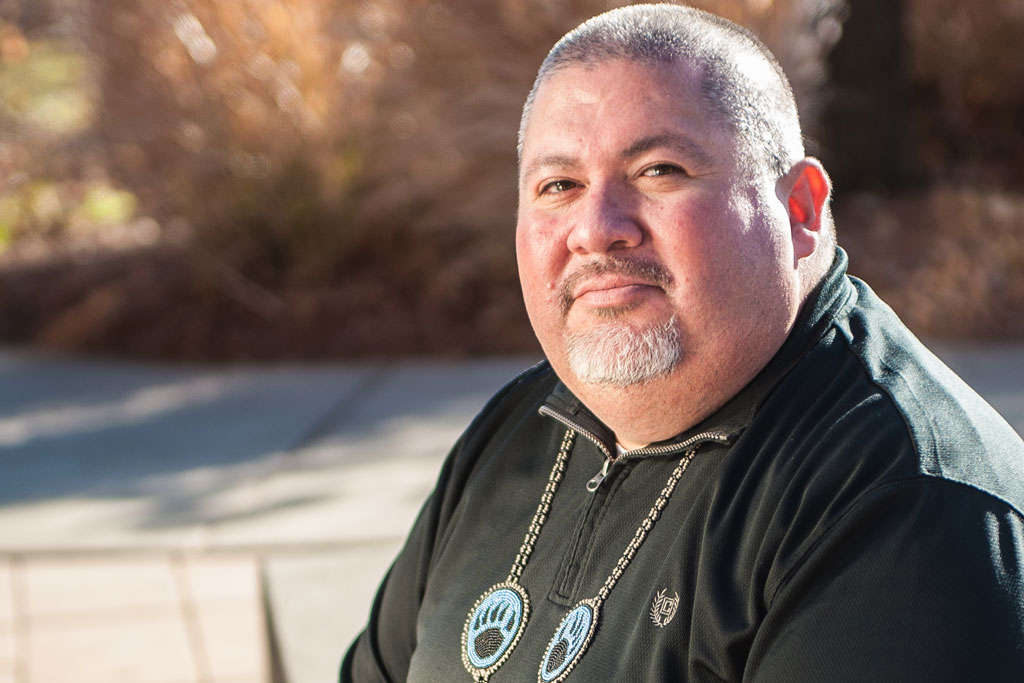 Once a week, Allyn Cameron drives from his home in the Upper Peninsula's Bay Mills Indian Community to attend his University of Michigan-Flint graduate class at a public charter high school in Detroit.
On a good day, the drive to University YES Academy is more than five hours, and he usually arrives early. Yet he knows he made the right choice to pursue his Master of Arts with Secondary Teacher Certification (MAC) and be a part of UM-Flint's Detroit Teacher Project.
"If you want something, you have to be willing to make the commitment, no matter what it is," Allyn said. "To be part of such an incredible program is worth every hour of the drive. I'm enthused every time I get to class."
That's because Allyn's heart and soul lies with the Bay Mills Indian Community and surrounding area, which is home to about 2,000 enrolled tribal members and looks out over Lake Superior west of Sault Ste. Marie. He has mentored youth by coaching middle school basketball and high school football for Brimley Public Schools, and recently started a year-round weight-lifting program for boys on the football team.
Raised with traditional values, Allyn participates in ceremonies and pow-wows, singing with a traditional drum group. In 1998 he earned a master's degree in communication from Michigan State University, alongside his wife Samantha, who also has a master's degree and works for Bay Mills Community College.
Allyn served nearly 20 years for Bay Mills Tribal Council as an elected leader and as communications director, handling a variety of business and communication matters—but he wanted to accomplish something that, in keeping with his beliefs and Ojibwe traditions, would leave an even greater impression on future generations.
"What I do in this lifetime will have an effect on those seven generations from now," Allyn said. "I take that seriously. We make conscious decisions to point our lives in a way to help our tribal community."
So he decided to keep building a solid foundation for the youth at Bay Mills by becoming a secondary education teacher. After reviewing several university programs, Allyn wholeheartedly chose UM-Flint and the Education Department's unique Detroit Teacher Project (DTP).
With the support of his wife and three children, he commits his time to a very long commute each week and spends long hours studying and communicating with his cohort via Skype and email.
"For me, it's about the quality of education," he said. "It's the best education program I've ever been involved in."
Directed by associate professor Mary Jo Finney, the Detroit Teacher Project is an entirely field-based graduate program taught in six Detroit-area high schools, preparing individuals to teach in Detroit and urban areas. Instruction emphasizes modern teaching techniques to meet the diverse needs of urban students and to foster engaged learning opportunities that help youth advance.
"The challenges the students face in the urban environment are very similar to the challenges my people face in our rural tribal area," Allyn said. "I can relate." Some of those challenges include single family or broken homes, substance abuse issues, cultural differences, and poverty.
At age 46, Allyn is in his second year of the MAC program, and is also concentrating on preparing for the Professional Readiness Exam. He is excited for the day he gets to start teaching in his own classroom and implementing innovative teaching methods.
He hopes to return to Bay Mills to teach in a way that passes along the values and traditions of the Ojibwe heritage to the youth there.
"I have all these ideas swishing around in my head about the classroom culture I want to develop," he said. "I want to break down that barrier between students and teachers. I want to know who the students are and to design lessons to meet their learning needs."
Contact University Communications & Marketing with comments, questions, or story ideas.