Alumnus & Author Christopher Paul Curtis Returns to UM-Flint Feb. 9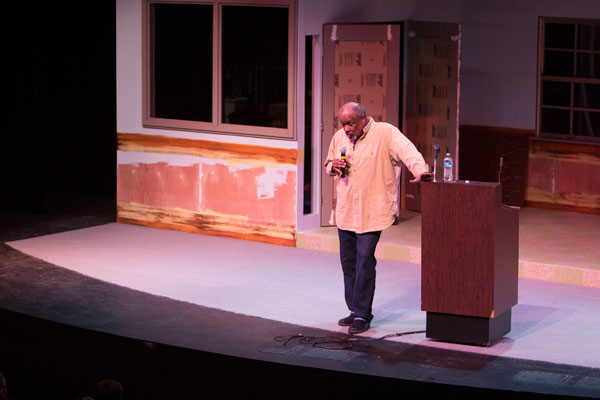 For Newbery Medal winner Christopher Paul Curtis, writing compelling children's literature requires a mix of storytelling skill, historical accuracy, realistic dialogue, and a little finesse.
Toss into the writing toolbox some luck, a good sense of humor, and a deep desire to get African American kids to read more, and it is easy to see what makes his stories so popular in libraries throughout Flint Community Schools.
"I think what makes my stories work is I'm not trying to give a lesson," Curtis said during a recent interview. "I'm presenting something familiar to children. I think you have to let the characters grab a hold of them and make them part of the story where you can take them to places and times like the Depression. I also think humor plays into it."
Collaborating with the School of Education & Human Services, Curtis will once again visit the University of Michigan-Flint on February 9 for his Writing Adventure, and will talk with approximately 400 Flint fourth graders about his writing profession and his Flint roots.
He'll also challenge them to write a personal essay that expresses something unique about themselves.
"Our goal here is to plant some seeds and get these young people excited about writing," he said. "Young people always say 'Nothing ever happens and no one wants to read about me.' However, the excitement comes in the writing. The important thing is getting over the fear of putting something on paper and knowing that you have to practice writing to get better at it."
Most Flint residents are very familiar with Curtis' books and know he grew up in Flint, graduated from Flint Southwestern High School, worked for 13 years for General Motors at Fisher Body—writing stories and character sketches during his breaks—and later graduated from the University of Michigan-Flint.
Those are a few of the formative experiences and accomplishments that influenced the development of Curtis' writing talent and inspired him to encourage young people to pick up a book and read it, or to write something creatively—because they really want to, not because they have to.
"It's one of the greatest feelings in the world to sit down and read and to understand something," Curtis said. "If children can learn to read and write well, they can do anything well."
His shared mission with the School of Education & Human Services is to help kids develop the independent habit of seeking and discovering books that interest them and to regularly use the Flint Public Library and other literacy resources.
Curtis does that by creating dynamic African American characters within fictional Flint families and familiar settings, using authentic dialogue, and descriptions that his readers can relate to, such as those in Bud, Not Buddy and The Mighty Miss Malone.
He brings to life on the page settings associated with the Civil Rights Movement such as Birmingham, Alabama in The Watsons Go to Birmingham-1963. For many of his young readers, being introduced to those historical topics through fiction sparks a fresh interest in them beyond the story itself.
"I want them to think about that and take the next step and read more about it," he said.
Contact University Communications & Marketing with comments, questions, or story ideas.