Giving Tuesday gets a maize and blue makeover on Dec. 3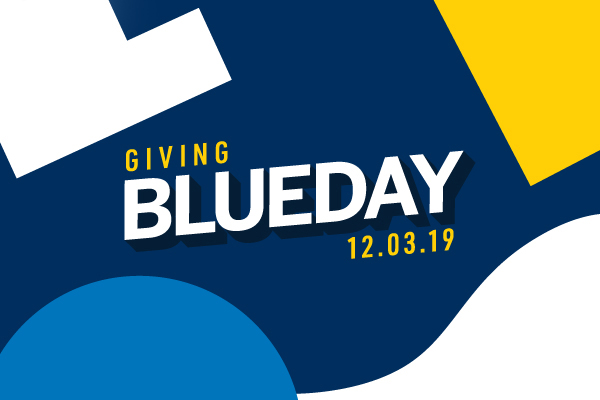 We gave thanks and served the turkey. We gave up sleep to hit the stores early. And now, we're asking that you give one more time. It's Giving Blueday, when we bring philanthropy online and put our own maize and blue spin on Giving Tuesday.
You've probably seen the emails. Or read the articles. Maybe you even heard the Chancellor talk about it.
But on December 3, we're asking you to be one of the thousands of Wolverines that come together and donate to the scholarships, research, travel, book, and programmatic funds that help students succeed in the classroom and beyond.
"This is traditionally the time of year that people start to think about philanthropic, end-of-year gifts, and Giving Tuesday has made its mark in our culture," said Mary Jo Sekelsky, interim Vice Chancellor for University Advancement. "Giving Blueday is significant in that it gives our alumni, faculty, staff, students, and friends the chance to support and impact the schools, programs, units, and scholarships which they feel are most important."
When making a donation, those who give can designate what school, department, or other entity should receive the funds. Within this designation, you can select an area or areas of highest need.
For anyone having a difficult time deciding on which fund to support, the university has made the Wolverine Food Den the focus of its fundraising efforts this year. Opened in April 2019, the food pantry serves registered students affected by food insecurity.
The UM-Flint Student Government has challenged all students, faculty, and staff to give this year. In his State of the Student address in October, Nickxit Bhardwaj, president of the group, stated his desire to end food insecurity on campus and raise the $15,000 needed to keep the pantry open and stocked for the next three years.
Gifts of every size make a difference, and your gift could go even further by leveraging additional funds through matching gifts and challenges available throughout the day. For instance, the U of M Club of Greater Flint committed to match any gift made to its endowment supporting student research up to a total of $5,000.
This year's effort will mark the sixth time that UM-Flint has participated in Giving Blueday. In each of the past five years, there have been more gifts made during these 24 hours than any other day of the year.
"I'm so impressed with the support and enthusiasm our colleagues and friends display for UM-Flint each and every year," Sekelsky said. "And I'm sure this one will be no different."
"The majority of the gifts to UM-Flint on Giving Blueday are within the $5 to $150 range," Sekelsky added. "It's all of us coming together to support our students."
"And Giving Blueday is fueled by social media," added the vice chancellor. "So even if you can't make a gift at this time, you can help by sharing and engaging with us on Facebook, Twitter, Instagram, and LinkedIn. Your enthusiasm can inspire others."
---
Subscribe to the UM-Flint NOW newsletter. See what's new at UM-Flint NOW with the latest news, happenings, and special announcements delivered to your inbox every two weeks.
Contact University Communications & Marketing with comments, questions, or story ideas.