UM-Flint food pantry focus of Giving Blueday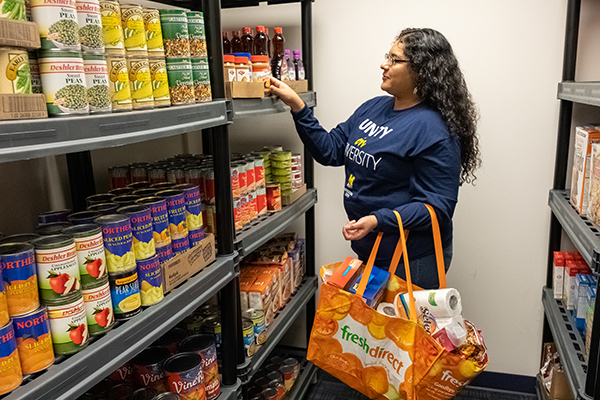 Adelina Gutierrez sees how important the Wolverine Food Den is to University of Michigan-Flint students who use it.
The University of Michigan-Flint senior who is majoring in Public Health both volunteers at and uses the Wolverine Food Den, an on-campus pantry that serves students experiencing food insecurity. The single mother had used a food pantry at Delta College before she transferred to UM-Flint, and she was happy to see UM-Flint open its pantry in April.
The Wolverine Food Den is the focus for the University of Michigan-Flint's Giving Blueday (GBD), an annual philanthropic day that encourages alumni, faculty, staff, students, and friends to support our students, schools and colleges, programs, units, and scholarships. The sixth annual Giving Blueday is Tuesday, Dec. 3.
Nearly 60 percent of UM-Flint students have experienced food insecurity, and 38 percent of students reported lacking basic food needs. The Wolverine Food Den offers a place where students can grab a snack or a meal, along with basic toiletry items such as shampoo and soap.
The Wolverine Food Den, which receives its supplies from the Food Bank of Eastern Michigan, is open 16 hours a week. More than 30 students from the Department of Social Work and the Department of Student Involvement and Leadership have worked on the project, and student volunteers stock shelves, check food dates, swipe students in, and more.
It's brought relief and help, along with a way to give back, to students like Gutierrez.
"I had needed a service, and I felt like I needed to be a part of it. I wanted to give back," she said. "It's by students, for students. It's for everybody."
The volunteers are key, she said. It's her mission to make the Wolverine Food Den a warm, relaxing environment for students.
Maintaining nutrition and health is essential for students as they work toward their degrees. Nutrition affects how students perform in their classes as well as their confidence, Gutierrez said.
"UM-Flint saw food insecurity and made it important to solve it. It shows they are caring about their students," she said.
Gutierrez said she's seen more students using it since she started volunteering there at the beginning of the semester, and she wants to see the pantry continue to expand.
UM-Flint's Student Government has challenged campus to have 100 percent support on Giving Blueday. Nickxit Bhardwaj, Student Government president, hopes to raise $15,000 to keep the pantry stocked for the next three years.
Last year, donors gave more than 12,500 gifts totaling $3.6 million to UM on the fifth annual Giving Blueday.
Give to the Wolverine Food Den here.
---
Subscribe to the UM-Flint NOW newsletter. See what's new at UM-Flint NOW with the latest news, happenings, and special announcements delivered to your inbox every two weeks.
Lindsay Knake
Lindsay Knake is the Communications Coordinator for the UM-Flint Division of Student Affairs. Contact her with any questions, comments, or ideas about the DSA newsletter, social media, events, and communications.