New Book About Flint Features Work by UM-Flint Community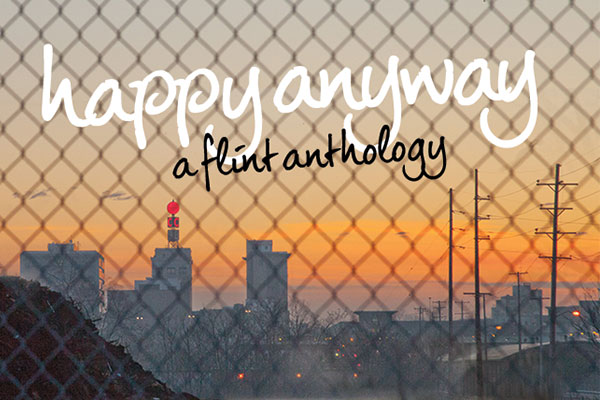 When English lecturer Scott Atkinson started his magazine writing class last winter, he told his students something.
He was in the process of editing a book of essays and journalism, all about Flint, and it could contain the exact kind of writing he was teaching them to do.
The book, published in July, is titled Happy Anyway: A Flint Anthology. It's been featured on Michigan Radio, ABC 12, and news outlets around the country, giving Flint writers a voice. And many of those writers are from UM-Flint—faculty as well as students.
"I told my students that I could not and would not play favorites in selecting pieces for the anthology, but I also told them that they had me at their disposal to talk about ideas and coach them along," Atkinson said.
Two students from his class ended up having pieces published in the book. Sarah Mitchell wrote a story all about the history of Flint's oldest and most iconic cemetery, Glenwood, and Stacie Scherman wrote a story titled, "The Wild West on the Eastside," about her father's struggle to run a business in Flint, where police response times are low and crime is high.
"It was so fulfilling to see them step up to the task," Atkinson said. "I've been told I'm a tough grader, but that was nothing compared to what I put them through. I told them it wasn't a class paper. A B+ wasn't good enough. We had to make these stories publishable. At any point they could have quit and walked away with a good grade, but they kept allowing themselves to be pushed. I don't think I could have offered a better learning experience for what it takes to be a writer."
Scherman and Mitchell weren't the only students involved. Graduate student Melissa Richardson, also the dean's assistant in UM-Flint's School of Education and Human Services wrote a piece about growing up on Flint's eastside.
"I have always wanted to tell my story of what it was like growing up in Flint. I wanted people to see, mainly those on the outside, that Flint kids are in fact regular kids," Richardson said.  "We do normal kid stuff, embrace our imaginations, our neighbors and friends, and even have great memories with some great people the same way a kid from any affluent and predominately white city may have as well. However, I also wanted to peel back that idyllic layer a bit and expose the "grittiness" of Flint, because we are different than our suburban neighbors, in that our lives are a bit tougher, a little more poverty-stricken, dirtier, and at times disparaging but in the eyes of a kid you learn to look past the bad and focus on the beauty and uniqueness that is Flint."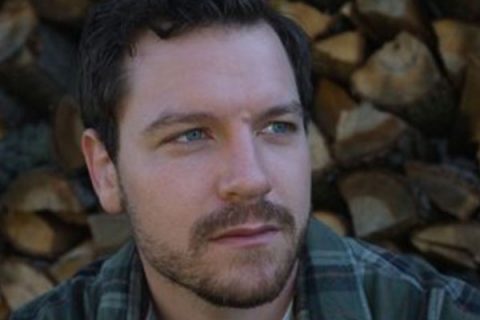 Layla Meillier, 18, wrote about growing up in Flint, detailing experiences like being at gunpoint while walking home from school with a calculus book in her hands.
"Scott  literally asked me about considering to submit on my way from campus to work downtown one day after class.  My involvement with Happy Anyway felt like an opportunity that literally, physically presented itself at UM-Flint," Meillier said. "UM-Flint is such a diverse and humbling university to attend; I feel so very fortunate."
James O'Dea, a recent graduate, revised a piece he'd read at commencement about what it means to attend college in Flint.
"I am meant to be here," O'Dea writes in his piece—talking about Flint, and the role UM-Flint played in his growing to love the city. "I do not want out."
One student was able to learn things on the editorial side. Meghan Christian, editor of UM-Flint's Michigan Times, worked on the book as Atkinson's editorial assistant.
Faculty stepped up to the plate as well. Traci Currie, who teaches spoken word poetry, wrote about the work she does with youth in juvenile detention. Former English professor Stephanie Carpenter wrote about her time in Flint and the stories she found there. Retired professor Teddy Robertson wrote about what it means to keep a home in Flint—even when that home is broken into. Jan Worth-Nelson, also a retired UM-Flint instructor, wrote about all the homes she has lived in around Flint, and how Flint, in time, became her home.
There are voices from throughout the community as well, and Atkinson said it wasn't until later that he realized how much UM-Flint contributed to the book.
"It's really not surprising when I think about it," he said. "UM-Flint has a strong connection with the surrounding community and a lot of talent comes through here. With publications like Qua (the student literary magazine) and The Michigan Times, students are able to hone their skills and get publishing experience. I'm just glad I was able to provide another outlet and opportunity."
Contact University Communications & Marketing with comments, questions, or story ideas.