James O'Dea Named UM-Flint Winter Commencement Student Speaker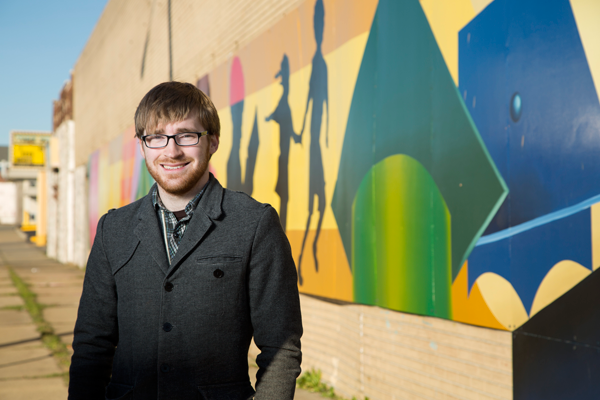 James O'Dea originally planned to attend culinary school. Instead, he changed his mind and enrolled at the University of Michigan-Flint in hopes of growing as a writer and an intellectual.
O'Dea was proud to get an education in Flint, a city that has been tied to his family for generations. His great-grandfather participated in the famous Sit-Down Strike, a fact he used as motivation as he sought to make his city proud. Before graduating high school, he told his teachers that he wanted to help lead Flint's revival.
At UM-Flint, O'Dea quickly discovered a new love and aptitude for philosophy. He became an avid student of the subject, working as a research assistant, presenting papers at undergraduate conferences, and helping to reinstate the Philosophy Club by serving as its co-president for several semesters. Philosophy provided O'Dea with an outlet for what he calls his "obsessively analytical mind," and taught him how to see the world and himself more clearly.
His newfound passion helped further inspire him as a writer. During his sophomore year, O'Dea began contributing to the university's literary magazine, Qua, which provided an outlet for his creative work. Thanks to Qua, he has been able to share his writing with a wider Flint audience, and has gotten to feel what it is like to impact people with his art. Reading his work at a Qua launch party in Buckham Gallery provided O'Dea one of the most cherished moments of his undergraduate career.
After graduating with a bachelor's degree in philosophy and a minor in creative writing, O'Dea plans on returning to UM-Flint to pursue a master's of business administration degree. While this might seem unexpected given his undergraduate studies, he believes that becoming an entrepreneur gives him the best opportunity to help Flint grow. Nonetheless, he plans to continue writing for the rest of his life.
Contact University Communications & Marketing with comments, questions, or story ideas.