UM-Flint English Students Reassemble Shakespeare's "King Lear" in Flint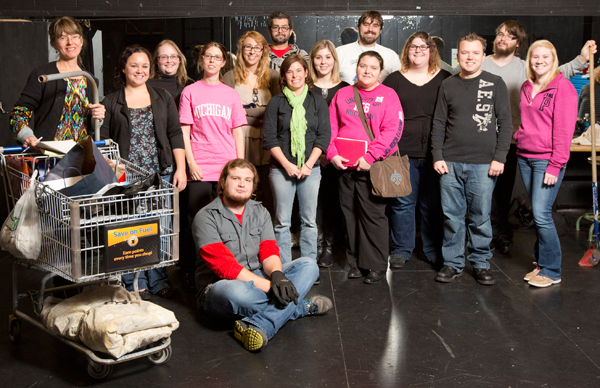 While Shakespeare's King Lear was set in a mythical kingdom somewhere in England, a class of University of Michigan-Flint English majors has adapted the play for a contemporary Flint context.
In Lear Reassembled, instead of a king the Lear character is a GM retiree who uses his buyout money to purchase a scrap yard. He has a vision for saving Flint by disassembling cars. The students will be performing two free public readings of their play. The first will be Tuesday, December 10, 10 a.m. in the University of Michigan-Flint Theatre. The second will be Thursday, December 12, 4 p.m. at the Flint Youth Theater.
Associate Professor Mary Jo Kietzman, Ph.D., who teaches the class, said her students had to overcome their stereotype-bred fears of Flint and venture forth, doing highly unconventional research. They tramped around Chevy-in-the-Hole. They volunteered at soup kitchens. They scanned the Flint Journal, visited the Genesee County Historical Collection, and read books like Gordon Young's Tear Down to learn about Flint.
There is also a unique subplot in the play. UM-Flint English majors are trying to figure out how their skills may be useful. The students, along with a homeless man, are the play's collective "wise fool" character. One of the many things they learn is that their favorite poets told the truth. The play asks the very big question: What role is there for the young? Should underdogs seek to control the streets? Or can we reclaim our humanity only when we embrace the marginal, the damaged, and the ephemeral yet powerful word?
When the students graduate, they will have had an experience of contributing to a major collaborative project. Kietzman believes the experience will help prepare them for existing jobs, or they are the ones who will dream about and create new businesses, and see the potential for new projects. "They are the ones who will write the grants, and get the work done. At the end of this class, each one of them will be more aware than ever that Flint, like the world, is a stage; they have to create their own roles and play them well," said Kietzman.
After each presentation of the play, the audience is invited to engage in a conversation about Flint, English and literature, tragedies, and hope.
Contact University Communications & Marketing with comments, questions, or story ideas.