Qua, UM-Flint's Student-Led Literary and Fine Arts Magazine, Continues to Evolve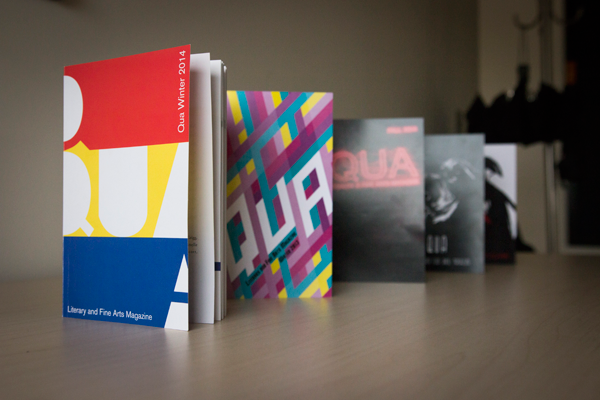 Joshua Sauvie, PhD encourages students in his creative writing class at Mott Community College to submit their work to Qua, the literary and fine arts magazine at UM-Flint.
The associate professor of English at Mott had one of his poems published in the magazine's Winter 2014 edition. Sauvie's ties to the magazine run deep. He was editor in the late 1990's when he was a student at UM-Flint, and often submitted his work prior to being an editor.
The community college doesn't currently have a literary magazine so the Qua serves as an artistic resource for his students and the overall community, he said.
"Anytime UM-Flint can flaunt its muscle, especially in poetry and creative writing, I think it's wonderful," Sauvie said.
The student-led magazine, which comes out bi-annually, is taking submissions for its next edition through October 6. Editor-In-Chief Stacie Scherman said the publication is ramping up its efforts to let the public know that anyone can submit work. Individuals do not need ties to the university. Scherman said she's been publicizing this in a number of ways including at local artist groups and via flyers at local businesses. The magazine also hopes to reach more artists beyond the Flint area.
"Because UM-Flint is part of Flint, and we don't just publish students, I thought it would be more of a way to get into the community," she said.
The publication features an array of poetry, fiction, visual art, and creative non-fiction. It accepts and welcomes a wide range of pieces, including but not limited to short stories, plays, essays, song lyrics, comics, photography, pencil, pen, or digital works.
"We are trying to get more mediums," said Katie Curnow, a marketing assistant in the university's Office of Extended Learning and a staff adviser for Qua.
Several student readers and editors discuss the submissions, with the editors making the final decision. Staff recently decided to take submissions year-round, with the only deadlines being for specific issues. The editions typically come out in April and December.
"It definitely depends on the staff," Scherman said about what makes a specific issue. "A lot of it is pretty subjective but we do try to look for style, originality. We are not going to publish five things of the same theme."
Recent UM-Flint graduate Grace Anne Carey has had work published in Qua the last three Winter editions, including her poem "Infinity Continuum" in the latest issue.
She and her dad have debated each other about the existence of "now" for years.
"He thinks now can't exist," Carey said. "I think the now is the only thing that exists."
Her dad, J L Carey, Jr.—­a writer and UM-Flint alumnus—made his point in a poem several years ago, said Grace. She answered back with a poem last year. Her piece "Infinity Continuum", was featured in Qua in the Winter 2014 edition.
Grace has published one book of poetry and has two more soon to be published. She graduated in May with a bachelor's degree, majoring in both anthropology and sociology. She currently works as an assistant programs coordinator for the university's International Center, as well as an education abroad adviser.
Grace urged her dad, who has published several books, to submit something and another one of his poems made the same edition of Qua. At the edition's launch party in April,  J L actually read his original poem that sparked "Infinity Continuum", while Grace read her response. The familial connection is just one way Qua has enriched Carey's years at UM-Flint, she said. At launch parties, it has connected her with writers and other artists in Flint and on campus.
"That aspect opens a lot of doors, even with people I already knew," she said.
The magazine features a mix of digital and film photography. Graphic designers create proposals for the actual cover.
Helen Lund, a senior graphic design student, had two of her natural black and white film photographs featured in the most recent issue of Qua. During her career, she's been featured in three different issues.
"It's nice now, especially since they are putting in artwork," Lund said. "I think it's a good outlet for art students."
Applicants submit work through the online service Submittable, which allows for a double-blind review process. Names of the applicants are not allowed on the manuscripts or document file names.
Senior history student Rachel Stock, whose poetry has been featured in Qua, said the double-blind review process gives the magazine extra appeal.
"It's so awesome. They don't see your name so you know it's not influenced by anything else than by your work. That's really cool. It gives students a chance to express themselves creatively in a way they might not be able to otherwise," said Stock.
To submit and for complete guidelines, visit https://quamagazine.submittable.com. For other information, visit Qua's website or on Facebook and Twitter.
---
Contact University Relations staff writer Robert Gold with comments, questions, and ideas at goldr@umflint.edu, (810) – 424-5596, or on Twitter, @writerobert.
Contact University Communications & Marketing with comments, questions, or story ideas.