What can you do with an IT degree? | UM-Flint NOW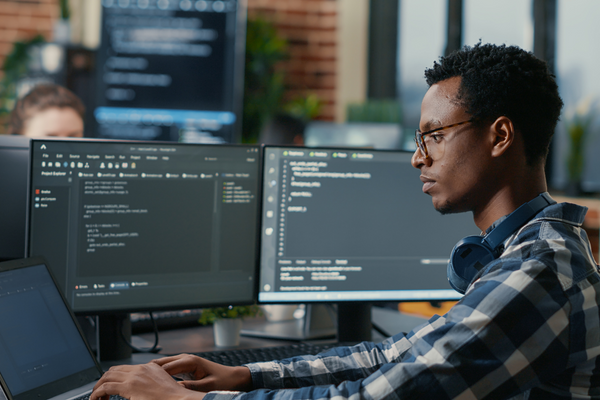 What can you do with an information technology degree?
If you are thinking about pursuing a degree in information technology, you probably have heard that IT careers are highly in demand with generous compensation. The Bureau of Labor Statistics projects that employment in the computer and information technology field will continue to grow in the next 10 years. The median annual salary for IT professionals is more than two times the national average of all other occupations.
As you consider starting an exciting career in information technology, do you want to know what jobs you can get after achieving your bachelor's degree and what your earning potential may look like? In this article, we will discuss the most common career paths for IT degree holders. We will also provide salary information and typical job descriptions for each position.
What is information technology?
In this digital age, information technology supports businesses' operations in almost every dimension —from communication and data management to system maintenance and human resources. Therefore, companies and organizations are in need of competent IT professionals to install, administer, maintain, and troubleshoot hardware and software systems to ensure efficient and secure daily operations.
However, a common misconception about working in IT is that professionals only fix malfunctioning hardware, configure software, or resolve Wi-Fi issues. Though these are part of some common responsibilities of information technology departments, there are also many behind-the-scenes tasks that IT workers perform to solve complex business problems. For example, IT professionals can be involved in developing or designing applications, managing databases and servers, and computer network administration.
What jobs can you get with an IT degree?
Earning a degree in information technology gets your foot in the door of a range of specialized roles, from help desk and networking to engineering and security. Here are some of the exciting career paths you could pursue after graduation:
1. IT Support Specialist
Median Salary: $57,910 per year
Projected Job Growth: 9%
IT support is ideal for you if you like to help people solve computer issues like fixing hardware, adding users to the environment and answering support questions. This role has many other similar titles as well, including IT help desk and IT technician.
Serving as the first point of contact for troubleshooting technical issues, IT support specialists usually provide assistance through phone calls, online communication or on-site visits. A fundamental understanding of the IT best practices, excellent problem-solving, and professional communication skills are essential to this role.
By pursuing this career path, you may advance to senior positions such as senior IT specialist and IT support manager.
2. Network Specialist/Administrator
Median Salary: $80,600 per year
Projected Job Growth: 5%
A network specialist's responsibilities include designing, implementing, and maintaining an organization's computer networks, such as mainframes, VPNs, routers and other hardware to meet the needs of business operations. As an expert in network infrastructure and systems administration, the network specialist also performs tasks such as evaluating network stability and security, optimizing network capacity and managing end-user networking accessories.
Besides a bachelor's degree in information technology, a competent network administrator should demonstrate expertise in network services and networking systems.
As you increase your experience in networking, you may pursue advanced positions like senior systems administrator, network engineer, and computer network architect.
3. Application/Software Developer
Median Salary: $110,140 per year
Projected Job Growth: 22%
The job of an application or software developer mainly involves programming and coding. They are responsible for designing, testing, and debugging computer programs to help users or companies accomplish certain tasks. If you enjoy writing codes and engineering new solutions, pursuing the software development career path may be ideal for you.
Software developer positions usually require candidates to demonstrate skills in development operations and analytical thinking. Experience in programming languages such as C++, JavaScript, PHP and Python is also required.
4. IT Database Administrator
Median Salary: $98,860 per year
Projected Job Growth: 8%
A database administrator is a specialized IT role that creates and maintains systems to store and organize digital information such as customer order records, employee payroll and company financial information.
If you envision yourself embarking on an IT career in database administration, you will need to build your skills in data modeling, database design and database languages, such as SQL.
5. Information Security Specialist
Median Salary: $102,600 per year
Projected Job Growth: 33%
If you aspire to develop your expertise in cybersecurity, you can pursue a career as an information security specialist. This profession focuses on protecting an organization's data from cyber-attacks. It includes responsibilities such as installing and maintaining firewalls and encryption programs and detecting vulnerabilities in the network security system.
As this career path is a specialized role in security under the broad IT umbrella, besides a degree in information technology, many people also choose to advance their knowledge with certifications in information security.
Learn more about the differences between cybersecurity and information technology.
Is an IT degree worth it?
Getting a bachelor's degree in information technology is worth your investment if your goal is to break into this booming field. All of the positions described above typically require a bachelor's degree as the minimum qualification. In addition to meeting the education requirements, earning a degree in IT also empowers you with the technical and soft skills to solve real-world problems, making you a valuable asset to your employer.
Learn more about the value of the information technology degree.
Consider UM-Flint's BS in Information Technology & Informatics
The University of Michigan-Flint's Bachelor of Science in Information Technology & Informatics degree program prepares you to embark on a fruitful career in IT with a robust curriculum. It provides comprehensive knowledge in computing and hones your technical knowledge in programming, data management, networking, mobile systems and security.
Request information today to learn more!
Logan McGrady
Logan McGrady is the marketing & digital communication manager for the Office of Marketing and Communication.