UM-Flint recognized by U.S. News & World Report for excellence in online education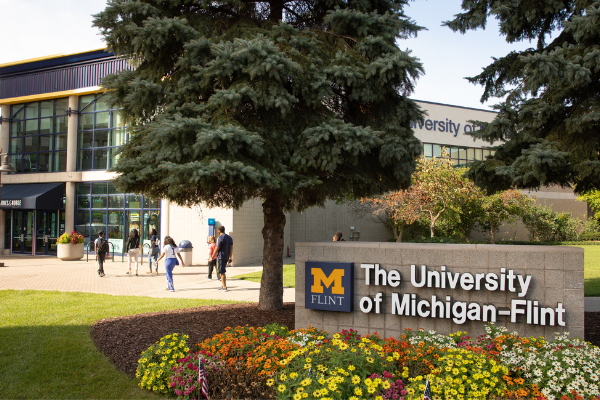 The University of Michigan-Flint has been recognized for its excellence in online education by U.S. News & World Report in its newly published "Best Online Programs" rankings.
The university was honored for its online bachelor's degree programs and earned recognition for its general business program. Additionally, UM-Flint's online master's degree programs in education and nursing were lauded.
"UM-Flint is dedicated to providing a flexible online learning experience without compromising on quality or value," said Nick Gaspar, director of online and digital education. "This recognition proves that our university provides students access to a high-quality online education while balancing family, work and life commitments."
UM-Flint first started online programs in 2000.
UM-Flint's School of Management offers an online general business bachelor's degree that gives students a broad business background and great flexibility in choosing their course of study. Elective options include accounting, entrepreneurship, finance, international business, marketing, management, and operations and supply chain management. These options allow students to customize their curriculum based on their career interests and aspirations.
"Our school is not new to online teaching," said Yener Kandogan, interim dean for the School of Management. "We have been offering online bachelor's business programs for almost 20 years and have been improving our teaching approach and online student engagement throughout that time. This ranking is a reflection and recognition of those efforts. Our program has consistently been at the top in the state and been recognized as a premiere program in the country."
UM-Flint's School of Education & Human Services offers online master's degree programs in secondary education and educational administration, an online education specialist program and a doctoral program in education.
"UM-Flint has a long history of recognizing professionals' challenges in earning degrees for promotion while working full time," said Beth Kubitskey, dean for the School of Education and Human Service. "Our master, specialist and doctoral degrees in educational administration/leadership are designed to be flexible for the students while ensuring a high quality, practice-based educational experience. Our graduates leave with the contemporary practical skills that enable them to lead schools and school districts. Additionally, our program also focuses on the ability of our graduates to work as change agents in the communities they serve."
The School of Nursing offers an online RN to BSN undergraduate program; an online Advance to Nurse Practitioner with both MSN and DNP program; an online MSN to DNP – Advanced Practice track that is designed for current registered nurses who have earned their MSN degree and certifications such as NP, CNS, CRNA and CNM; and an online Doctor of Nursing Practice.  
"UM-Flint's School of Nursing is committed to ensuring nurses can advance their education to address the ever-growing complexity of health care and challenges for access to care," said Cynthia McCurren, dean of SON. "Offering online course work provides flexibility for working professionals and our emphasis on quality education to ensure preparation for advanced nursing roles sets us apart."
UM-Flint's online programs deliver the same rigorous education as on-campus programs. Students will be awarded diplomas from the globally recognized University of Michigan brand that is recognized by employers.
According to new data from the Federal Reserve Bank of New York, the median annual wage for a full-time worker, ages 22 to 27, with at least a bachelor's degree is $52,000. For a full-time worker with a high school diploma, that figure drops to $30,000. The difference marks a pay gap of $22,000, the highest on record with the New York Fed, which tracks earnings from 1990.
To learn more about UM-Flint's online offerings visit its online degrees and certificates webpage.
Robb King
Robb King is the director of marketing and communications at UM-Flint. He can be reached at rwking@umich.edu.