UM-Flint student elected to Flint Community Schools Board of Education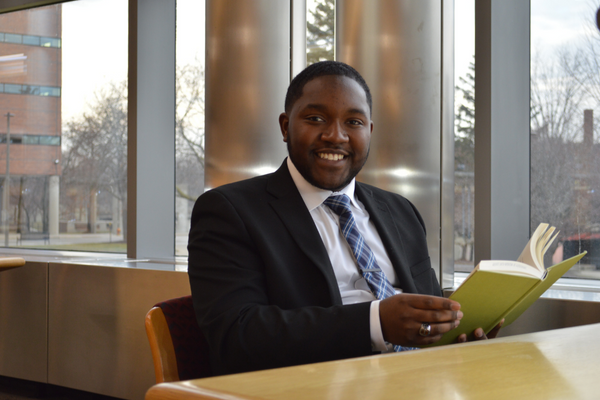 For Terae King Jr. finding enough hours in the day is something of an artform. When he's not studying or completing coursework as a student at the University of Michigan-Flint, he's working as a general manager for McDonald's or as a substitute teacher at Carman-Ainsworth Community Schools. And now, the Flint native finds himself as the recently elected vice president of the Flint Community Schools Board of Education.
Though he's new to the FCS board, being part of a decision-making body isn't. King was elected as a non-voting member of the Carman-Ainsworth School Board by his principal and peers while in high school.
King, who attended FCS until sixth grade, wants to use all of his prior experiences to serve parents and students in Flint, believing that his educational path as a political science major with a criminal justice minor at UM-Flint will also help him serve his community.  
"What I've learned so far in my courses has helped me excel in public speaking, community engagement and collaborating with others, especially when it comes to becoming part of the FBOE," said King.
King has multiple goals in mind for his tenure on the board. For instance, he would like to bring student perspectives to light during school board meetings to provide the board with knowledge about the modern job market and technology needed to help students be successful. He will also use the knowledge and insights that he's gained as a substitute teacher and apply them to the role as well.
"Students in the Flint Community Schools face challenges inside and outside the classroom," said King. "Examples of this are the impacts of the Flint water crisis, the lack of mental health resources and the lack of access to educational resources that would otherwise provide the scholars with opportunities to explore colleges, trade and vocational schools. I want to improve their overall learning experience any way that I can."
He also aims to be a positive role model in the community and show students within the district the importance of getting involved in their community.
"I fully see that our scholars need positive, engaged leaders that will be exemplary role models on the board," King said. "I want to be that bridge between the school and the community, and part of that means I need to be available and make time to serve my community."
His role as a substitute teacher allowed King to make an impact outside of the FCS district as well.
"My substitute teaching experience has been an enjoyable rollercoaster," said King. "Most school districts do not have minority substitute teachers. The facts that I am young and a minority allow me to connect with other students who identify as people of color, and I feel comfortable sharing experiences with them and being a positive force in their life."
Additionally, King hopes to improve the overall reputation of FCS.
"There was a time that FCS served as a role model in the world (of education)," he said. "(But as) enrollment decreased, and the community lost trust in the local public school system, that led to many scholars attending school elsewhere. My goal is to work with the board on regaining the community's trust, and to provide support."
King Jr. will be graduating with a bachelor's degree this summer and is making plans to attend graduate school to pursue public administration. For more information about UM-Flint's political science program, visit its webpage.
Madeline Campbell
Madeline Campbell is the communications specialist for the College of Arts & Sciences. She can be reached at mciak@umich.edu.