Cybersecurity vs. IT Degree | University of Michigan-Flint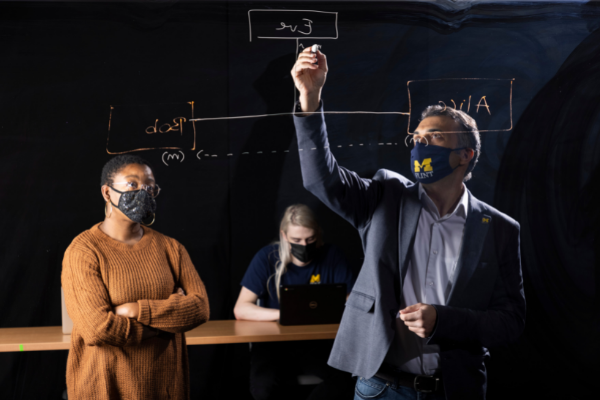 Cybersecurity vs. Information Technology Degree: Which One Is Right for You?
Do you know that in 2022, global spending on information technology is expected to exceed $4 trillion? Organizations will keep investing in enterprise software, data centers, and IT services to improve profitability, security, and efficiency. Meanwhile, the demand for qualified IT professionals is also increasing, with about 667,600 new jobs being created by 2030.
If you are interested in joining the growing field of IT, you may be considering pursuing a relevant degree like a bachelor's in cybersecurity or information technology. While they are both the typical credentials that can help you break into the field, which one should you choose?
Differences Between Information Technology & Cybersecurity
Before deciding your career and academic path, it's important for you to understand the differences between information technology and cybersecurity.
In a nutshell, information technology is a broader topic than cybersecurity. IT encompasses the use of tools and applications such as computers, networking, and infrastructure for transmitting, storing, sending, and retrieving digital information. Information technology often includes building, configuring, maintaining, and troubleshooting hardware, software, and database servers.
Cybersecurity, on the other hand, is a specialized area of securing and defending individuals' and organizations' data, networks, and computer systems from digital attacks and unauthorized access. According to IBM, "cybersecurity measures are designed to combat threats against networked systems and applications, whether those threats originate from inside or outside of an organization."
Despite the different focuses, a degree in information technology and one in cybersecurity both can provide you with essential knowledge in computing and programming, preparing you to start strong in the technology field.
Bachelor's in Information Technology
A bachelor's degree in information technology puts an emphasis on technical skills in information technology infrastructure, database management, security, and computer networks. At the same time, an IT degree also fosters your aptitude for analytical thinking, communication, and leadership. Graduating with a bachelor's degree in information technology empowers you to employ problem-solving strategies in contemporary business environments.
Coursework
At the University of Michigan-Flint, our Bachelor of Science in Information Technology & Informatics degree coursework starts with prerequisites in technology foundations, design thinking, and introduction to programming. Then the curriculum delves into other IT topics ranging from information systems and information security to cloud computing, mobile systems, and project management.
The BS in Information Technology & Informatics program also provides programming courses where you can learn to resolve technical problems using JAVA and C++.
IT Degree Career Prospects
Armed with robust technical skills, you are well prepared to pursue IT-related careers in various industries such as healthcare, education, government, manufacturing, transportation, and more. The salary for IT professionals can range from $53,900 to $72,857, depending on your experience and location, according to Salary.com. Common job titles include:
IT Support Specialist
Computer Network Architect
Information Technology Consultant
Database Administrator
Bachelor's in Cybersecurity Degree
Compared to the information technology degree, a bachelor's degree in cybersecurity focuses more on sharpening your expertise in infrastructure protection, cyber threat detection, and digital forensics. Since the degree tends to examine more narrowly and specifically in network and information security, it's often an ideal choice for those committed to pursuing a cybersecurity career path.
Coursework
The coursework of information technology and cybersecurity usually intersect on some subjects such as information systems and programming languages including C++ and JAVA. However, cybersecurity coursework teaches you more advanced security techniques such as firewall, encryption, threat analysis, and computer forensics investigations.
The Bachelor of Science in Cybersecurity program at the University of Michigan-Flint, for instance, increases your ability in cybersecurity in a progressive manner. The curriculum first introduces you to Unix/Linux and security fundamentals before moving on to more challenging cybersecurity core courses such as enterprise security, cloud security, and network security and cryptography. During the program of study, you also refine your expertise in risk management and even tap into the laws and regulations of cybersecurity.
As cybersecurity majors usually have a clear career path in mind, enriching your professional experience is one of the most important parts of the program. UM-Flint's cybersecurity bachelor's degree incorporates an internship course for you to apply your knowledge to the real world and strengthen your resume with practical work experience.
Cybersecurity Career Outlook
Cybersecurity careers are expected to grow exponentially at the rate of 31% over the next decade, outpacing other tech occupations. In addition, the average annual salary for cybersecurity jobs is typically higher than IT professions. Salary.com estimates that the salary of cybersecurity occupations ranges between $98,130 and $122,626.
Many industries are facing a shortage of cybersecurity workforce including financial services, government, healthcare, manufacturing, and retail. For that reason, many unfilled positions are available to competent cybersecurity graduates.
Common cybersecurity job titles include:
Security Analyst
Penetration Tester
Network Security Engineer
Security Architect
Learn More About a Degree in IT or Cybersecurity
After learning the differences between an information technology degree and a cybersecurity degree, you can choose to pursue the one that aligns with your career aspirations and best fits your interests.
Ready to get started on your journey of breaking into the tech world? Earn your Information Technology & Informatics bachelor's degree or Cybersecurity bachelor's degree from the University of Michigan Flint!
Need more assistance in deciding on your major? Contact us today!
Logan McGrady
Logan McGrady is the marketing & digital communication manager for the Office of Marketing and Communication.