UM-Flint celebrates new graduates at December commencement ceremony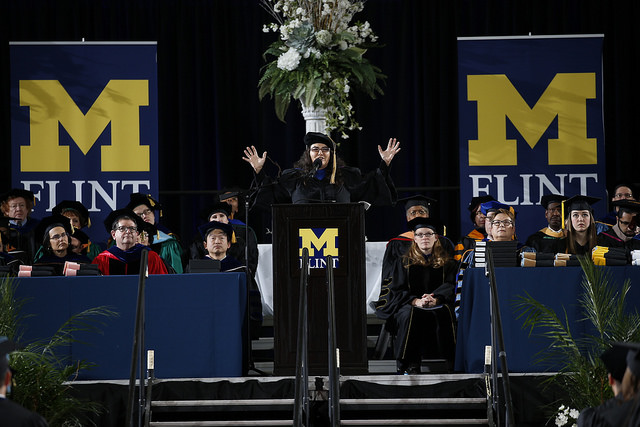 Keynote speaker Dr. Mohja Kahf, a professor and social justice activist, encouraged University of Michigan-Flint graduates to be "architects of justice."
"You will usher in something new, something not fear-based but love-based," within society, Kahf told the graduating class at the December 17 commencement ceremony.
About 600 students graduated, with more than 350 walking across the stage Sunday at Dort Federal Credit Union Event Center.
Sunday's event celebrated the graduates' tenacity and abilities, with several speakers encouraging the graduates to use their talents to inspire and improve the world.
Kahf is a professor of comparative literature at the University of Arkansas, an accomplished author, and a social justice activist. She was born in Syria and grew up in Indiana.
She congratulated the graduating class and told them they can use their talents to better their lives and the lives of others. She encouraged them to use their skills for justice for everyone.
"Use the knowledge you have gathered here to make a good life for yourself and your loved ones, absolutely, and use it for your planetary community toward that achievable reality of economic justice, deep democracy, freedom, water, air, where all can breathe," Kahf said. "Where dreamers can dream."
Chancellor Susan E. Borrego lauded the accomplishments of the graduating class and their contributions to UM-Flint and the broader community. She celebrated each student as being sparks that can make positive changes for society.
"It is a spark of justice, of knowledge, and of hope," said Chancellor Borrego.
Student commencement speaker Michaela Nogaj told graduates they are part of Flint, and its great qualities. Nogaj is a recipient of the Maize and Blue Distinguished Scholar Award, the highest academic honor bestowed upon UM-Flint students.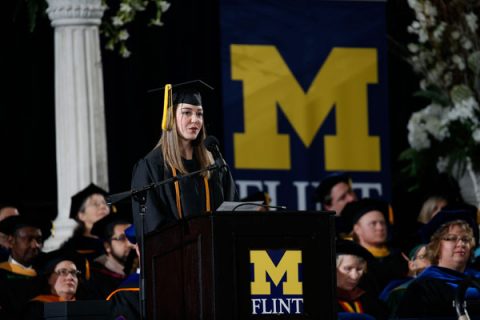 "This city is the rock that ignites a fire because of its strength and desire to keep fighting the fight despite all it has been through," said Nogaj, who graduated with a bachelor of fine arts in theatre performance. "I dare you to find a more tenacious and audacious place because the people in it keep running the race. They find the opportunity to embrace community and dance in the middle of the circumstance. You guys, that's you. For a moment in time, you were a part of Flint, and whether you stay or go, don't lose that spark; that spunk; that fight."
Nogaj applauded her fellow graduates for their university accomplishments.
"The future is yours to charge and to change," she said.
The ceremony also featured the first ever person to earn a PhD from UM-Flint. Shweta Gore earned a PhD in Physical Therapy from the university. She earned the degree this semester and is already teaching as an assistant professor of physical therapy in Massachusetts.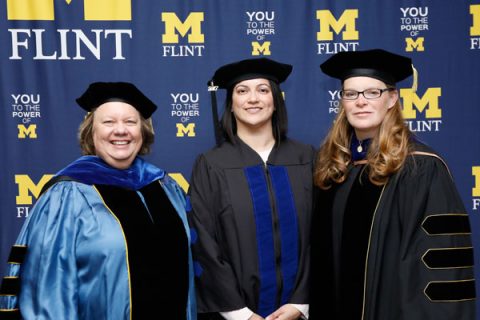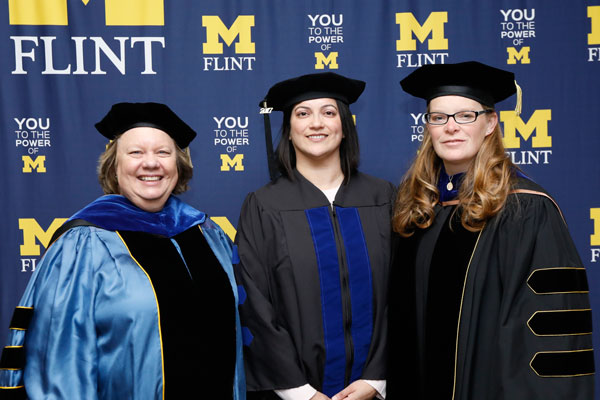 "It was an incredible feeling knowing I earned a PhD, but knowing that I am first student to have earned one at UM-Flint makes me feel even more excited," Gore told the university for a recent feature story on her accomplishments.
Before Sunday's ceremony, Maggie Mitchell socialized with other graduate students as they gathered in the arena before their big moment. It was a moment she dreamt about in 2015, when graduating with her undergraduate degree. She saw the line of graduate students and knew she wanted to reach that level. Sunday, it arrived. She earned her Master of Public Administration (MPA) degree.
Mitchell said faculty members consistently and constantly support students at UM-Flint.
"I have had a lot of people to look up to along the way," she said.
Contact University Communications & Marketing with comments, questions, or story ideas.