UM-Flint graduate heading to med school to become "doctor for the people"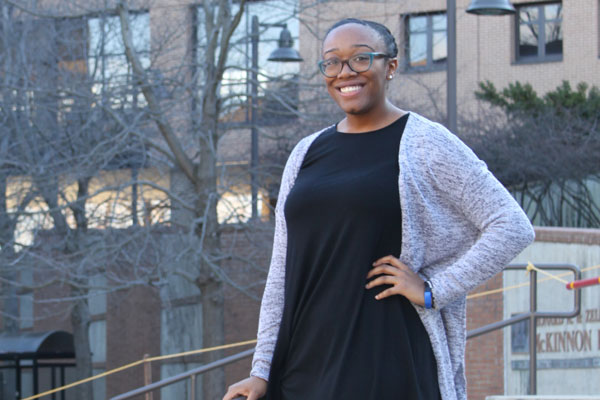 Jaslyn Morris expressed some initial hesitations about enrolling at UM-Flint. She grew up in Grand Blanc, with family in Flint, and considered studying in a new area.
Morris ended up choosing UM-Flint, and it expanded her horizons in a myriad of ways.
"It was a really great decision," Morris said. "I was able to do everything I ever thought of doing as an undergraduate."
Morris is a recipient of the Maize and Blue Distinguished Scholar Award, the highest academic honor bestowed upon UM-Flint graduates. She is graduating with a bachelor of science in biology, and will participate in the December 17 commencement ceremony.
Morris' path at UM-Flint included an array of experiences. She was part of the Honors Program, and conducted her off-campus studies in South Africa, where she learned about social development issues, such as race relations and community empowerment. As an orientation leader her entire college career, Morris has helped new students acclimate to the university. Morris was actively involved in the Black Student Union, volunteered for several community groups, and has conducted and presented on biology-based research at scientific conferences.
Morris will be going to medical school next year, with career aspirations of providing health care for those in need in the Flint area, and being a "doctor for the people."
"I want to provide better health care," said Morris, who did extensive volunteer work at Hurley Medical Center during her college career, including in the emergency room and the gastrointestinal lab. "Many people don't have access to good health insurance so I want to provide good health care for those that can't really afford it."
UM-Flint Assistant Professor of Biology David Duriancik said Morris excelled within the classroom, in the lab, and with helping other students get acquainted with the research process.
"Her work ethic, high intelligence, and perseverance are impressive," he said. "Jaslyn is willing to give back. She selflessly mentored students in the lab and helps other students in her classes study. When she 'makes it' as a doctor, she has provided evidence that she will give much of herself to help others pursue similar careers. I am confident she will find success and happiness as a physician."
"It's been a very rich experience here," Morris said. "I am so thankful to have had this opportunity."
Contact University Communications & Marketing with comments, questions, or story ideas.