UM-Flint campus community organizes initiatives to "give back" this holiday season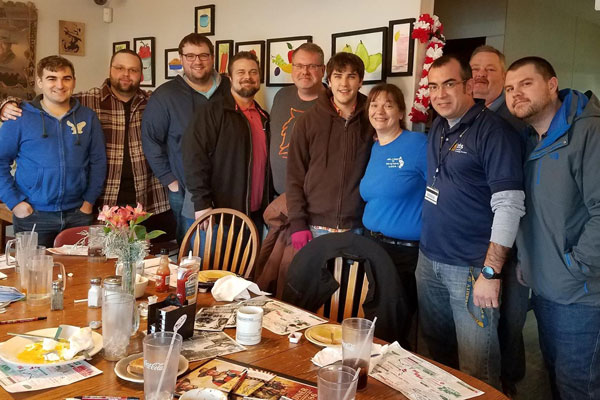 The faculty, staff, and students of the University of Michigan-Flint have earned the reputation for making positive contributions to communities near and far through actions large and small. Those initiatives occur throughout the year, taking various forms, and pursuing different goals. However, during the holiday season each year, the number of "good works" organized by members of the UM-Flint community reach their peak.
The following is a small sample of the many ways UM-Flint faculty, staff, and students "give back" this time of year.
Tip Drive | Information Technology Services (ITS)
Over the past ten years, at their annual holiday lunch at an area eatery, UM-Flint's ITS staff has surprised their server with an extremely generous tip. According to Jason Gooding, who has spearheaded the effort, "So far the large tip has always found its way to a person that has really needed the help. Recipients have been college students, single parents working multiple jobs, and a cancer patient needing help with medical bills."
This year ITS opened up the opportunity to participate to other UM-Flint staff members. Gooding, who is the vice chair of UM-Flint's staff council, created a Facebook fundraiser within the UM-Flint Staff Facebook group. So far, $830 have been donated to this year's big tip.
Head-to-Toe Tree & Toy Drive | Faculty & Staff Holiday Party
Faculty and staff are encouraged to bring a new toy, cash donation, or an item for the "Head-to-Toe Tree" (hats, mittens, socks, scarves, etc.) to the faculty and staff holiday party on December 13. The party is hosted by Chancellor Susan E. Borrego and takes place from noon to 2:00 p.m. in the Northbank Center Ballroom. All donations will be given to a local charity this holiday season.
Toy Drive | Infant/Toddler Treatment Court
Hannah Hamblin is a senior majoring in social work. She is helping to collect new toys and winter clothes for the children and families who utilize the services of the Genesee County Infant/Toddler Treatment Court (also known as "Baby Court"), where she is interning. Hannah said, "I hope this drive will bring joy and happiness to the families in our program. These are families who are not able to spend Christmas together because the children are in foster care. Many of the parents do not have the extra money to buy their children gifts, so our organization supplies the gifts for the parents to give to their children." The deadline for donations is December 14.
12 Days of Giving | Northbank Center Social Committee
For the second year in a row, the Northbank Center Social Committee collected toys, clothes, and other donations for families in need throughout Genesee County. According to Megan Babcock, Northbank Center building manager, a total of fourteen families and twenty-six children will receive the donations made by individuals, departments, and businesses that work in the Northbank Center.
Toys for Tots | Student Veterans Resource Center (SVRC)
UM-Flint's Student Veterans Resource Center is an official toy drop-off location for the annual Marine Corps Reserve Toys for Tots drive. Located on the first floor of the University Pavilion, the SVRC is accepting donations of new, unwrapped toys between the hours of 8:00 a.m. and 5:00 p.m. Monday to Friday through December 20.
Adopt-a-Family | School of Management (SOM)
Brittney Thomas is an academic advising and administrative assistant in the School of Management. She is also a former social work student who studied and worked at the Shelter of Flint. She said, "The Shelter of Flint not only houses displaced residents in need, but they also house some residents that are college students. This will always be something that will stay in the back of my mind." At her suggestion, SOM has participated in the Shelter's Adopt-a-Family program the last two holiday seasons. Last year they were able to help a mother with five children. This year, the family they helped was a mother with four children.
Winter Clothes Drive | PRIDE and Psychology Club
PRIDE, the LGBTQA+ and Allied Student Organization at the University of Michigan-Flint, teamed up with the Psychology Club to collect donations of coats, sweatshirts, hats, gloves, and scarves. Anyone in need of these items this winter should stop by the Ellen Bommarito LGBT Center/Women's Educational Center, 213 University Center.
Cummings Closet | Cummings Great Expectations Early Childhood Learning Center
Ashley Lee is a social work student at UM-Flint minoring in early education. She is also part of the staff of Cummings Great Expectations Early Childhood Learning Center, which was established in response to the Flint water crisis. The center had been collecting and distributing clothing and other household items for the families it serves. However, Lee saw an opportunity to better utilize existing features of the old elementary school to make families feel more comfortable about asking for and receiving items they need.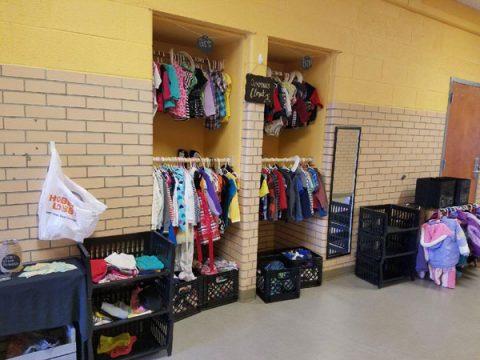 She noticed how little nooks that once contained pay phones looked a lot like closets. She figured that using those spaces as closets for the distribution of clothing would be a nicer experience than rummaging through garbage bags of donated goods. Lee also instituted the use of a request jar, where families could discreetly request new items or specific sizes.
"The closest is next to our Cummings Café, where parents can get coffee and socialize with other parents, or just take a moment to relax," said Lee. "There are grocery bags out, and parents are free to 'shop.'"
To make arrangements to donate to the Cummings Closet, contact Ashley Lee at ashlelee@umflint.edu or (810) 760-1422.
Contact University Communications & Marketing with comments, questions, or story ideas.