UM-Flint engineering students find experience at Crossroads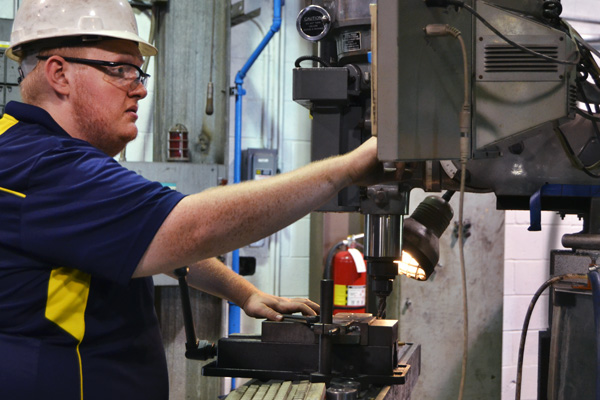 Just north of the UM-Flint campus lies Crossroads Village and the Huckleberry Railroad—a historic village and train system that are part of the Genesee County Parks. They are an institution in the area, featuring field trips for school children, holiday celebrations for families, and summer adventures for thousands of annual visitors. They have also become an exciting venue for UM-Flint engineering student internships.
Uriah Horton, a 2017 mechanical engineering graduate, was the first UM-Flint student to take his classroom skills and apply them in the Village's Huckleberry Railroad Shop. Aaron Latchaw, currently a mechanical engineering senior, followed in his footsteps.
"We want each College of Arts and Sciences student to have the option of an engaged learning experience," said Susan Gano-Phillips, Dean of CAS. "Experiences like internships and off-campus research give students a chance to test their skills in real-world situations and also allow them to bring unique insight back to the classroom. It's beneficial for all involved. I'm proud that this combination of on-campus learning and meaningful engagement activities has meant stellar employment opportunities for our engineers after graduation."
Engineering at Crossroads
In the UM-Flint engineering program, students experience a hands-on curriculum through which they regularly design and create projects. For Horton, those skills helped him jump in at Crossroads and made him more appreciative of the experience he was gaining through his internship.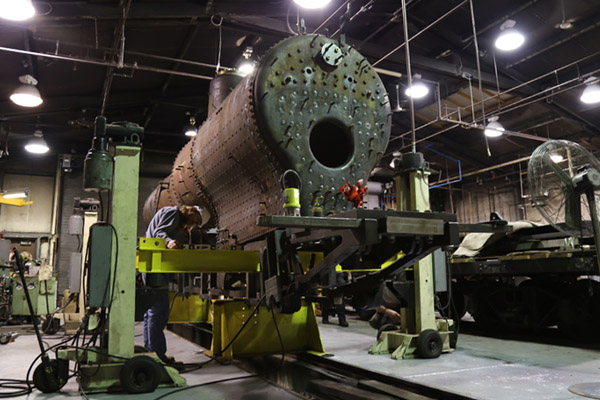 "My engineering internship consisted of aiding in the complete restoration of a 1920 Baldwin Steam Locomotive #152. It was both a rewarding and memorable experience," reflected Horton. "I received a lot of hands-on experience with the disassembly of the locomotive as well as learning the mechanical concepts and workings of the locomotive from my mentor, [Railroad Shop mechanic] John Hewlett. The knowledge of locomotives he possesses is incomparable and his willingness to teach helped me to fully comprehend and complete my work tasks."
Horton's work in the shop also included creating computer-aided design (CAD) drawings of locomotive parts, creating drawings for in-house fabrication, and creating a database for future locomotive reconstruction projects. For this work, he was provided a very unique office inside a caboose housed in the shop.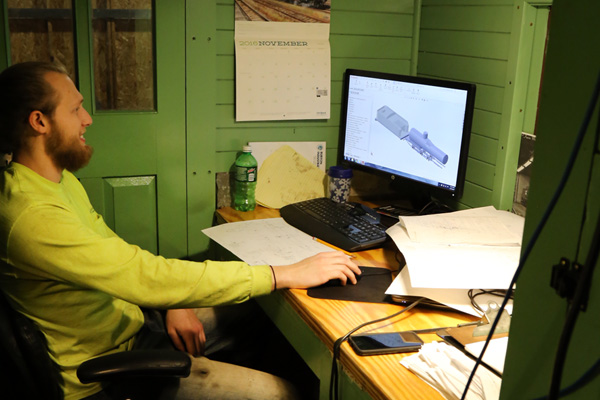 "In conjunction with my mechanical engineering education, I was learning engineering concepts in the classroom and applying them in the work place," Horton continued. "At times I would even bring my homework and books into the shop to assist in the completion of calculations being done."
Additionally, Horton worked as a fireman—the person who tends the fire in the engine—on #464, another Baldwin steam engine at the Huckleberry Railroad. "This gave me hands-on experience of the workings of the locomotive while in operation," he said. "I was able to apply the knowledge learned from John, my classwork, and the hands-on fireman experience to better my understanding and input in the design changes and restoration of #152." The fireman position also earned Horton the nickname of "Uriah Heap" from his coworkers at the Village, given because he had to continuously heap coal onto the fire to keep it at the correct temperature.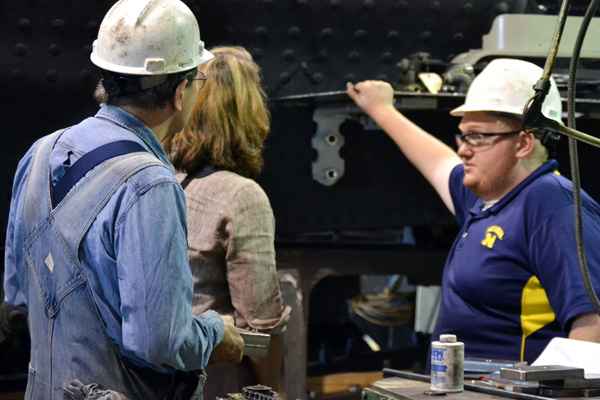 When Horton graduated from UM-Flint, his engineering internship with Crossroads ended. However, the Village still had need of someone to complete CAD and repair shop work. When they asked the UM-Flint engineering program for another student, they recommended senior Aaron Latchaw.
In fall 2017, Latchaw was able to step in and continue the work started by Horton, and he saw similar value in the internship experience. "My time at Crossroads has taught me the value of actually building things," said Latchaw. "You can draw it all you want on the CAD program, but actually being able to build it is entirely different. In a post-graduation scenario, the Crossroads job will help me stand out from the crowd of engineering graduates because if I can design it, I can actually build it."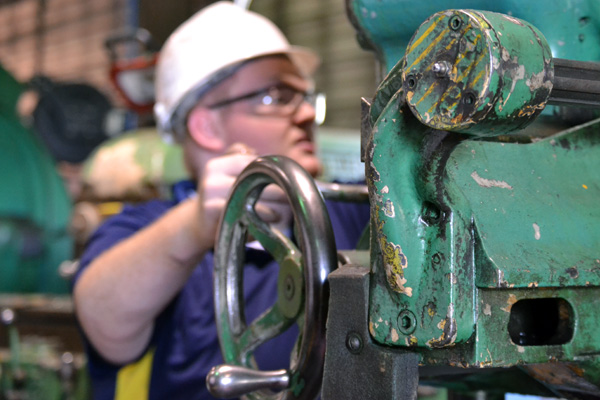 Being a part of UM-Flint
Latchaw and Horton both chose to attend UM-Flint because they were drawn by its small class sizes, faculty availability, and the educational opportunities—like an ABET-accredited engineering program—they saw on campus.
"I was most surprised by the campus relations and the opportunities to get involved," said Horton. "The campus is relatively smaller than other universities I looked at but, there are just as many opportunities, if not more, to get involved. I personally got involved by joining Greek Life and becoming a member of Kappa Sigma Fraternity."
"UM-Flint has an advantage being a smaller school because of class size and staff to student ratio," added Latchaw. "The UM-Flint faculty are excellent at what they do. I have had nothing but good experiences from them."
Both are grateful that their time at UM-Flint included the Crossroads internship.
"The experiences gained from both UM-Flint and Crossroads have given me the proper skills and knowledge to reach my goal of becoming an engineer," concluded Horton. "The classwork and research has helped me learn the proper engineering concepts and fundamentals in order to apply them to real-world situations. The workplace has taught me how to apply what I have learned and put it into practice the knowledge acquired from UM-Flint. From those experiences and my degree, I was able to achieve a job right after graduation with an established automotive supplier. I currently work for ZF TRW as an Application Engineer on Inflatable Restraint Systems."
Latchaw plans to move on to the auto industry after graduation, at a job in which he can continue to both design and build.
Contact University Communications & Marketing with comments, questions, or story ideas.