UM-Flint announces December 2017 student commencement speaker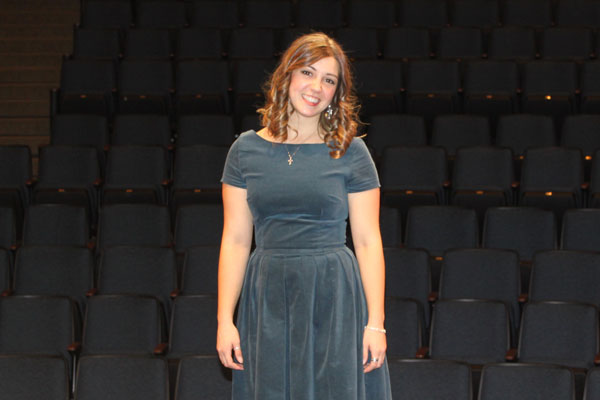 Michaela Nogaj started at UM-Flint based on a feeling. It seemed like the right place. She soon found out her intuition was right.
"Within a couple months of starting here, I fell in love with the faculty, the program, and the university," Nogaj said, who joined UM-Flint in Fall 2013.
Nogaj is the student commencement speaker at the December 17 Commencement Ceremony. She is also a recipient of the Maize and Blue Distinguished Scholar Award, the highest academic honor bestowed upon UM-Flint graduates. She is graduating with a bachelor of fine arts in theatre performance.
"The theatre program really opened my eyes to the world around me," Nogaj said. "The faculty here are so willing to help and offer assistance. They want to get to know you and know where you are to help you go further. The way they connect with you is beyond anything I could hope for."
Nogaj has been heavily involved with UM-Flint theatre, including as a director, actor, choreographer, and work in lights and costumes. She has worked on 16 mainstage productions during her university career.
She credits her life at UM-Flint and her classes with expanding her sense of life.
"The general education classes I have taken have fed into my depth of understanding of the many facets of life that theatre depicts," she said. "The theatre courses I have taken have taught me to be acutely in tune with the five senses, my breath, the energy of myself and others, and both verbal and non-verbal cues. In effect, my intellectual and emotional capacity have grown more than I could have ever imagined."
She has also been actively involved with the Flint Youth Theatre (FYT), including as an actor, teacher, and mentor to young children. The Department of Theatre & Dance and FYT have a professional alliance, which integrates students, staff and resources between the two organizations on theatrical productions.
Her work through the alliance has spurred her desire to be a director and actor in youth theatre.
Nogaj is also a performer for children at Everafter & Company Princess Parties and a dance tutor for the UM-Flint Student Success Center.
Shelby Newport, chair of the UM-Flint Department of Theatre & Dance, an associate professor, and resident costume designer, described Nogaj as a "confident leader" who mentors new students and exhibits depth to the characters she plays on stage.
"Michaela is an insightful, empathetic, and honest human," Newport said. "She embodies the spirit of what we hope all UM-Flint graduates are at the completion of their degree."
The university's focus on looking outward and being part of the community has left a significant impression on Nogaj.
"I very much believe life is about people," she said. "When you die you don't take anything with you. Life is about making those connections and reaching out to people and finding ways to connect with people. Thinking of this campus and this department and these shows as reaching outwards is extraordinarily fulfilling for me."
"It is very useful work that we do here," Nogaj added. "It helps us make meaningful shows that other people are going to connect with, and understand, and think deeply about and respond to. I think it helps us connect with community members as a whole."
Contact University Communications & Marketing with comments, questions, or story ideas.