University of Michigan-Flint graduates first physician assistant cohort in the U-M system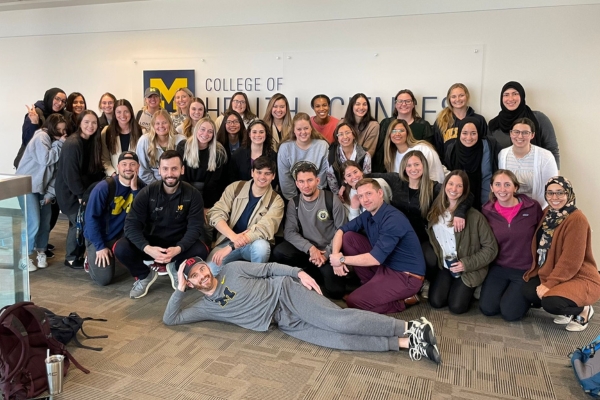 When 38 University of Michigan-Flint physician assistant graduates received their white coats, April 29, the ceremony celebrated the end of their academic training and welcomed them into the profession. It also marked another milestone as the Class of 2023 became the first PA cohort to graduate from any University of Michigan campus.
The program, which recently expanded its cohort from 40 to 50 students, began in January 2021. Graduates said that they are well prepared to enter the workforce thanks to 16 months of didactic curriculum, 12 months in 11 different clinical rotations, and a focus on community involvement. Many have already accepted job offers. They credit their faculty and classmates with creating a supportive atmosphere in a challenging program.
"I couldn't be prouder to be part of the inaugural class," said Keith Saylor of Royal Oak. "This is more than just education. The program works diligently to develop physician assistants that are both professional and strong leaders, whether we recognize it or not. The challenges and opportunities at UM-Flint are among some of the highest quality you will find in the country."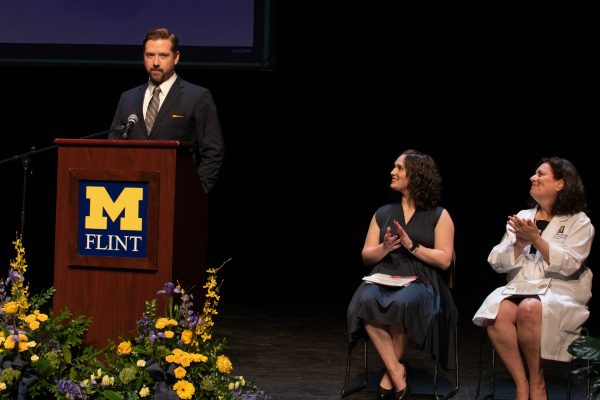 Students build on a strong science foundation, learning systems as well as professional development and public health. In their final year, they complete 11 different four-week clinical rotations in internal medicine, surgery, geriatrics, emergency medicine, women's health, family medicine, pediatrics, and behavioral medicine. Elective rotations allow them to explore additional specialties or revisit the ones that interest them most.
Graduates in the Class of 2023 said they chose the profession for the ability to move between specialties while they practice, which often isn't the case for physicians. They chose UM-Flint because they could explore those specialties in clinicals at highly-respected institutions, including Michigan Medicine. The wide range of clinicals, from Michigan Medicine to rural hospitals, allowed them to see all aspects of the profession.
"Doing rotations at Michigan Medicine was incredible exposure," said Saylor. "We were working with world-renowned physicians in their specialties. It is hard to convey how much you change as a person and how much knowledge you gain."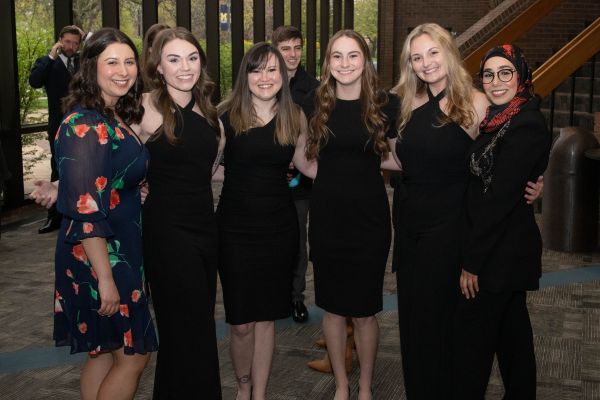 Emily Barrie of Flint said that clinicals were always a supportive environment for learning. "You get to practice medicine without worrying too much about making mistakes," she said. "That is why you are practicing and that is why you are supervised. Towards the end, you start to see patients on your own and you realize that it has come full circle."
Graduates were also attracted to the program for its holistic admissions process. The program looks at a candidate's diverse background, including clinical experience, altruism and advocacy, leadership experience, life experiences, potential to serve underserved populations, and more.
"UM-Flint's program looks at the whole person and because of that, I became a stronger candidate," said Andrea Lusczakoski of Rochester Hills, who has several years experience as a hospital nursing assistant, including on a critical care floor.
The holistic admissions process creates a diverse class with a wide range of medical backgrounds and life experiences, which graduates said made it easy for them to learn from and support each other.
"We were all learning at the same time and shared the same goal of serving and treating patients," said Morgan Ketelaar of Howell. "It became a family atmosphere. We all tried to remind each other of why we wanted this. We all came from different medical backgrounds. If you were struggling, it was never a thing to be embarrassed about. There was always someone to bring you up to speed."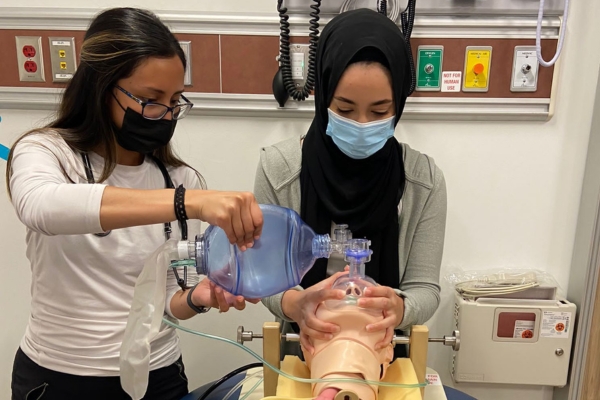 Graduates said they also felt supported by their faculty and that they were lucky to learn from professors who were experts in different specialties, many who are still practicing in the field.
"Our faculty have been incredibly encouraging along the way," Ketelaar said. "If you were struggling, they were always available. They supported us as people and not just as students. I have been humbled by how much they have been there for us, even during my job search."
Students in the PA program have opportunities to make an impact in their community and on their future profession before they graduate.
In the Leadership, Advocacy and Interprofessional Teamwork course, students are asked to develop a project that will make a difference in an underserved community. The Class of 2023 embraced the challenge and developed initiatives that will continue to impact local communities long after they graduate.
Lusczakoski and classmates Alex Najor and Celeena Kawar chose to address language barriers in health care settings after seeing patients having to wait for a translator for simple requests like asking for a glass of water. They created cards in multiple languages that allow patients to point to the correct item and quickly communicate basic needs such as water, food, the bathroom, or a blanket, and to show medical staff where they are on the pain scale. They also created a version with pictures for nonverbal patients.
The three students connected with Corewell Health, previously Beaumont, and distributed the cards in hospitals in Royal Oak, Grosse Pointe and Troy. The facilities plan to continue using the cards as they have helped them better care for patients.
"It was really gratifying to make a change for the better," Lusczakoski said. "A lot of my classmates are so compassionate and really want to make an impact. The Leadership and Advocacy course was a direct opportunity to do that. We had objectives but also had a lot of creative freedom to find a need and solve the problem."
Natalie Nichols of Commerce Township and two of her classmates created a brochure that outlines free and low-cost resources for medical needs, transportation, food and shelter in Flint and distributed them at homeless shelters. Students in the Class of 2024 will keep the project going.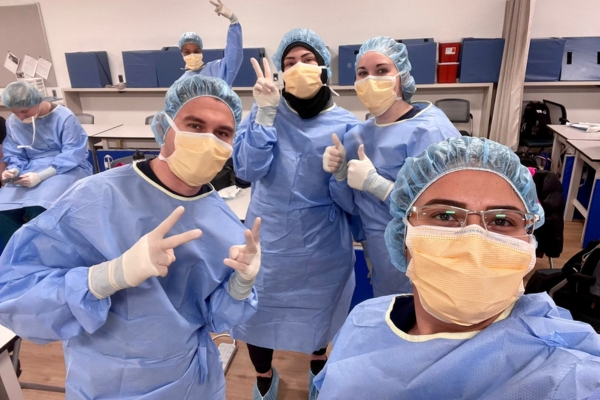 Lauren Allen, Emily Barrie and Zehra Alghazaly also made an impact in Flint. They teamed up with the Genesee Community Health Center to install a vending machine with Naloxone, the medication that reverses opioid overdoses and is delivered via the Narcan nasal sprayer, in downtown Flint. The machine launched in February and has already distributed more than 1,000 Narcan kits and 5,000 fentanyl testing strips, surpassing the team's goal.
"I am from Flint and was proud to make an impact in the community," Barrie said. "Each project was different and met a need. It was a great way to earn credit, address our biases and fill a gap in the community."
As they prepare to start practicing as physician assistants, the Class of 2023 said they are well equipped to provide high-quality care.
Saylor, who grew up in an economically disadvantaged background and started his career as a radiologic technologist, didn't initially think that working as a medical provider was within his grasp. But as he prepares to start a job as a surgical PA and begin an MBA through UM-Flint's dual PA/MBA program, he knows he is ready.
"The program at UM-Flint is so robust and demanding," he said. "You forget how much you have learned in a short amount of time. The program has also coached us to be lifelong learners. When you finish the program, you will be one of the best graduates that you could expect anywhere."
Martha Pennington
Martha Pennington is the communications specialist for the College of Health Sciences. She can be reached at mkpennin@umich.edu.