UM-Flint physician assistant students help to launch free Narcan vending machine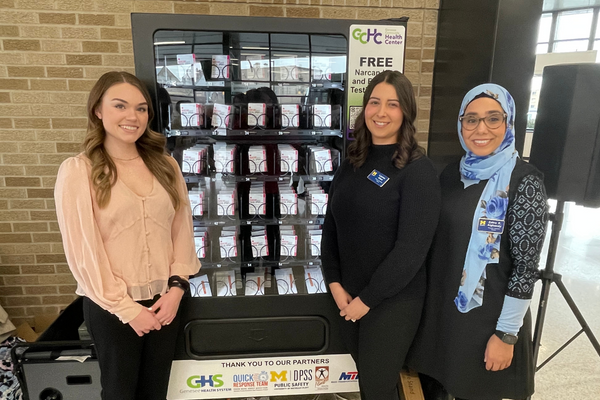 Naloxone, the medication that reverses opioid overdoses and is delivered via the Narcan nasal sprayer, is now available for free at a vending machine in downtown Flint thanks to the work of three UM-Flint physician assistant students and the partnership they formed with the Genesee Community Health Center. The vending machine will also have fentanyl testing strips available for use.
Lauren Allen, Emily Barrie and Zehra Alghazaly are a part of UM-Flint's inaugural PA class that will graduate in April. The vending machine initiative was born out of the PA program's Leadership, Advocacy and Interprofessional Teamwork course, in which students are asked to design a project that has the potential for long-term community involvement.
The vending machine was unveiled during a press conference, Feb. 9, at the Mass Transportation Authority's downtown Flint Transit Center. The Narcan and fentanyl testing strips in the machine are free, unlimited and available when the MTA station is open.
"We are super proud of the hard work we have put in to get this from an idea to a physical object," Allen said. "If people have easier access to Narcan, you will save lives. As PA students, our philosophy is to do no harm. We want this to be a sustainable thing that will be here for many years to come."
All three students said they wanted to choose a project that was meaningful to the community. After learning how to administer Narcan and attending medication for addiction training, they knew they wanted to focus on the issue.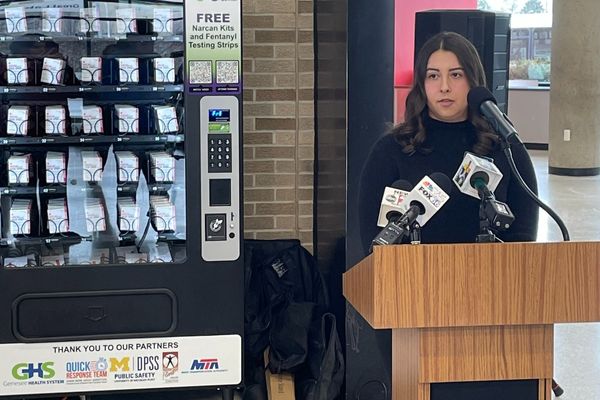 The students identified a potential grant from the Region 10 Prepaid Inpatient Health Plan and the Michigan Department of Health & Human Services and took it to GCHC, which applied for and received funding. The Greater Flint Health Coalition and UM-Flint's Department of Public Safety also collaborated on the project.
The machine is the first of its kind in Genesee County. GCHC says this is a pilot program but they anticipate it will be successful and could be replicated in other parts of the county. UM-Flint DPS will be restocking the machine as needed.
The vending machine has a QR code that leads to information about how to recognize the signs of an opioid overdose and administer Narcan. There is also information about how to register for GCHC's free training sessions for the community.
"The fact that this project is live is very fulfilling," Alghazaly said. "We made an impact on the community before we graduated."
To learn more about UM-Flint's physician assistant program, visit its webpage.
Martha Pennington
Martha Pennington is the communications specialist for the College of Health Sciences. She can be reached at mkpennin@umich.edu.