UM-Flint to offer Master of Science in Data Analytics program for fall 2023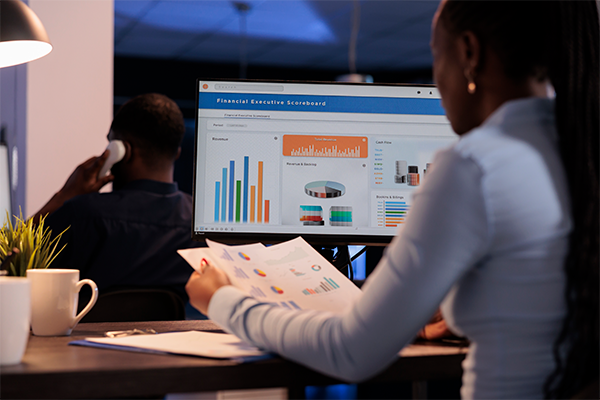 The University of Michigan-Flint's College of Innovation and Technology is adding another graduate program to its catalog for fall 2023. The new program, the Master of Science in Data Analytics, is intended for working professionals with or without experience in computer science and related fields.
To accommodate the schedule of busy professionals, students may work toward this degree either online or in person. The purpose of the program is to train students in data warehousing, security, business intelligence, information storage and retrieval, and data mining. With these new skills, students will be equipped to enter a changing digital marketplace and better able to collect and conserve data.
Data analytics and safety is becoming increasingly important in the modern business world. With the general population becoming more aware of the threat of data breaches, businesses need to form robust data analytics and security teams. In a recent article, IBM advised that data security is one of the most important items a business can offer customers. Similarly important to security, analysis of the data itself is important for current businesses to understand and better serve their customers. Data analysts are becoming increasingly valuable, able to take in the information businesses collect on potential customers and synthesize this information into actionable items. UM-Flint's MS in Data Analytics will offer students in-depth preparation in both of these vital areas and give them the tools to make themselves even more valuable to their organizations, or create new possibilities for future careers. The Bureau of Labor Statistics estimates that there will be a 36% growth in the field for data analysts in the next 10 years.
"Data analytics is becoming an increasingly critical component of work in every industry," said Cam McLeman, professor and chair of mathematics at UM-Flint. "I'm thrilled that students in our program will be able to apply their knowledge wherever their career paths take them."
Students with limited experience in computer science are welcome in the program as those admitted without a background in the field will take three classes to ensure their success in the program. In addition, all students will choose from one of seven concentrations, including: accounting, financial management, general business, geospatial analytics, health care management, marketing, or supply chain and operations management.
Applications for the MS in Data Analytics are now open. To be admitted to the program, students must have completed a bachelor's degree with a major or significant coursework in computer science, mathematics, health science, business, or related fields from an accredited institution. In addition to this, students must have an overall undergraduate grade point average of 3.0 or higher.
For more information about the program, please visit the data analytics webpage, or contact the Office of Graduate Programs at FlintGradOffice@umich.edu.
Rowan Borninski
Rowan Borninski is the recruiting and marketing specialist for the Office of Graduate Programs. She can be reached at rosubo@umich.edu.