UM-Flint students begin work on neighborhood revitalization project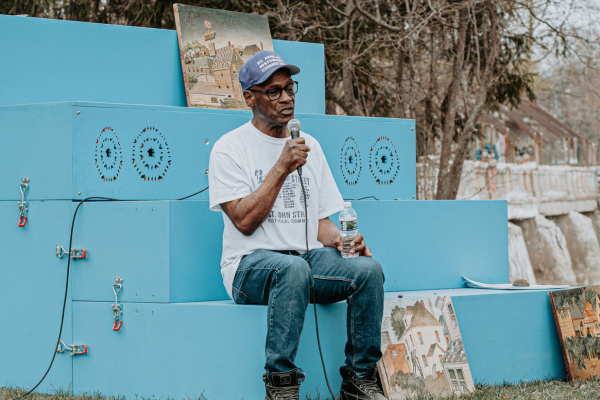 A group of University of Michigan-Flint students and a local artist recently came together to begin reviving and revitalizing land that local families once called home.
Students enrolled in the Community Design Studio course and Vehicles of Upheaval FYE course met at the future site of the St. John Street Memorial Park, located at the extreme eastern edge of where the diverse St. John Street neighborhood used to stand. Residents and business owners were forced out of the neighborhood in the 1970s in order to make way for I-475.
Visiting the neighborhood was a learning experience for both groups of students. Those in the FYE course spent the semester learning about economic, environmental and cultural borders and impacts created by the automotive industry in Flint. Students both saw and heard those impacts firsthand from standing at the future site of the park.
CDS students have been working with former residents to design the park and new signage as well. First-year student MaKenna Hatherill of Grand Blanc said she enjoyed working with members of the St. John Street Historical Committee to preserve their memories while working to bring their design concepts to life.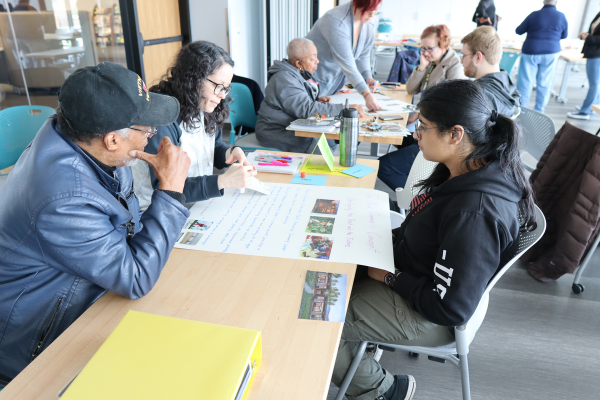 "I hope the park offers a secure place for multiple generations to enjoy while teaching them about the history of the former neighborhoods," she said. "It's moving to learn about the past and how tight-knit this community still is. Knowing that our team had the chance to contribute design elements to this special space feels tremendously fulfilling."
Jenn Mata, a senior graphic design major from Flushing, said working with the committee provided her with powerful learning experiences.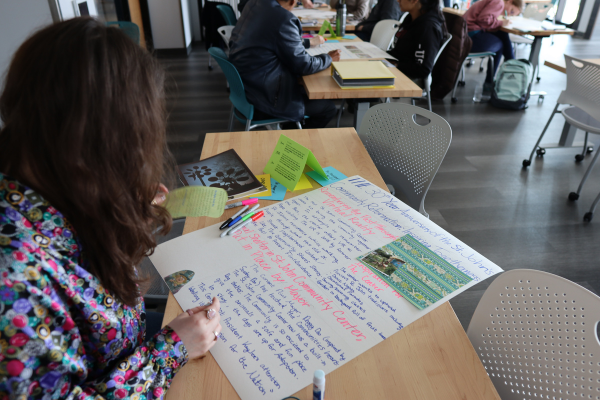 "I learned more about the city I grew up in and its lost history, as well as what goes into forging a great relationship with a design client," said Mata.
Ben Gaydos, associate professor of design and instructor of the CDS course, said working with the St. John Street Historical Committee allowed his students to think critically about the impact that design can have.
"We can think of design as a verb or action, like the construction of an object or the implementation of a process, or as a noun: as the result of that plan, like creating a prototype," he said.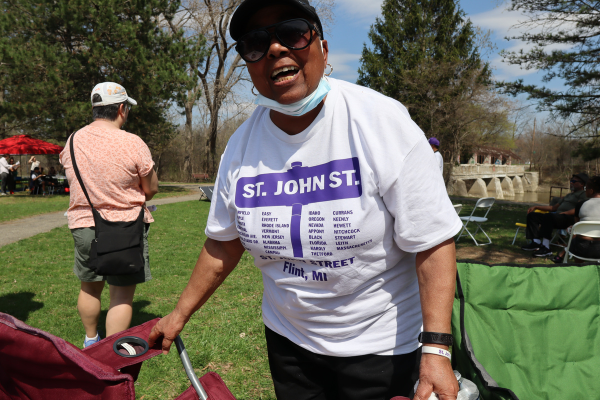 Gaydos added that it's often easy for designers to draft and design construction plans without real engagement with the people and ecosystem that will be impacted by their work, but that CDS students helped to change that in Flint.
"Our process starts with people and places," said Gaydos. "We have difficult conversations about the past as we collectively imagine a better future, especially when it comes to the future site of the St. John Street Memorial Park."
The site also afforded Flint native Ash Arder the opportunity to unveil a modular solar-powered sound sculpture titled "Whoop House." Arder is the University Musical Society and the UM-Flint Arts and Culture Research Cluster 2021-23 artist in residence and is working to study and combine different art mediums like sculpture, sound and moving-image works. It took about nine months for Arder, architectural designer Kapish Kishu Singh, and a carpenter, to design and build the sculpture.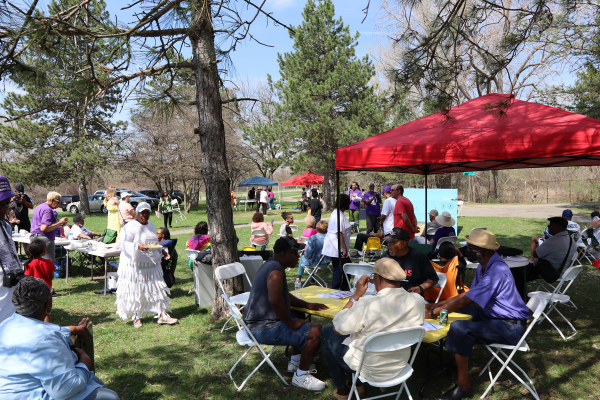 Arder, a UM-Ann Arbor alum who graduated with a degree in communications studies in 2010, was intentional with her designs, right down to the name, shape, color and features of the project. The name "Whoop House," is based on the phrase "whooping and hollering," a phrase that Arder's family uses to describe being vocal. She added that "whooping and hollering" also plays into traditional call and response songs that were sung while her ancestors worked the land in the south. She decided on a solar-powered feature to pay homage to her forebearers and other farmers who spent their days tending to their crops during long, hot days.
Arder also chose to paint the sculpture a shade of blue called "Rolling Sea," which honors the line in the African American national anthem, "Lift Ev'ry Voice and Sing." The sculpture was also designed to look like a staircase, which symbolizes a home or a place of rest. It also features front-facing speakers, the shape of which was based on a pattern borrowed from a quilt stitched by Arder's great-grandmother.
"I wanted people to see 'Whoop House' as a big blue invitation to play music, share stories, power up their electronic devices and inspire others to interact with their environment," Arder said.
Arder also aimed to create an eco-friendly sculpture, but has hit some bumps along the way. "While it is solar-powered, the way I move it from different locations isn't," she said. "I had to rent a moving truck in order to bring it from my house to the park. I would love to have an electric van someday."
Arder said that since the sculpture is waterproof, it's perfect for outdoor performances, adding that it's helping change how artists can perform because it features powerful speakers, jacks for amps or a microphone or guitar, as well as a solar generator which is tucked neatly into the back of the sculpture.
"I wanted to help people figure out a way to work with nature and landscape in order to share their art," she said.
Madeline Campbell
Madeline Campbell is the communications specialist for the College of Arts & Sciences. She can be reached at mciak@umich.edu.