UM-Flint's CIT Project Day brings innovation for a better tomorrow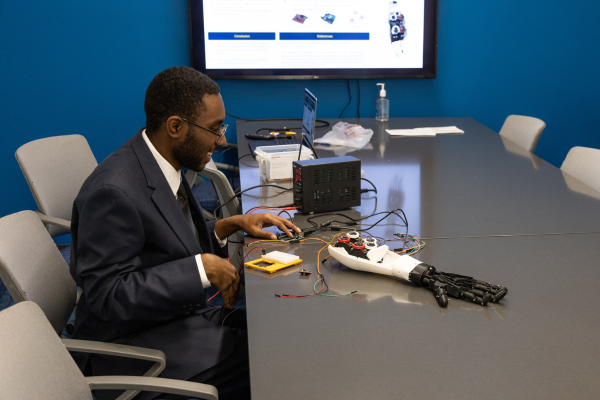 Students from the University of Michigan-Flint's College of Innovation & Technology filled the first and second floors of the Murchie Science Building expansion, April 24, to get a glimpse into what the future of technology could look like. Students presented projects in the areas of mechanical engineering, computer science, advanced manufacturing, information technology and informatics, and physics.
This was CIT's first time bringing together students from all disciplines in the college to present their innovative work in an open-house setting. The event attracted faculty and staff from around campus as well as industry professionals from companies including United Wholesale Mortgage and KM International in order to build stronger connections and support the continued growth of CIT.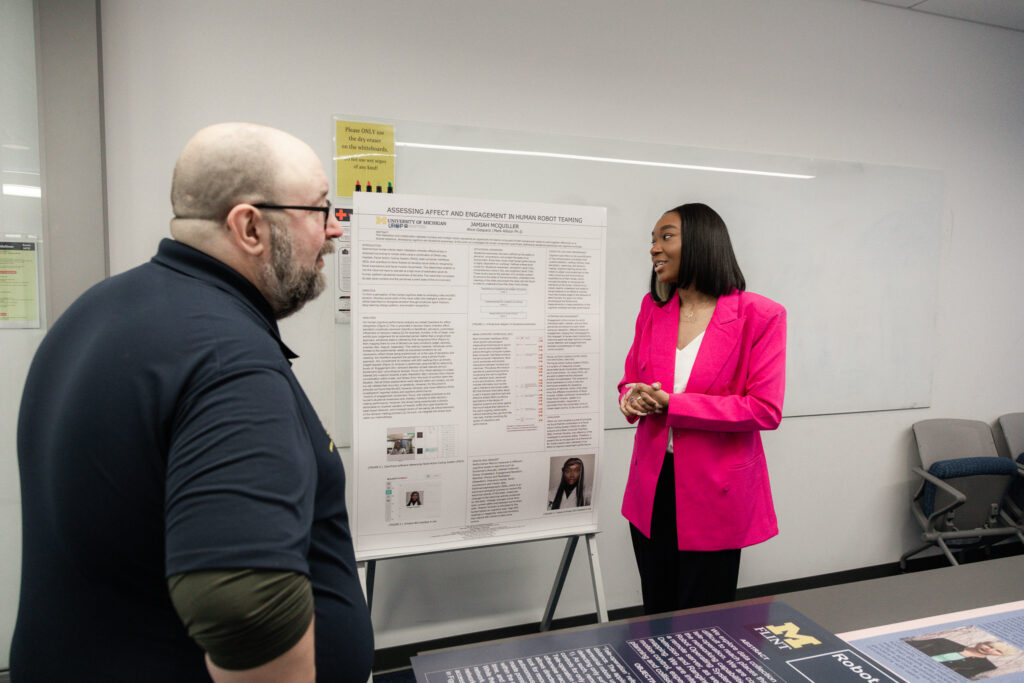 "It was a pleasure to be able to participate in CIT Project Day, share my findings, and display my passion for technology," said Miah McQuiller, a cybersecurity major from Flint. "I'm happy to be able to represent the underrepresented community in tech. It was great getting to connect with other individuals in the tech and engineering field."
McQuiller's presentation focused on analyzing how to asses emotion through robot-human teaming. Her research involves using devices like an emotive EEG headset to measure different cognitive states such as excitement, interest and stress in real time.
Some of the other student projects included a robot that can navigate disaster environments where it might not be safe for humans, injection molds that can be created at a far lower cost than with current manufacturing processes, and a robotic prosthetic limb that functions based on muscle movements.
"I was in awe of the amazing research by our students," said Sonja Feist-Price, UM-Flint provost and vice chancellor for academic affairs. "They took their ideas from concept to experimentation and showed real-world promise for transforming the lives of everyday people. Research that will ultimately benefit the lives of persons with amputations and hearing impairments, disaster relief, replacement of lead water pipes, and so much more."
"Our students are in a dynamic learning environment with phenomenal professors who motivate and support them in putting their ideas to the test, and they succeed. That's the difference of a degree in the College of Innovation and Technology at the University of Michigan Flint."
CIT's next project day is slated for Dec. 7. James Alsup, associate professor of physics, said that this event showcases the ability of UM-flint students to conduct research and express creativity while also promoting their abilities to industry and academia alike.
More information about CIT can be found on the college's webpage. Follow CIT on Facebook, Instagram, and Twitter.
Dayne Hopkins
Dayne Hopkins is the communications specialist for the College of Innovation & Technology. Contact him at dayneh@umich.edu.