UM-Flint names '22 graduate as new sustainability coordinator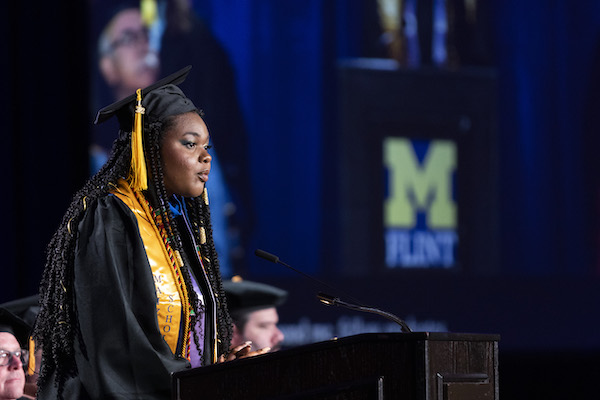 Jazlynne Cathey, '22, may be done earning her degree, but as she steps into her new role at the University of Michigan-Flint, she understands that she still has a lot of studying to do. Hired in January as the university's new sustainability coordinator in the Division of Student Affairs, Cathey will support sustainability efforts, encourage culture shift on campus, serve on the UM-Flint Sustainability Committee and support the University of Michigan's university-wide goal of net-zero greenhouse gas emissions.
"Since this role is so new, I have a lot of learning to do about our campus from a staff perspective," said Cathey. "What I want to emphasize is the term 'culture shift.' I will work through various avenues with many people established in the sustainability arena to develop and/or implement sustainability best practices, but that's only one part of it.
"My job is to bring awareness of what 'sustainability' means to UM-Flint as a whole. I can't make that happen all on my own. I need the support of these initiatives and the willingness to engage in future trainings and events. I want us to all be equipped with the knowledge and training to put our most sustainable foot forward."
Cathey will also manage the UM-Flint Planet Blue Ambassador program, which educates students, staff and faculty members about sustainability initiatives with a goal of inspiring them to become engaged and lead through personal action. The program also sets out to teach the campus community about the scope of what individuals can do to support sustainability and emphasize the power and importance of collective action.
Planet Blue Ambassador training is available for all members of the campus community via Canvas and group trainings will be available soon. Group training sessions allow for tailored discussions if there's a specific area of sustainability a person would like to study, or if participants see an intersection between sustainability and their role at UM-Flint. Completing the training also allows for access to the Planet Blue Ambassador Flint newsletter, a monthly publication with events, campus sustainability updates, and opportunities for involvement.
The program will also have a walking tour with Chloe Summers, a UM-Flint graduate student intern and Planet Blue Ambassador.
"Starting to think more sustainably doesn't have to be hard, and many might already be participating in a sustainable practice and not even know it," said Cathey. "People can swap out for reusable materials wherever possible, including items like metal straws, coffee mugs, water bottles and tote bags for groceries. Reducing our waste is the most sure-fire way of reducing our carbon footprint."
She recommends reusing and repurposing empty glass cars, unplugging electronics and chargers when not in use, donating or upcycling old clothing, using cloth instead of paper towels, and air-drying laundry as additional ways to make small changes.
"All these little things can make a huge impact when we all apply them (to our daily routines)," Cathey said.
Cathey graduated from UM-Flint in December with a bachelor's degree in molecular biology and biotechnology with a research concentration. She was an Intercultural Center programming intern and a student research intern for the Urban Institute for Racial, Economic, & Environmental Justice and Undergraduate Research Opportunity Program.
Lindsay Knake
Lindsay Knake is the Communications Coordinator for the UM-Flint Division of Student Affairs. Contact her with any questions, comments, or ideas about the DSA newsletter, social media, events, and communications.