UM-Flint student profile: Chloe Summers, MS in Biology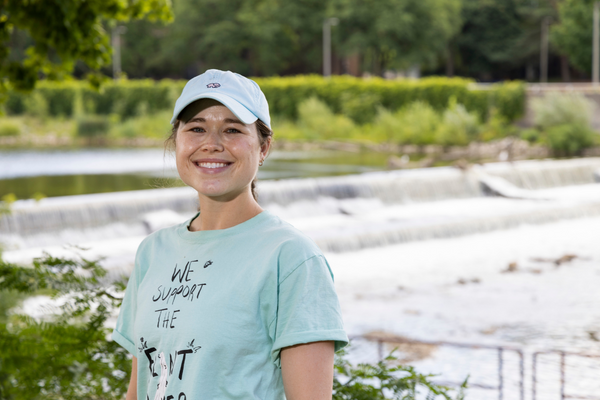 Chloe Summers, a master's in biology student from Davison, knew she didn't want to learn only in a classroom. And in studying at the University of Michigan-Flint, she has found opportunities to take her education outside of academic buildings and into the Flint River.
Summers, who is in her second year in the UM-Flint master's program, finished her bachelor's degree at the downtown campus after two years of study at Mott Community College and Michigan State University. Summers' decision to come to UM-Flint was motivated by her realization that while she wanted to work with animals, she didn't want to become a veterinarian or be stuck in one place. Then she discovered wildlife biology through a field biology course.
"As a kid, I watched Animal Planet. Steve Irwin was a hero of mine," Summers said. "I didn't realize it (wildlife biology) was a job."
In Heather Dawson's lab, the professor of fisheries and wildlife biology asked Summers if she wanted to pursue a master's degree with a thesis. Summers didn't know what that entailed but decided to go for it just the same. With Dawson's guidance, Summers has taken advantage of multiple opportunities at UM-Flint, each of which has provided her with new challenges. She is a graduate student ambassador, a lab assistant in the courses Wildlife Management and Evolutions and Adaptations, a graduate student instructor in a lab course, and a research assistant.
"As I conquer those, I'm building a repertoire of skills and confidence, even with tasks like writing or applying for scholarships," Summers said. "I never thought they'd choose me; I never thought it'd be worth it. Even if I apply and think about why I might be a good candidate, it keeps me in touch with my research and skill development. It keeps me motivated."
As a research assistant in a $38 million research project investigating the Hamilton Dam removal in the Flint River on UM-Flint's campus, she's helping to take a habitat assessment and stock of the functional and taxonomic diversity of the fish population above and below the dam before the structure is removed. That includes assessing contamination in the soil and in fish tissue. Flint will remove the dam and replace it with rock rapids, which will allow both fish and kayakers to move up and down the river unencumbered.
"The study is novel in that it will include research from before and after removal, while most studies focus on the habitat and wildlife only after dam removal," said Summers.
This research and her other experiences at UM-Flint have had a profound impact on her education. The smaller class sizes and closer interaction with faculty members made her feel more comfortable. Her professors, including Dawson; Jill Witt, associate professor of biology; Rebecca Tonietto, assistant professor of biology; and Teresa Yoder-Nowak, biology lecturer; have supported Summers throughout her education and helped her find her footing as a graduate student instructor and research assistant.
On UM-Flint's close-knit campus, there are more opportunities to interact with fellow students and community members. Her field biology class was the beginning of her making friends at UM-Flint.
"Working with the public and getting to know the Flint community has been fun and enriched a lot of my education and experience," Summers said.
Lindsay Knake
Lindsay Knake is the Communications Coordinator for the UM-Flint Division of Student Affairs. Contact her with any questions, comments, or ideas about the DSA newsletter, social media, events, and communications.