UM-Flint wildlife biology student earns recognition as Student Veteran of the Year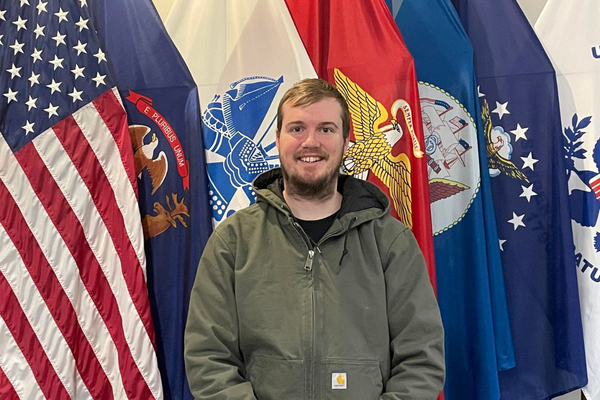 One University of Michigan-Flint student is going above and beyond by helping fellow student veterans on campus.
As a result, Christopher Mayes, a junior wildlife biology major from Grand Blanc and U.S. Marine Corps veteran, has been recognized as UM-Flint's Student Veteran of the Year thanks to his involvement in the Peer Advisors for Veteran Education initiative, which launched on campus this fall.
PAVE is part of the University of Michigan Eisenberg Family Depression Center Military Support Programs and Networks, a suite of programs supporting active service members and veterans. Mayes got involved with PAVE thanks to his personal experiences and desire to improve student veterans' experiences on campus.
"I would have loved a helping hand like what PAVE provides when I first set foot on campus," said Mayes. "Being part of this initiative is something I truly enjoy doing and I appreciate the opportunity to do so."
As a team leader, Mayes works with new student veterans and helps them transition into college life.
"My biggest passion in life is helping people and becoming a peer advisor felt like the perfect way to get involved on campus," he said.
One of the ways he does that is to provide other veterans with support no matter when they need it. "I consider my role with PAVE role to be 24/7. I'm always ready to help a veteran whenever they may need me."
Mayes attended several veterans' outreach events throughout Genesee and Livingston counties this summer in order to gather information about additional resources available to student veterans and their families.
Mayes began training in the Marine Corps at Fort Leonard Wood, Missouri in 2016. and then served as a motor transport operator with the 7th Communication Battalion at Camp Hansen. He returned to the United States in 2019 and served in the 1st MARDIV headquarters battalion at Camp Pendleton in California.
He described his time serving in the Marine Corps as challenging and enlightening and said that it also taught him about the importance of comradery and discipline, which is what he's also working to teach new student veterans on campus about through his work with PAVE.
Mayes said that helping new student veterans build a strong support system is equally as important. "The connections one makes on and off campus can go a long way, especially when it comes to furthering one's career. Who you know can definitely help you when it comes to getting a job," he said.
Mayes also encourages other student veterans to get involved on campus too. "Getting involved will look different from person to person, but it's amazing how rewarding and beneficial it can be."
When it comes to his own future career goals, Mayes would like to work at the Michigan Department of Natural Resources, as he's always been fascinated and intrigued by wildlife of all kinds. "I love animals, even scary-looking spiders," said Mayes.
To learn more about the university's Student Veterans Resource Center, visit its webpage.
Madeline Campbell
Madeline Campbell is the communications specialist for the College of Arts & Sciences. She can be reached at mciak@umich.edu.