UM-Flint renews partnership with Flint's Factory Two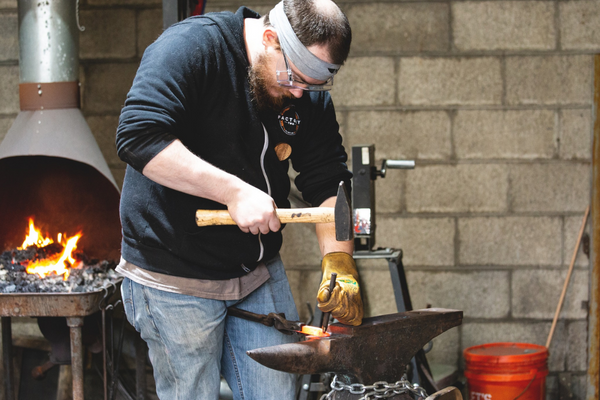 Building partnerships, encouraging innovation and empowering students through learning and hands-on experiences are values shared by the University of Michigan-Flint and Factory Two. The shared dedication to strengthening relationships within the community, and opening pathways to create, is what fueled the desire for the two entities to continue what each believes to be a valuable partnership into 2023.
Factory Two, a community makerspace located in downtown Flint, "is built on the idea that learning, sharing and creating are empowering and transformative forces which can open doors and revolutionize both perceptions and realities." It provides tools and training to anyone in the community interested in furthering their knowledge. Some of the technology that can be found at Factory Two includes 3D printers, drones, wood and metal shops, screen printing, and more. Their members span business owners, students, hobbyists and retirees. Those involved can be found making items as delicate as jewelry, or as durable as iron worked on a coal-fired forge.
The renewed partnership with UM-Flint will provide students with another outlet to be creative and learn new skills outside of the classroom.
The renewal was a combined effort between UM-Flint's College of Arts and Sciences and College of Innovation & Technology. When Ben Gaydos, UM-Flint associate professor of design, recognized the need for this important community connection, he advocated for the renewal last fall.
"Factory Two is a part of the lineage of innovation that Flint is known for," said Gaydos. "At UM-Flint we are focused on creating the innovators of tomorrow and through this partnership, our students, staff and faculty can share ideas and learn from and alongside others within the community."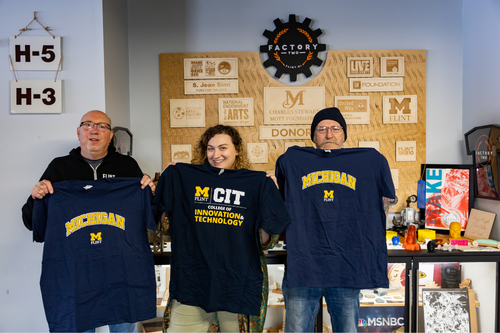 Craig Farrington, director at Factory Two, said that on top of getting access to the makerspace and all of the specialized equipment, students also get a free class to get them started on using the equipment. Students can utilize the space for creating merchandise including t-shirts, stickers, posters and more.
"UM-Flint and Factory Two are natural partners as we both work to help build a stronger community," said Farrington.
The renewed partnership provides 75 memberships to UM-Flint students from January through the end of 2023.
Deans of both colleges are supportive and encouraging of the continued partnership. "We are very proud of our partnership as it has enabled our faculty and students to forge new relationships while interacting with technologies and processes that unite a variety of disciplines," said Doug Knerr, interim dean of CAS. "Hands-on learning is an essential part of a UM-Flint education."
Christopher Pearson, dean of CIT, echoed Knerr's remarks. "As our college continues to grow and seek additional experiences for our students, the relationship between ourselves and Factory Two is a tangible example of both real-life learning and a community connection that benefits all parties involved," he said.
Students interested in obtaining a membership at Factory Two can do so by visiting the Factory Two website.
Dayne Hopkins
Dayne Hopkins is the communications specialist for the College of Innovation & Technology. Contact him at dayneh@umich.edu.