Two UM-Flint MPA students recognized for their service to the Flint area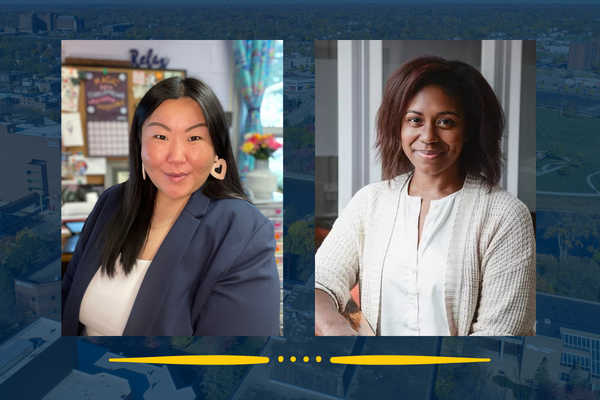 Two University of Michigan-Flint students who are working toward their master's degrees in public administration were recently recognized for their leadership in the community thanks to their inclusion in the Flint and Genesee Group's first-ever "40 Under 40" program. 
The program highlights a diverse group of professionals, entrepreneurs and influencers who are working to shape Genesee County's future.
Brandee Cooke-Brown of Flint was recognized for her work as executive director at 100K Ideas, a nonprofit founded in 2016 that helps entrepreneurs launch their budding businesses.
"I was excited and honored to have been featured in the program," said Cooke-Brown. "To be recognized for something I genuinely enjoy doing is awesome."
She started working at 100K Ideas five years ago and has watched the organization grow and evolve since then.
"When I started working here, I had no idea what this journey would look like, but I am proud of how far the organization and I have come," said Cooke-Brown.
Cooke-Brown also credits the staff at 100K for fostering the organization's continuous growth and evolution.
"I have the best team. They love the work we do and are always ready to take clients' plans, ideas and proposals to the next level."
Cooke-Brown and the 100K Ideas team constantly work to turn those plans, ideas and proposals into reality by partnering with entrepreneurs and offering services like idea assessments, product development, marketing and business planning.
She and her team also strive to ensure they are making a positive impact on their community, and said that studying in UM-Flint's Master of Public Administration program has also been useful in that process.
"I've learned about and applied strategies like budget construction, the grant application process, professional development and the process behind program impact evaluation. Every piece of the MPA program has been incredibly valuable."
Cooke expects to graduate in spring 2023.
The second student highlighted in the program is Fenton resident Emily Leonard, who is the director of grants and public relations at the Boys & Girls Club of Greater Flint.
The organization provides children with a safe place to learn and grow, and features services that highlight the importance of academic success, the arts, citizenship, and health.
Leonard began working at the Boys & Girls Club of Greater Flint in 2012 as an AmeriCorps Volunteers in Service to America program member.
AmeriCorps is a national service program based on volunteer work that typically partners with nonprofit agencies and schools in order to serve a community. The VISTA program was created in 1964 to help communities combat poverty.
The Boys & Girls Club of Greater Flint has a partnership with AmeriCorps, and members work to address high school graduation rates, citizenship and decision-making skills with Flint youths.
"I have an immense sense of pride living and working in the same community that raised me, and it's such an honor to be recognized for my achievement as a young professional in Flint and Genesee County," said Leonard.
Leonard's responsibilities include submitting grant proposals and applications, community engagement and marketing, and creating strategies that leverage additional funding opportunities that will contribute to the growth of the Boys & Girls Club of Greater Flint.
Leonard said that obtaining her MPA will help her advance professionally and offer her new tools to make a larger impact when it comes to promoting diversity, equity and inclusion in the Flint area.
"Watching club members grow up in our program, attending their high school graduations and being part of their village is an incredible feeling, and there is hope that we can serve more youth by increasing accessibility," said Leonard.
She expects to graduate in December 2024.
To learn more about UM-Flint's Master of Public Administration program, visit its website.
Madeline Campbell
Madeline Campbell is the communications specialist for the College of Arts & Sciences. She can be reached at mciak@umich.edu.