UM-Flint alum, Men's Hockey Club founder returns to coach the team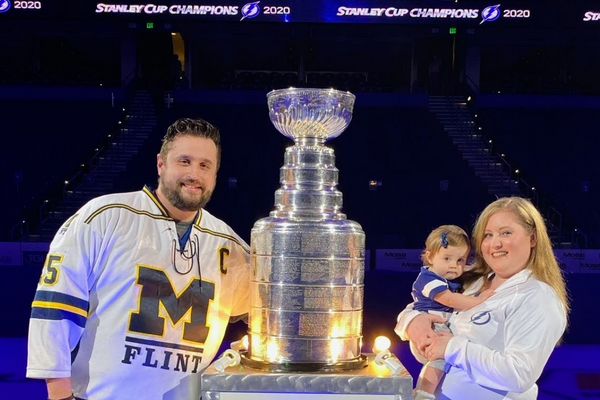 It's been nearly two decades since Tom Garavaglia saw an opportunity to make hockey more prevalent in Flint. He was a student at the University of Michigan-Flint, working toward a bachelor's degree in business administration, when he founded the Men's Hockey Club in 2006. Now, after working in the NHL for more than a decade, Garavaglia is back to coach the team he helped to build.
As club president, Garavaglia was responsible for organizing the team's schedule, staying in communication with the leadership of UM-Flint and opposing schools, managing the team's arena ice time, identifying staffing needs, and more. He even used the team as the focus for his senior capstone class, in which he was required to design a business and marketing plan for an organization.
"One of my goals in developing the team was to create something that the community could get behind," said Garavaglia, a 2009 UM-Flint graduate. "The city of Flint needed something, and I thought that our team and program could be something that Flint would support."
Garavaglia put everything he had into building the club — his love of the game, pride in the university and city of Flint, his education, and a ton of hard work. During his final year at UM-Flint, Garavaglia landed a hockey lover's dream internship, working in event operations for the NHL's Tampa Bay Lightning. After graduating, Garavaglia stayed in contact with his former Tampa Bay boss, which led to an exciting opportunity. The Lightning were so impressed with Garavaglia during his internship that it had created a position for him in building operations. He gladly accepted the employment offer and worked in that area for more than a year.
He later moved to a new project within the organization — community hockey. Starting as a department of one but growing over time, Garavaglia's job was to develop hockey programs focused on youth development to get individuals interested in playing the game and hopefully keep them playing well into adulthood.
"I knew a long time ago that there was no way I was going to be a professional hockey player, but this opportunity presented itself and allowed me to share my love of the game with others and get others interested in playing," said Garavaglia.
While in Tampa, Garavaglia kept an eye on the UM-Flint Men's Hockey Club. He even flew out to support the team during their 2013 national championship run, seeing the team finish as the runner-up to Adrian College.
Today, Garavaglia is back in Michigan as he takes on a new role as director of NHL Street with RCX Sports, which partners with professional leagues like the NHL to equip youth sporting organizations with resources and training to thrive. In his newest position, Garavaglia will build on his years of experience in Tampa Bay to create street hockey leagues across North America. His return home came full circle when he was notified that the Men's Hockey Club was looking for an assistant coach. Garavaglia didn't hesitate to be a part of the team once more.
"Being able to work with some of the guys I used to play with is great, and the camaraderie of the locker room is something I've missed," he said. "Where I am today goes back to where I started, so if I didn't go to UM-Flint, I don't think I would be in this position."
For more information on the club's upcoming schedule, visit events.umflint.edu/clubsports.
Cecilia Warchol
Cecilia Warchol is the communications assistant for UM-Flint Recreational Services. She can be reached at cwarchol@umich.edu.