UM-Flint to host author Malaka Gharib for Common Read keynote, Oct. 18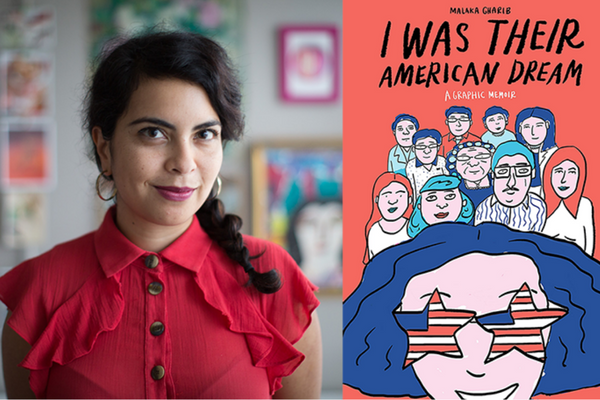 The University of Michigan-Flint Common Read invites the campus and community to read a selected book each academic year. This shared experience allows for conversations and connections based on the collective reading experience and helps to integrate the campus into global culture and discussions.
The 2022-23 Common Read selection is "I Was Their American Dream," a graphic memoir by Malaka Gharib that details her struggles through childhood, youth and early adulthood to come to terms with her dual heritage and life in the United States. She is the daughter of a Catholic mother from the Philippines and an Egyptian Muslim father, both of whom immigrated to the U.S.
Gharib, who is the deputy editor and digital strategist on NPR's global health and development team, will visit campus virtually, 12-1:30 p.m., Oct. 18, for the Common Read Keynote Webinar. She will conduct a live presentation of her autobiographical work, followed by a Q&A session with attendees. The event is free to attend.
Selection of each year's Common Read book is conducted by a faculty-led committee, in collaboration with academic and student affairs. Rebecca Tonietto, assistant professor of biology and Common Read co-chair, said that "I Was Their American Dream" is the first graphic text to be chosen by the committee.
"We thought that this book covered themes that many of our students could identify with: othering, microaggressions, celebrating the many diverse aspects of yourself. And the format of the book is just so charming," Tonietto said. "The illustrations are hand-drawn in – spoiler alert – shades of red, white and blue. Choosing a graphic memoir allows the community to engage with what can be difficult information in a manner that is accessible for a wide variety of readers."
The Common Read has run continuously since 2012 and Peggy Kahn, professor emerita of political science and Common Read co-chair, has been closely involved with the project since the beginning. She explained that the works chosen each year reflect prominent currents of public life – including immigration, race, health and the environment – often with multiple issues represented in one book. In the 2021-22 Common Read, J. Drew Lanham's "The Home Place: Memoirs of a Colored Man's Love Affair with Nature," the author utilizes his lived experiences as an African American to discuss intersections between the environmental and social justice movements.
The author keynote is a highlight of each Common Read, but Kahn explained that, in addition to the keynote, the selected book is frequently incorporated into academic courses and additional events allowing the UM-Flint community to further engage with the work's themes.
"For participating faculty, staff and students, the author visit is often a special moment of mutual recognition and appreciation," Kahn said. "We clearly appreciate and value the author, and the author is impressed and delighted not only by the attention they receive here but by the ongoing work of learning, research, artistic expression, and community cultivation they witness at UM-Flint."

"I Was Their American Dream" is available for free to all UM-Flint students, faculty and staff with a valid MCard at the campus bookstore. The virtual author keynote is also free and open to the public. Those interested can submit their RSVP here.
Logan McGrady
Logan McGrady is the marketing & digital communication manager for the Office of Marketing and Communication.