UM-Flint research team establishes citywide weather sensor network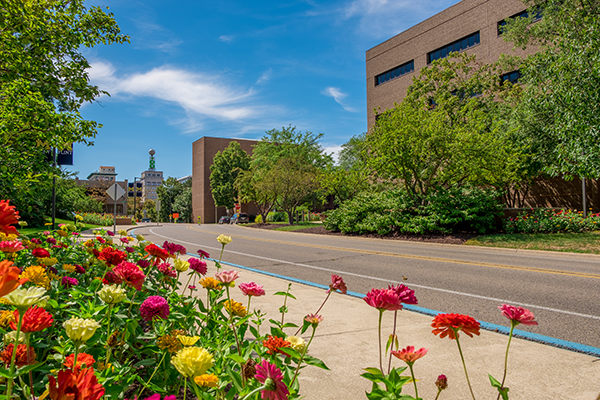 A research project launched last December by the University of Michigan-Flint's Department of Natural Sciences and the Office of Economic Development's Geographic Information Systems Center is turning up the heat on its plan to examine heat-related risk in urban environments.
Now partnering with the Mass Transportation Authority, the team, led by Martin Kaufman, UM-Flint professor of geography, planning and environment, is studying patterns of extreme heat in Flint and how to reduce its threats to residents via a weather sensor network across the city using MTA bus stops.
"The MTA is excited to partner with UM-Flint on the extreme heat event study," said Paul Mattern, MTA manager of planning and scheduling. "The MTA has worked hard to reduce the use of diesel (fuel) in our buses and has, in fact, converted most of our fleet to alternative fuels such as CNG, propane or hydrogen. While these changes were primarily driven by the financial benefits, we understand the environmental benefits were beneficial for the community as well. These fuel type changes help reduce the particulate matter and gases that are in the air which add to the urban heat island effect.
"The MTA has bus stops throughout the city which makes it easy to identify locations to place these sensors. We can find several places in the city that have a similar built environment or land use and compare how the city warms or cools based on those factors."
Currently, 18 solar-powered sensors are in operation, with a total of 40 sensors to be deployed from early August through mid-September. The sensors monitor temperature and humidity 24/7 at 30-minute intervals to calculate the heat index. The heat index, also known as the apparent temperature, is what the temperature feels like to the human body when relative humidity is combined with the air temperature. This has important considerations for the human body's comfort. When the body gets too hot, it begins to perspire or sweat to cool itself off.
The data collected by the sensors are transmitted to an online dashboard to provide users the ability to see locations at the block level where extreme heat conditions currently exist.
"A unique feature of the sensor network is its flexibility and optimization capability," said Kaufman. "In areas where temperature readings are high for several hours, but battery status is low, it indicates the heat is not coming from the sun, but from other sources in the surrounding environment, such as bare pavement, high building density or heavy traffic."
Sensors are or will be positioned on MTA bus stop signs and equipped with lights to notify residents nearby if an extreme heat event, or EHE, is occurring. The sensors are being placed based on sociodemographic data to determine where the most vulnerable of Flint's populations live that could succumb to an EHE.
Kaufman said an infrared camera will be used to identify hot spots in those areas and classify the sources of heat. Those image classifications enable a search of digital files for similar types of land-use configurations where no sensors exist, thus improving and optimizing the network.
An EHE is a technical term for abnormal heat waves experienced in the summer and is defined by the Environmental Protection Agency as "periods of summertime weather that are substantially hotter and/or more humid than typical for a given location at that time of year." These events can cause heat-related health problems, especially for vulnerable groups.
The project has received support from the Genesee County Homeland Security and Emergency Management, the City of Flint, and Mass Transit Authority.
For more information about this project, contact Kaufman at 810-766-6733 or Mattern at 810-780-8825.
For more information about the GIS Center and its projects, visit its webpage.
Robb King
Robb King is the director of marketing and communications at UM-Flint. He can be reached at rwking@umich.edu.