UM-Flint "Crip Camp" screening sparks live conversation with advocate Judy Heumann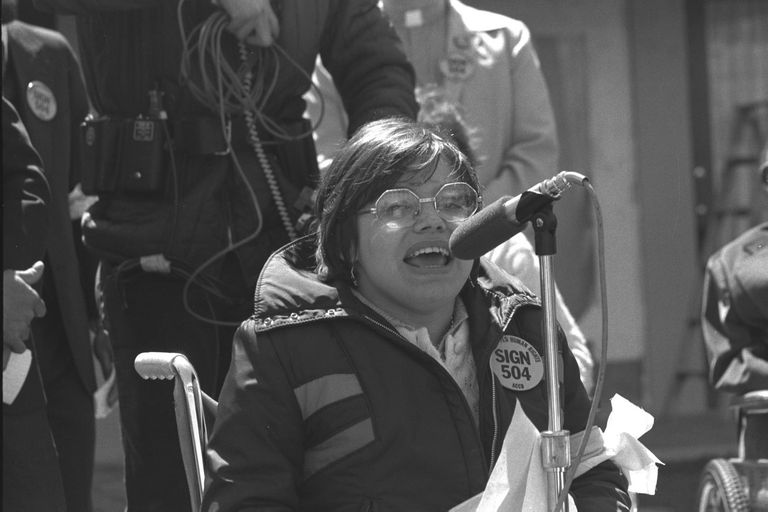 When Associate Professors of Education Christine Kenney and Melissa Sreckovic showed the documentary "Crip Camp: A Disability Revolution" in their classrooms, they were met with shocked reactions. Their students could not believe that they had not heard about the disability rights movement prior to viewing the documentary.
On March 23, Kenney and Sreckovic hosted a screening of the documentary at UM-Flint, so more people could learn about the inspiring movement shown in the film. The event was taken to the next level when Judy Heumann, an international disability rights advocate featured in the documentary, joined the event virtually. Heumann answered questions from a student led-panel. 
"We hope the documentary ignites a fire within you to beat the odds and current realities in society and challenge the status quo to create truly inclusive communities where every individual is welcomed and valued," Sreckovic said.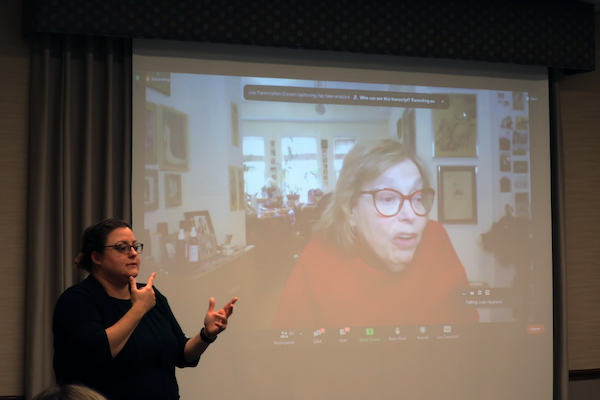 "Crip Camp: A Disability Revolution" features Camp Jened, a summer camp designed for teens with disabilities that sparked a movement for equal rights and accessibility. A 1970s setting was a revolutionary, youthful backdrop for the story, which includes Judy Heumann.
Brandon Lesner, a recent graduate of UM-Flint's online psychology program, arranged for Judy Heumann to participate in the event. Brandon's work is informed by his passion for advocacy and his own experiences as a person with muscular dystrophy. 
"Crip Camp" details Heumann's rise to international prominence as a disability rights advocate. She has played a critical role in the development and implementation of major legislation including the IDEA, Section 504, the Americans with Disability Act, and the Convention on the Rights of Persons with Disabilities. Heumann led the historic 1977 504 Sit-in at the San Francisco Office of the U.S. Department of Health, Education and Welfare, which is the longest sit-in at a federal building to date. Heumann has also served in the Clinton and Obama administrations and was a Senior Fellow at the Ford Foundation. 
In the panel discussion, students Jubara AbuSin, Angela Wang, Tonya Brown, Kassi Perez, and Kelly Parrott were able to meet with the advocate herself. The students and audience members asked questions, shared their personal experiences, and received personalized advice from Heumann.
MBA student Tonya Brown was able to receive advice about her non-profit organization, the National Pandemic and Disability Awareness Council. Brown plans to organize for disability awareness and rights for students on and off-campus.
"It was amazing to have the opportunity to serve on the Crip Camp Panel. I am without words to have had the opportunity to speak directly with Judy and I am still floating," Brown said. "I am looking forward to serving in this capacity in the future."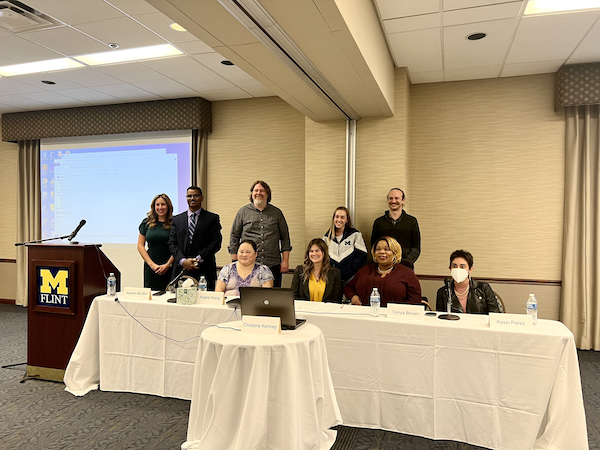 MBA student Angela Wang was moved after Judy took the time to help her with a situation involving her son, who has special needs.
"I have been struggling with my situation for over a year and was ready to give up. Now, I feel confident and ready to fight for the rights of my special needs son. Judy asked to be kept up to date on my son's situation. That really moved me and reinforced what an amazing person she truly is," Wang said. "To be given the opportunity to speak with an internationally renowned disability rights activist was a blessing."
Heumann said that events like the panel at UM-Flint can fuel the movement.
"I appreciate the fact that people on the panel were really forthcoming about what they were saying. These kinds of events can help you meet new people that are supportive and give you opportunities to do things for others. They strengthen you individually, and then you can give strength to others. That's very powerful, and I think that we saw that today in this room," Heumann said.
The event was sponsored by the School of Education & Human Services, DEI at UM-Flint, UM-Flint Student Government, and UM-Flint Disability and Accessibility Support Services.
Contact University Communications & Marketing with comments, questions, or story ideas.