UM-Flint College of Innovation & Technology heads to Virginia Tech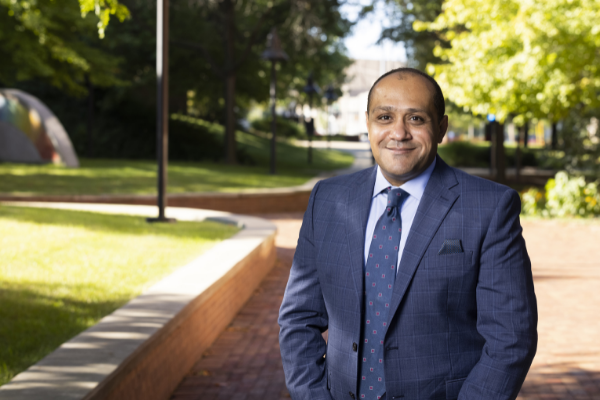 Dr. Yasser Aboelkassem, assistant professor in the College of Innovation & Technology (CIT) was recently invited back to his alma mater, Virginia Tech, to give a seminar on his research with multiscale modeling and simulation of cardiac function, from the molecular level to whole organ. Aboelkassem completed an M.S. in Mathematics and a Ph.D. in Mechanics during his time at Virginia Tech and was excited at the opportunity to visit as a speaker.
"I felt very honored about this invitation, as it gave me the opportunity to connect back with my home department and see the major changes that they have developed at the institution."
The Biomedical Engineering and Mechanics (BEAM) department at Virginia Tech routinely organizes research seminars a few times per semester with an emphasis on diversifying speakers from the fields of biomedical engineering and engineering mechanics. Because Aboelkassem works at the interface between these fields, he thought it was a great opportunity to show students that both areas can be relevant at the same time in terms of research, and that once graduate students earn their degrees, there is room in academia and industry for these fields.
Aboelkassem's seminar focused on cardiac disease, specifically related to the mechanical dysfunction of the human heart. Two years ago he published an article in the Biophysical journal that later gained attention and was recognized as a major stride in Aboelkassem's field of research, considered a serious step towards building a mathematical model that would enable the use of computational techniques into a clinical setting for this type of research. Over the past 20 years, the complexity of the model and depth of understanding it could provide hasn't existed; so, there is a unique opportunity to innovate the way clinicians detect certain diseases and potentially treat them.
Aboelkassem also spoke about some of his future goals with the College of Innovation and Technology, stating that he wants to strike a good balance between wet lab and computational techniques. He likes the idea of a translational approach in learning, mentioning that he's also interested in looking at something like cardiac assist devices, stent design, and bioinspired sensors. This coincides with the philosophy of CIT, merging practical technology with academic research.
This is just one example of the innovative approaches our CIT faculty bring to the classroom experience. If you're interested in learning more about CIT's programs, faculty, or research, contact us to find the right path for your future.
Dayne Hopkins
Dayne Hopkins is the communications specialist for the College of Innovation & Technology. Contact him at dayneh@umich.edu.