Giving Blueday makes a difference for student organizations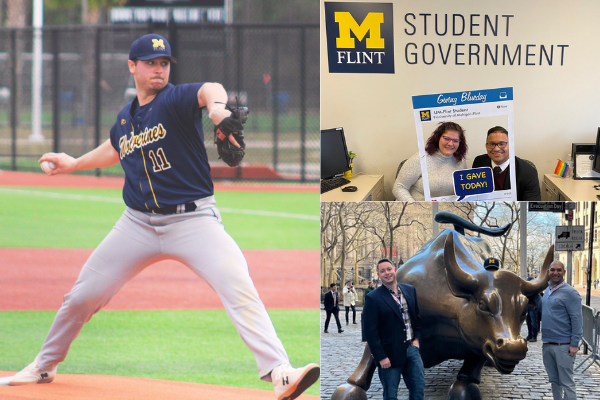 The generosity of the University of Michigan-Flint community was on full display during Giving Blueday, the University of Michigan's annual day of giving. More than 300 donors contributed over $300,000 to UM-Flint on March 16, placing UM-Flint second among all units across the three campuses.
This outpouring of philanthropic giving allowed donors to support what they are most passionate about at UM-Flint, offering opportunities for a highly personalized commitment to the university. For many in 2022, Giving Blueday was a chance to directly support student organizations. It's clear why these groups are popular with donors: student organizations enrich the lives of the UM-Flint community and make our campus a thriving hub of innovation and connection.
This article highlights three student organizations that have felt the impact of Giving Blueday. Some are new additions to UM-Flint's student life; others are long-standing campus institutions. Each of them will use the support they found on March 16 to continue doing great things.

Keep reading to learn more about the difference Giving Blueday makes for our students.
Club Baseball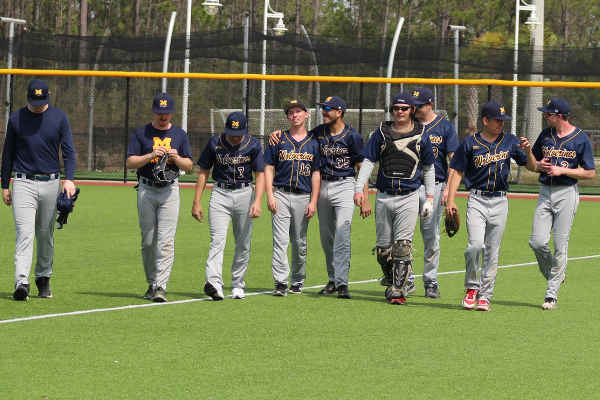 One of the newest groups on campus, UM-Flint Club Baseball is rightfully proud of building a close-knit, dedicated team in the middle of the pandemic. Preliminary numbers show that 36 donors contributed more than $2000 to the team, funds that will be used to purchase equipment for players, field rentals, and allow for an expanded schedule of games.
Club president and senior economics major Shbeib Dabaja says that the team means much more than what happens on the field.
"When we began playing in an independent summer league last year, we came up with a phrase that holds true in life more so than baseball, and that is 'go 1-0 every day.' Win every day, every opportunity," Dabaja explains. "Everyone on this team has formed real friendships and created something that will last far beyond our involvement in Club Baseball."
You can see the club in action April 2-3 as they host their first-ever home opener against Oakland University at Whaley Park. Admission is free and games begin at noon. Follow the team on Instagram and learn more at flintbaseball.com.
Entrepreneurs Society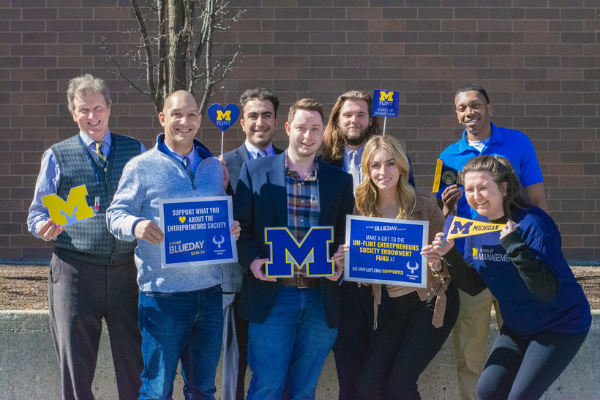 Formed in 2008, the Entrepreneurs Society has a storied track record of preparing students for the business world by offering hands-on projects that align with individual goals. Donations of more than $3000 were made by 12 donors to the group, according to preliminary reports. These donations will aid student business development and career preparation.
Entrepreneurs Society President Garrett Prince reflects on the support this group received on March 16.
"Giving Blueday is a great chance to unify and enable students to pursue their goals and aspirations, we're incredibly thankful for our donors and their interest in our success!" the senior finance and accounting major says.
Students can request membership on Engage to receive updates from the Entrepreneurs Society. For other inquiries, email entrepreneurssociety@umich.edu.
Student Government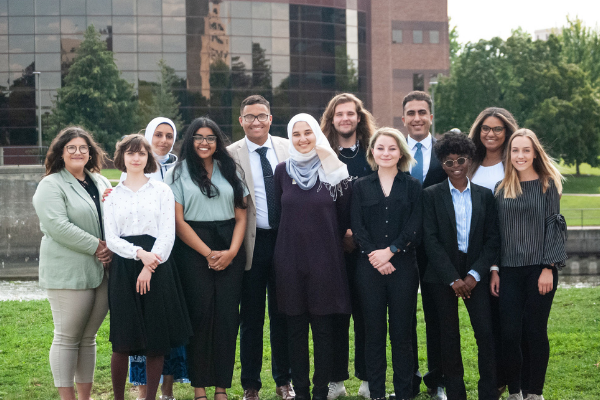 UM-Flint Student Government is a diverse group committed to empowering the student body through advocacy, policy change, and programming. Initial numbers from Giving Blueday show that 19 supporters donated close to $1000, gifts that will help SG serve students' interests, needs, and welfare.
"Giving Blueday is an amazing experience, for donors and for organizations. It shows a sense of support," explains Senator Christian Dunn, a second-year computer information systems major. "I am proud that my organization gets things done. Our Student Government gets results as fast as we can in order to provide the best service to students….​​We are able to help more students and support students with all of the gifts that we received by using the funds in our Student Government Scholarship for next year."
Visit the Student Government webpage for more information on meetings and upcoming elections.
While Giving Blueday is a hallmark of giving at UM-Flint, the generosity of our donors persists year-round. To find the gift fund that best matches your passion, visit the Leaders and Best webpage or contact University Advancement at (810) 424-5448.
Logan McGrady
Logan McGrady is the marketing & digital communication manager for the Office of Marketing and Communication.