UM-Flint's Online B.S. in Psychology made a Michigan degree accessible for Brandon Lesner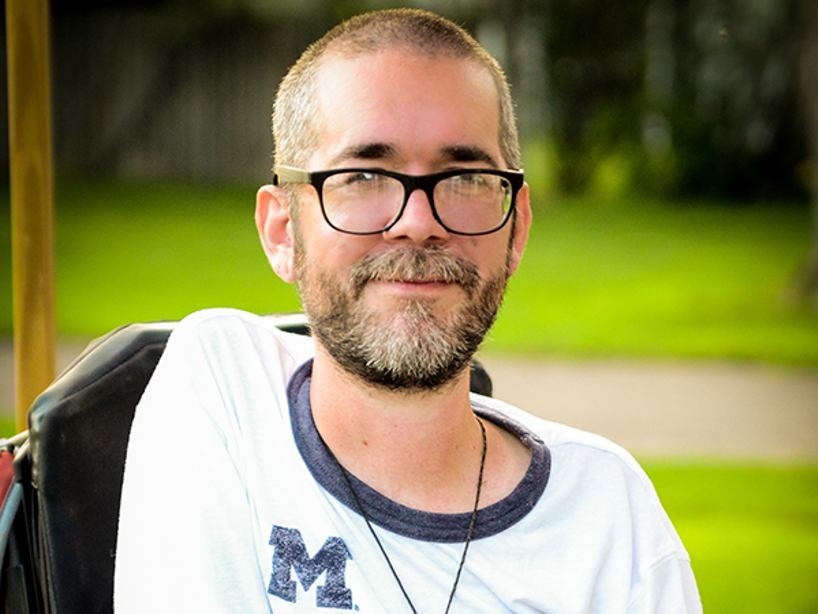 Raising a family while performing well in college can be challenging—a fact that UM-Flint senior Brandon Lesner knows well. The 37-year-old father used to juggle his home responsibilities with taking on-campus coursework at a community college, but that schedule proved to be unsustainable for Brandon, who has muscular dystrophy and is unable to drive.
Still motivated to advance his education, Lesner began researching online degree programs that would better fit his needs. Studying online meant there was no need to arrange for transportation, and that he would have the flexibility to balance coursework with home life. It was during this search that Lesner discovered UM-Flint's completely online B.S. in Psychology.
"I really liked the historical name behind UM-Flint's online programs. I felt like I was going to get a higher quality of education. And if I ever had any issues, I liked that there was a physical campus I could visit to sort out my problems or even meet with my professors," Lesner said. "The University of Michigan history gave me the confidence that these online programs were done right."
With just one year left before earning his degree, the online psychology program has exceeded Lesner's expectations. Before classes even began, Lesner worked with his academic advisor to transfer more than 40 credits of his previous experience, meaning it would take him only two years to finish his degree. That trend of accessibility and personalized attention would continue once Lesner began his coursework at UM-Flint.
"I haven't had a professor that wasn't super helpful. The content is challenging, which is good—you're receiving a quality education," Lesner said. "But the instructors make courses meaningful by being so accessible. I could go on and on about how much I love this program."
Lesner's connection with professors has been invaluable in planning for the next step after completing his long road to a bachelor's degree. Originally intending on completing a Ph.D. program in psychology, discussions with professors outside of class have stoked his passion for developmental psychology, specifically applying it to people with disabilities in K-12 education. He now intends to begin UM-Flint's M.A. in Inclusive Education online after finishing his undergraduate degree.
The format of this program, combined with the dedication of its professors, has made the difference for Lesner on his path to earning his degree. Making quality education accessible for everyone is central to the program's mission, according to department chair Hillary Heinze.
"The online Bachelor of Science in Psychology is designed to meet the needs of students with diverse schedules, circumstances, and localities. Our rigorous courses are taught by expert faculty members, who actively support and collaborate with students," he said. "While offering a strong foundation in core areas, a wide range of electives are also available online, offering students the opportunity to further explore their interests. Students work closely with faculty and advisors to develop academic and professional plans, supporting their success both in the program and after graduation."
Logan McGrady
Logan McGrady is the marketing & digital communication manager for the Office of Marketing and Communication.