Q&A with UM-Flint Student Government DEI Director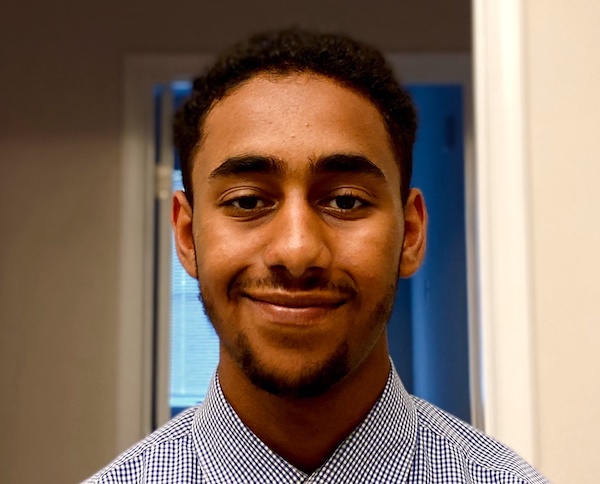 Omar Elnour is the first student to serve as the University of Michigan-Flint's Student Government Diversity, Equity, and Inclusion Director.
The UM-Flint Student Government, under the leadership of President Samantha Uptmor, created the position to address DEI on campus from the student perspective.
Elnour, a senior and Human Biology major, was chosen from a group of candidates. He also is a student representative on the campus-wide Diversity, Equity, and Inclusion Committee. The committee members are creating short- and long-term goals in a multi-faceted action plan for UM-Flint.
Learn more about what Elnour hopes to accomplish as SG DEI director:
Q. As SG DEI Director, what will you do?
A. My goal is to help make students of all backgrounds not only feel welcome but also empowered and heard by their university. I will make issues involving Diversity, Equity, and Inclusion a priority at our university, and become a primary contact for clubs that promote diversity. I'd also like to create campus events that bring diverse students together to hold important dialogues and get involved in civic engagement projects for the betterment of our community.
Q. What do you hope to accomplish in the first few months of your role?
A. I'd like to meet with student leaders, and gather their ideas and perspectives to draft up a plan in support of the current DEI strategic plan in place. I plan to also support census outreach and voter registration efforts as best as I can. Lastly, I hope to bring together identity-based organizations for at least one collaborative event this semester.
Q. How can UM-Flint students get involved in DEI work?
A. Students can get involved in DEI work simply by verbalizing it. Through telling your unique stories and experiences, and sharing your ideas, together we can accomplish so much more than we believed was possible. As students, we have a responsibility to maintain a culture of inclusivity, to support and make each other's lives on campus better.
Q. Is there anything else you'd like to share?
A. The creation of this role is a reflection of what is happening in our country right now. The needs of our university and the needs of our diverse students are one and the same and cannot continue to be brushed aside. My one hope is that the creation of this position is the first step towards a better experience for diverse people in our university, and eventually, our community.
Lindsay Knake
Lindsay Knake is the Communications Coordinator for the UM-Flint Division of Student Affairs. Contact her with any questions, comments, or ideas about the DSA newsletter, social media, events, and communications.