New UM-Flint Student Government president focuses on engagement, DEI and sustainability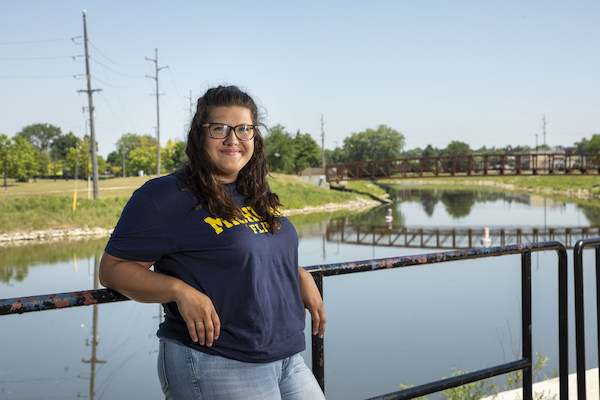 With aims to make a difference for fellow students, Samantha Uptmor has stepped into the role of University of Michigan-Flint Student Government president for the 2020-2021 school year.
Uptmor, a senior from Saginaw, is studying political science with a minor in international relations. She leads the administration of Vice President Carl Grolle, a sophomore studying engineering; Senior Angela Wang, a graduate student earning her MBA; and Senator Donald Weismiller; a junior studying political science.
Uptmor previously served in Student Government as Director of Foreign Affairs, and she was voted into the role of president by her peers in April.
As Student Government president, Uptmor hopes to impact students in a positive way. The administration has three goals: student and civic engagement; diversity, equity, and inclusion; and environmental and institutional sustainability.
"As an administration, it's our goal to improve the experience of every student at UM-Flint," Uptmor said.
With that goal in mind, her administration created a DEI director position in Student Government. Omar Elnour, a senior and Human Biology major, was chosen from a group of candidates for the role. The position is to address DEI on campus from the student perspective.
"With this position, we have created another avenue to invoke change," she said.
Aside from Student Government, Uptmor is a fellow with the Campus Election Engagement Project and is a member of Phi Sigma Sigma, where she serves as both social chair and parent/alum chair.
"Being involved on campus really enhances the entire college experience. It gives you opportunities to meet so many people and do countless different things," she said. "For me personally, being involved has allowed me to grow both personally and professionally."
Although the Fall 2020 Semester will look different than a typical semester with COVID-19 precautions in place and 75 percent of classes online, Uptmor said she's looking forward to getting back into the swing of things and is excited about engaging students.
"I chose UM-Flint because of the feeling I had on campus during my initial tour," Uptmor said. "I felt at home and everyone was so welcoming, I knew I wouldn't be happy anywhere else."
Lindsay Knake
Lindsay Knake is the Communications Coordinator for the UM-Flint Division of Student Affairs. Contact her with any questions, comments, or ideas about the DSA newsletter, social media, events, and communications.