A Neighbor's Guide to the COVID Vaccine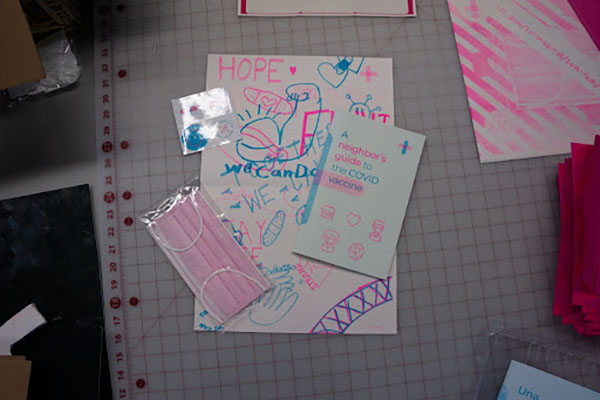 University of Michigan-Flint students are not just devoted to their studies, but also to the health and well-being of their community. Throughout the COVID-19 pandemic, UM-Flint students have been hard at work finding solutions to emerging problems.
Students from the Department of Fine and Performing Arts, the Department of Public Health and Health Sciences (PHHS), and the University of Michigan College of Pharmacy have collaborated over the winter and spring semesters to create "A Neighbor's Guide to the COVID Vaccine." This informational booklet was created with the goal of providing vaccine-hesitant residents in Flint with credible health information related to the COVID-19 vaccine, so they may feel empowered to make the best decision for their health.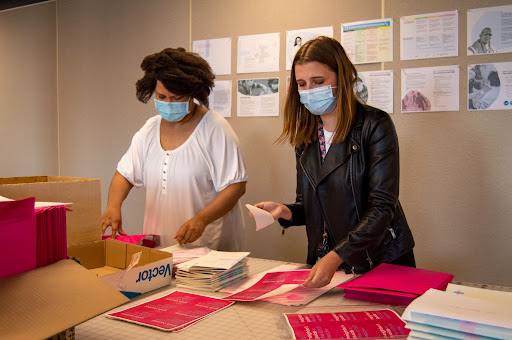 Funding and Development
Work on this project began at the start of this year, funded by the Ginsberg Center Community Engagement Grant as well as the Flint Truth and Action Partnership Project Critical Need Award Program. Associate Professor of Health Science and Administration Dr. Lisa Lapeyrouse submitted a proposal with the focus of supporting COVID-19 vaccine education and was chosen. More specifically, the project sought to understand COVID-19 vaccine hesitancy among high-risk populations for COVID-19, including African Americans, the Latinx community and the elderly.
Lapeyrouse led the project and looked to the innovative minds of UM-Flint students to bring the project to fruition. Lapeyrouse designed her master's level program planning and program design class as a service-learning course with this project as its focus. Lapeyrouse said that through her previous experience in blood donor education, she knew partnering with the students from Community Design Studio would be key.
Led by Associate Professor of Design Ben Gaydos, Community Design Studio is a unique student learning lab for community-led social impact design at the University of Michigan-Flint. In Community Design Studio, students gain practical experience working with non-profit organizations, community partners, and/or self-initiated community projects in Flint and the surrounding region. Over the years, this course has taken on community projects ranging from a pop-up t-shirt shop, a redesigned dementia care wing in an elderly home, a block party, interpretive signage in an eco-park, a neighborhood art parade, and many other projects. This guide was another great opportunity to work and research with community partners and utilize an equitable "human-centered" design process to make a positive impact in the community.
"Community Design Studio is a collaborative, student-run design firm," Gaydos says. "The work we do benefits people in our community, and we work with – not for – our partners to determine design problems and the most appropriate solutions to those problems. Dr. Lapyrouse's approach to engagement and research was in lockstep with the studio's collaborative, community-led design process. We immediately knew we wanted to be a part of such an important project."
Additionally, under the direction of Dr. Kristen Klein, doctoral students from the University of Michigan College of Pharmacy brought crucial clinical insight to the project. Each group of students brought not only their own expertise but a unique outlook on the project. Through collaboration, they were able to make something that none could do alone.
"I believe having the students work interprofessionally helped them better understand their own field as well as their individual skills and talents. In the end, all the students expressed appreciation to one another as well as their community partners," Lapeyrouse says. "I hope this experience impressed upon our students the need for community engagement, teamwork and collaboration when working to address community needs."
Preparing to Engage with the Community
Before students began their research, several guest speakers helped them prepare for working with their community partners and local residents. Ella Green Moton spoke on "Cultural Humility for Building Equitable Community-University Partnerships." Rev. Dr. Sarah Bailey spoke on "Community-engagement strategies for Building Equitable Community-University Partnerships." Lastly, UM-Flint Social Work professor Todd Womack and Patrick McNeal of "Community Roots" spoke about historical trauma and community dynamics in Flint as the socio-political context for understanding COVID-19 as well as vaccine hesitancy among the African American community. Armed with the knowledge and strategies provided by these speakers, students were able to better understand the needs of the community and work closely with residents to develop their action plans.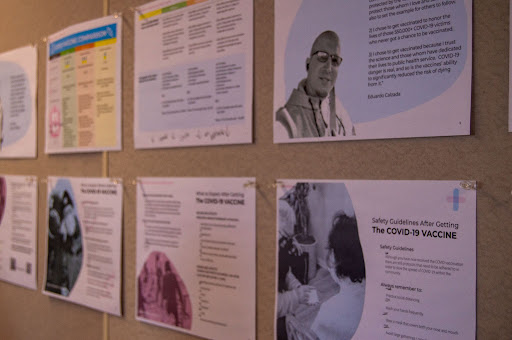 The Creation of the Guide
Teams of students across disciplines were each paired with a community partner who provided guidance and insight about the priority population they would be serving. Community partners included Latinos United for Flint, Shiloh Missionary Baptist Church, McFarland Villages, and Saline Area Senior Center. Students collected needs assessment data using surveys and focus groups among local Flint residents to determine educational needs. Additionally, community residents were interviewed to share why they decided to get vaccinated. Through each group's research, it was found that the educational needs were similar across the three priority populations. With this realization, the group made the decision to create one overarching guide that would contain the information necessary to address these needs. Additionally, the class held several Facebook Live panel discussions on COVID-19 vaccination where community members could address concerns in real-time. Erika C. Xavier de Melo, Community Design Studio student, led the effort to collect testimonials from community members that were then used to create health promotion videos. The content was then translated into Spanish with the help of the LatinX Tech Center.
"I realized we had so much miscommunication about the vaccines at that time, and that [testimonial videos] could help people to make their decisions [by allowing them to] hear from people in their community," says Xavier de Melo. "They had a message to communicate to people, and I thought it was our responsibility to make that happen, and nobody is better to speak to the community than the community itself."
The guides were then designed and printed by students from Community Design Studio, who also created a website for the videos and digital content to be accessible online. It was an effort made possible not only by the talent of UM-Flint students but also by the commitment of community partners.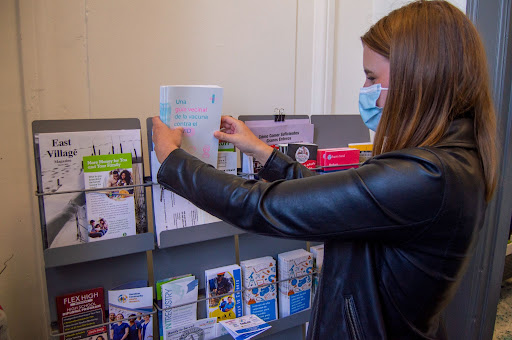 Positive Impact for our Students and Community
All students that participated in this project did so as part of an active class and for university credit, but this project and others like it provide so much more than that. Through this project, students were able to gain valuable hands-on experience in their respective fields. They were also able to practice and further develop skills such as interprofessional communication, teamwork, developing equitable community partnerships, determining community needs through data collection rather than assumption, and more. Additionally, the "Neighbor's Guide to the COVID Vaccine" booklet will be an impressive addition to include in their professional portfolios and an asset in seeking internship and employment opportunities.
"When students know the work they're doing is for actual people, their effort and what they are able to accomplish is so much greater than what I see in my non-service learning courses," Lapeyrouse says. "These types of classes are a tremendous amount of work, but the payoffs for both our students and community make it well worth it."
Contact University Communications & Marketing with comments, questions, or story ideas.