Art Students Create Pop-Up T-Shirt Business on MLK Ave.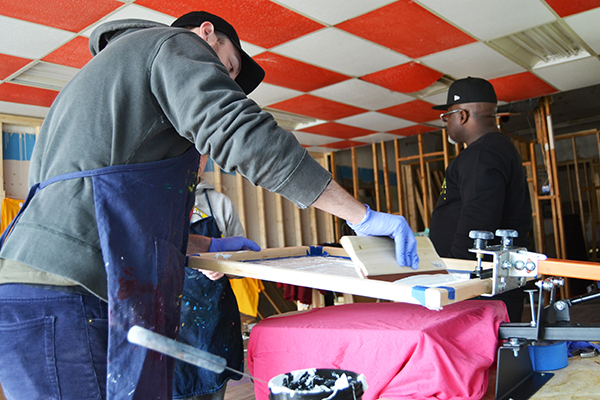 During the Spring-Time Pop-Up Celebration on Flint's Martin Luther King Avenue, students in the College of Arts & Sciences Art & Art History Department held a pop-up of their own. "The Change Machine," a t-shirt screen printing storefront, was created by students in ART 379: Community Design Studio, directed by Associate Professor Benjamin Gaydos.
"The Community Design Studio is a place where students can work on real-life projects with clients," explains Gaydos. "This isn't a simulation; this is a working design studio."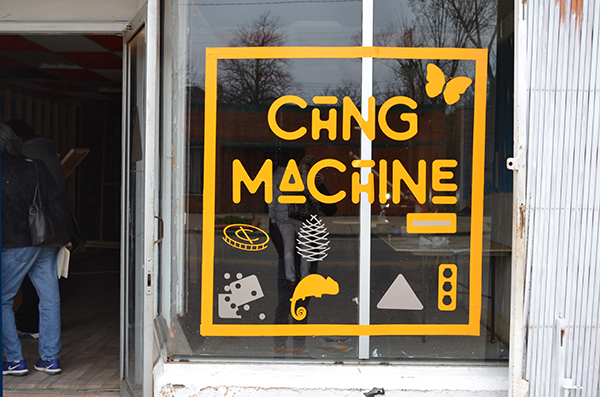 With "The Change Machine," students demonstrated the accessibility of starting a small business like a screen printing shop. Creating t-shirts was just one event in a long line of projects done in collaboration with the City and the MLK Pasadena Business District, however. In March, Gaydos and his students participated in a mapping workshop with the Flint Department of Planning and Development and King Avenue Plus. The studio collaborated with King Avenue Plus and the city's planning team to develop a set of surveys and co-creative mapping tools. Community members were able to share their expertise in improving walkability in the city and assist in designing the final outcome. For example, if a community member felt that more streetlights were needed in a given area, they could indicate that with a designated sticker on a map of the neighborhood.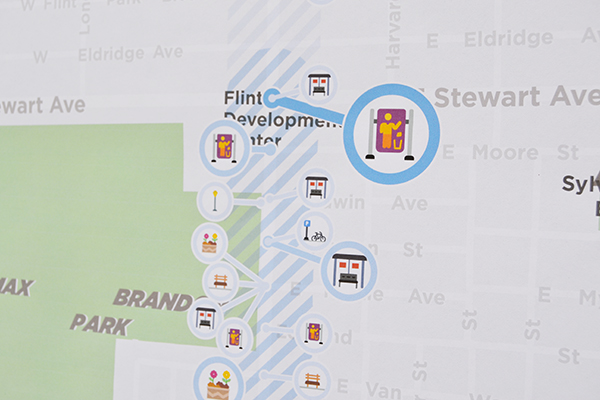 "We were there to help contribute best practices to the process, Gaydos says. "Simple things like having stickers that don't have anything on them, which gives folks in the neighborhoods an opportunity to say that they want things that maybe the city hasn't even thought about."
To help bring their talents to the community, Community Design Studio students were awarded a CAS Opportunity Fund grant for this event, which provided funds for supplies like blank t-shirts, silk screens for printing, and vinyl for signage.
The opportunity to apply her learning is one that junior Art & Design major Stephanie Streeter appreciates.
"It is easy in design classes to make things that don't actually impact anyone and just get a grade. This class is great because you get to see the results of your work in the community," Streeter says.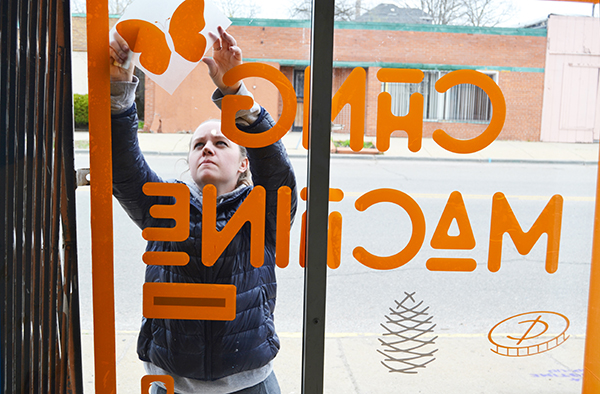 Though this particular event is over, the collaboration between the Community Design Studio and community partners doesn't stop. Building and maintaining those relationships is intentional, and something that Gaydos feels is essential.
"Though this course is scheduled once a year in the Winter semester, we are able to maintain our community partners over many years," Gaydos says. "We hold a lot of workshops and brainstorming activities with our community partners to really understand their needs. That's an important way of designing when you're trying to create a sustainable impact in communities."

Logan McGrady
Logan McGrady is the marketing & digital communication manager for the Office of Marketing and Communication.