UM-Flint goes off-road: Engineering competes in Baja SAE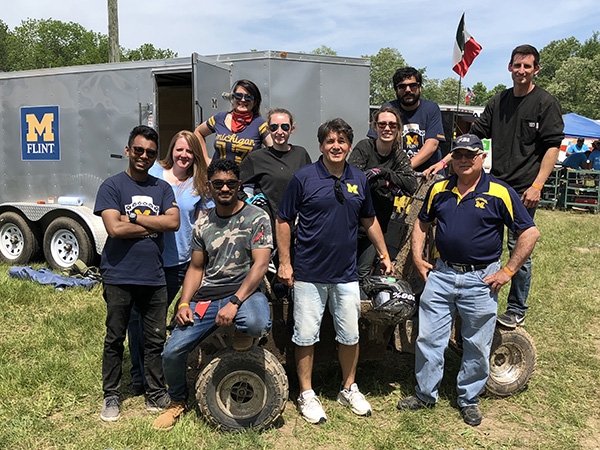 UM-Flint students recently traveled to New York, meeting hundreds of like-minded students and faculty at the Rochester Institute of Technology. However, they weren't there to attend a lecture. The team of College of Arts & Sciences Engineering majors was there for off-road racing. Baja SAE Rochester pitted UM-Flint against 96 student teams from across the globe.
What is Baja SAE?
The Baja series challenges students to "design and build an off-road vehicle that will survive the severe punishment of rough terrain." Organized by the Society of Automotive Engineers (SAE), each team uses the same model of a ten-horsepower engine to place the competitive emphasis on the vehicle's design and team's creativity for speed. Several events make up the competition, including a sales presentation, hill climb, acceleration test, and four-hour endurance race.
UM-Flint's path to Rochester
The students started preparing in fall 2018, with the construction of the vehicle's frame, which was completed in March. UM-Flint's team spent the remaining months assembling the car and tuning it for competition.
"We had initially planned to have the frame physically completed by the end of the fall semester," said Marcie Lueck, mechanical engineering junior and UM-Flint SAE student chapter president. "That didn't happen, so our build schedule was delayed pretty significantly."
The team pulled together, however, and was ready to make the trip in June.
"There were a lot of really dedicated and awesome individuals that worked on [the car] this year," added Lueck.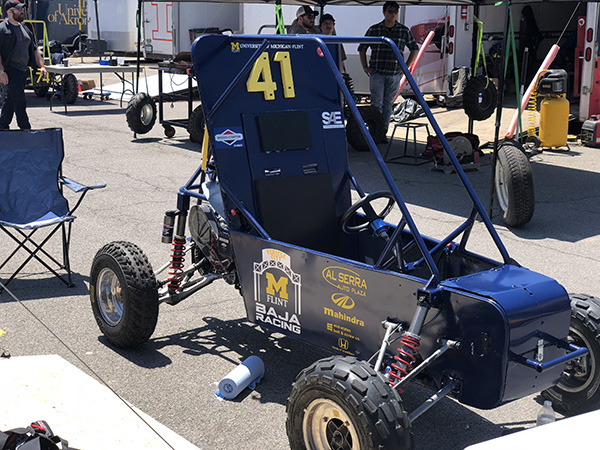 Adaptability and Progress
UM-Flint had only competed in Baja once before, and this was the current team's first foray into the event. This lack of experience put the team on its back foot during the technical inspection.
"We discovered that the frame didn't quite meet all of the requirements in the rules, so we had to weld a few additional bars on in order to meet those specifications," said Lueck.
Displaying great resilience, the team made the necessary modifications to enter their vehicle, forgoing two events on day three to make the design competition-ready.
Despite not competing in two events, UM-Flint placed 87th out of 96 teams; in the marquee endurance race event, they finished 79th.
"The SAE Baja series is not just about building and racing a car," said Lueck. "It's about designing, planning, and coming up with a sales and manufacturing plan for a product using proper engineering practices. Participating in Baja offers students a chance to gain both hands-on and practical engineering experience.
"It's also a great opportunity to get to know other students in the program. I personally made a lot of friends through my participation in the Baja club and met several more from across the country while at the competition this year."
Logan McGrady
Logan McGrady is the marketing & digital communication manager for the Office of Marketing and Communication.