Million-dollar grant awarded to School of Nursing will improve care for sexual assault survivors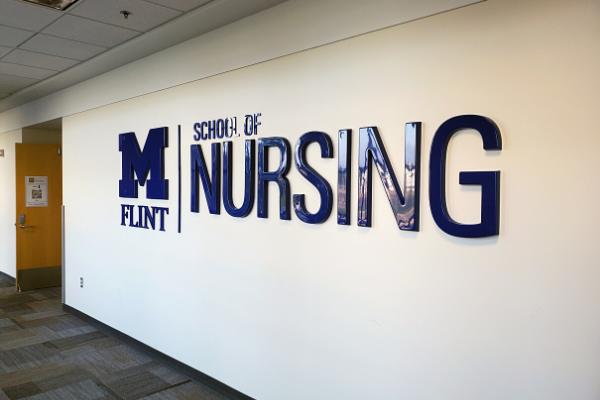 Many communities across Michigan lack trained and qualified sexual assault nurse examiners (SANEs) who are equipped with the skills and competencies necessary to perform forensic exams, especially in rural areas. Thanks to a $1.2 million grant from the Health Resources and Services Administration, two UM-Flint nursing professors are looking to change that.
When Associate Professors of Nursing Carman Turkelson and Megan Keiser learned of this opportunity last November, they knew they had the skills to help. To get started on a grant proposal, the pair reached out to their local communities to uncover the barriers and shortcomings within the current system.
"We asked ​​'What do you need? What is missing? And what kind of program would help you?' So really the way we wrote the grant was based on what our community partners told us was a need," Turkelson says.
They learned that nurses who go through a SANE training course then need to have opportunities to practice the skills they learned in order to become certified, which poses a big challenge.
"Sometimes it could take months or a year for nurses to get practice and in the meantime, their skills or their knowledge has decayed. They may even decide to no longer be a SANE nurse just because there's been such a gap between having the content and actually being able to put it into practice," Turkelson says.
To solve this problem, Turkelson and Keiser turned to simulation, a tool they've employed in their classroom for years to help improve patient care outcomes and safety.
"Using simulation we're able to mimic things that would happen in real life, but without putting a patient or an individual at risk. And it also provides the opportunity for the learner to get feedback, guidance, instruction, and reflect on what happened. From there, you can take what you did in that simulation setting and apply it to the patient care environment," Turkelson says.
Sexual assault exams typically last four hours and are extremely intimate. For that reason, many nurses who receive training find it difficult to get practice. Those who are trained and certified are few and far between. In fact, some rural counties have no SANE nurses, meaning a single SANE nurse might cover five counties and drive hours to see an assault survivor.
When a SANE nurse is unavailable, a non-SANE trained health care provider does the exam following a checklist. This can have lasting consequences for the assault survivor from a mental health and long-term health standpoint. In addition, if exams aren't performed a certain way, it could jeopardize legal proceedings. Thus, an increased number of SANE nurses in the area improves the outcomes for sexual assault survivors.
Turkelson and Keiser's program will give nurses who already have training the opportunity to practice their skills, as well as a full training option for nurses who have no prior experience. These courses will include online classes and an on-campus simulation experience that will utilize standardized patients, mannequins, pelvic monitors, and brand new Holo Patient technology. Using this new technology, a student and teacher each wear a HoloLens, allowing them to view the same patient and practice skills.
"By creating this kind of immersive experience, it will be another way that we can facilitate learning," Turkelson says.
In Fall 2022, Turkelson and Keiser will welcome their inaugural group of students to the program. The goal is to recruit 25 nurses with no prior training and 10 nurses with prior training from Genesee, Alpena, Lapeer, Sanilac, Shiawassee, and Tuscola Counties due to the reported lack of SANE nurses in those communities, although nurses from other counties are also welcome to join the program. Grant funding support will preferentially be given to nurses in rural areas and may help cover tuition, travel time, the certification exam, supplies, and more.
SANE nurse retention is also a focus of this program. To help retain qualified professionals, Turkelson and Keiser will build in a mentorship initiative that allows current SANE nurses the opportunity to practice their skills, be with like-minded professionals, and access much-needed support. The pair hopes that these factors, combined with adding more SANE nurses, will help ease burnout in the field.
By the end of the grant cycle, Turkelson and Keiser intend to add at least 50 newly trained and certified SANE nurses and 20 nurses who had prior experience but were previously uncertified to the Michigan workforce. The professors plan to continue offering courses even after the grant cycle is over, preparing more SANE nurses to help serve Michigan communities.
"We're so excited that we can actually take what we've been doing in simulation for all these years and use it to inform a program and a grant that's going to ultimately positively impact the communities that we teach in and that we grew up in," Turkelson and Keiser say.
Makayla Phillips is a Communications Assistant with the Office of Research and Economic Development.