UM-Flint Model UN team takes home award at first conference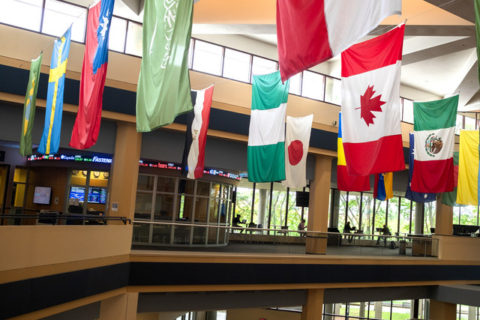 The University of Michigan-Flint Maize Model UN team won the Small School Award at the team's very first conference.
At the Lake Erie International Model U.N. Conference in November, a virtual event, the team of three students took home the top award for teams smaller than 10 participants.
"This team was started just this past summer, in the middle of the COVID-19 pandemic," said Gregory A. Laurence, Ph.D., the team's faculty advisor and Professor of Management. "To be able to come together so quickly and to produce a result like this with fairly limited formal preparation time and no 'institutional memory' is a real feather in the students' caps."
The team was formed in summer 2020. Model UN is a competitive academic middle school, high school, and collegiate sport where student delegations represent countries in a mock simulation of the UN and its several bodies, such as the General Assembly and the Security Council. UM-Flint's team has seven members.
Maize Model UN Team President Donald Weismiller said the team's first conference was a bit overwhelming as they went up against students who had participated for years. For this conference, the UM-Flint team was put into several simulations of the U.N. Security Council.
At the Model UN conferences, there is a chairman who moderates the session. Delegates request to set the topic, speak, and have caucuses to discuss specific topics related to the agenda topic. Weismiller said the Maize Model UN Team's Security Council simulation, they spent the first day discussing the Crisis in Ukraine. Because of Russia's involvement, the rest of the Security Council feared a Russian veto to any resolution they could vote on. They shelved the Ukraine resolution and moved on to discuss terrorism on day two. Then, they were able to pass a resolution that addresses global terrorism. The final session was about coronavirus response.
After the successful first conference, the team is working on practicing what they learned, looking for it's next conference in the winter, and focusing on growing its membership.
Students who are interested in joining Model UN can contact either Ramirez-Medina at feramire@umich.edu or Weismiller at dweismil@umich.edu. There is no prior Model UN experience necessary to join, and the Maize Model UN team is open to all UM-Flint students.
Lindsay Knake
Lindsay Knake is the Communications Coordinator for the UM-Flint Division of Student Affairs. Contact her with any questions, comments, or ideas about the DSA newsletter, social media, events, and communications.