UM-Flint students start Model UN team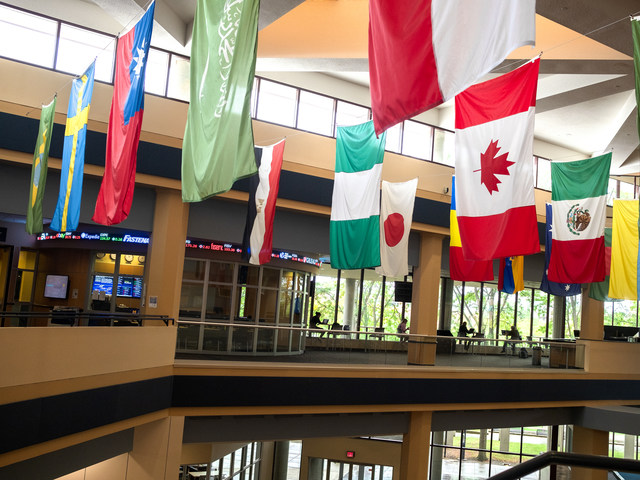 The University of Michigan-Flint is now home to a Model United Nations team.
Model UN is a competitive academic middle school, high school, and collegiate sport where student delegations represent countries in a mock simulation of the UN and its several bodies, such as the General Assembly and the Security Council, said Don Weismiller, a senior studying political science with minors in International Relations and Global Studies. Student delegates engage in speech writing, coalition forming with other delegates, and acting in the interests of the country they are representing. Students are judged at competitions for how well they participated, what they said, how they said it, and so on.
National Model United Nations began in 1927 as a simulation of the League of Nations. In 1943, it transitioned to Model UN. Since then, Model UN has grown to about 180,000 students in the United States alone.
Weismiller got the idea from a high school student who asked if UM-Flint had a Model UN team. Fellow UM-Flint student sophomore Fernando Ramirez-Medina was interested, and they started working on the team in February.
Dr. Greg Laurence, Associate Professor of Management, is the team's faculty advisor. Laurence has been involved with Model UN since he was in high school and has served on the Board of Trustees of the nonprofit Lake Erie International Model United Nations Corporation since 2010.
"Skills that students learn include teamwork, group decision making, public speaking, critical thinking and problem solving, and development of precise written language. The thrill of coming together with students from across the region and country to debate and develop solutions for the problems of the day is an exhilarating experience," he said. "Given the world we live in, students from across majors and colleges/schools at UM-Flint can all find something interesting within the Model UN framework. For example, COVID-19 is a key international issue and so students studying public health and health care administration should be just as interested in related topics as students studying political science and international affairs."
The Maize Model UN team started meeting in April and meets via Zoom every other Friday.
There are four full-time members of the team and six who are contemplating joining. Weismiller aims to recruit eight members for the team's first Model UN conference in November.
"We practice representation by assigning everyone in the club a country of their choice to represent," he said. "Every meeting, we share news updates and have discussions on certain topics representing the perspective of our assigned country. Our meetings are open to anyone."
For example, Weismiller represents Russia, while Ramirez-Medina represents France.
A recent meeting was about the past, present, and future of nuclear weapons and proliferation.
Students who are interested in joining Model UN can contact either Ramirez-Medina at feramire@umich.edu or Weismiller at dweismil@umich.edu. There is no prior Model UN experience necessary to join, and the Maize Model UN team is open to all UM-Flint students.
Lindsay Knake
Lindsay Knake is the Communications Coordinator for the UM-Flint Division of Student Affairs. Contact her with any questions, comments, or ideas about the DSA newsletter, social media, events, and communications.