UM-Flint maps resources for area residents amid COVID-19 pandemic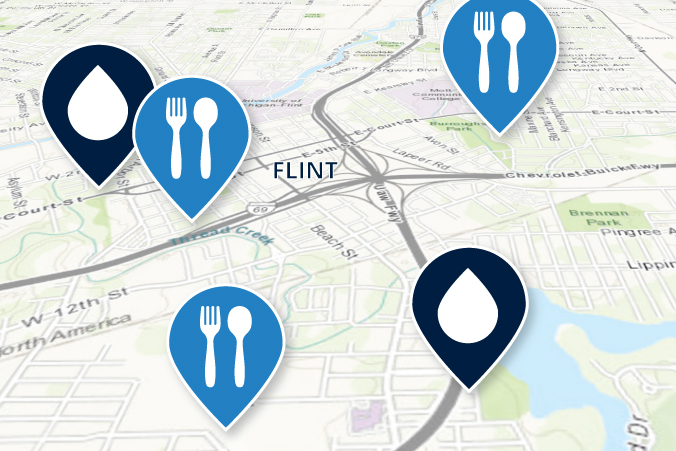 At the University of Michigan-Flint, faculty and staff are working hard to answer questions people may have about the COVID-19 pandemic. Their expertise has been shared in recent stories covering job searching, talking with children, working remotely, and remaining connected with our friends and loved ones during the coronavirus pandemic.
But what about the questions that Flint and Genesee County residents have about basic needs such as food, health care, or education?
Those are some of the questions being addressed by University Outreach on their Genesee County COVID-19 resources map.
"The goal of this map is to provide residents of Flint and Genesee County with a site to find all of the COVID-19-related resources available to them in one place," said Paula Nas, director of University Outreach. "We are collecting as many resources as we can related to food, health, education, small business assistance, and more so that residents can easily find assistance during this pandemic."
Listings on the map were sourced from the City of Flint, State of Michigan, Genesee Intermediate School District, and from area residents that offer local resources to add to the map through a submission form.
"We try to be as inclusive and extensive as possible when adding resources to the map," said Troy Rosencrants, manager of UM-Flint's GIS Center. "For instance, the map has the school districts' food distribution locations for youth, including times and how many meals will be handed out, in addition to other food pantries and water distribution sites."
"And we will be adding more resources, such as pharmacies, health clinics, and grocery, restaurants, and other businesses that are still open, all while keeping updated on the current resources," he added. "Our goal is always to make helpful information easily accessible for those that need it."
The COVID-19 resource map is the latest example of work being done by the GIS Center to collect information for the good of the region. The center worked to produce a similar map of resources during the Flint water crisis and is currently involved in a project to help ensure that Flint and Genesee County residents are responding to the 2020 Census.
"The staff that works with the GIS Center have a great deal of expertise that they are willing to share for the benefit of our region," said David Mérot, senior project manager in University Outreach. "The University of Michigan-Flint has always been a strong partner in this community, and we'll continue to share our expertise for the public good as long as it's needed."
Contact University Communications & Marketing with comments, questions, or story ideas.