Students promote action against climate change with "Dollars and Sense" marketing campaign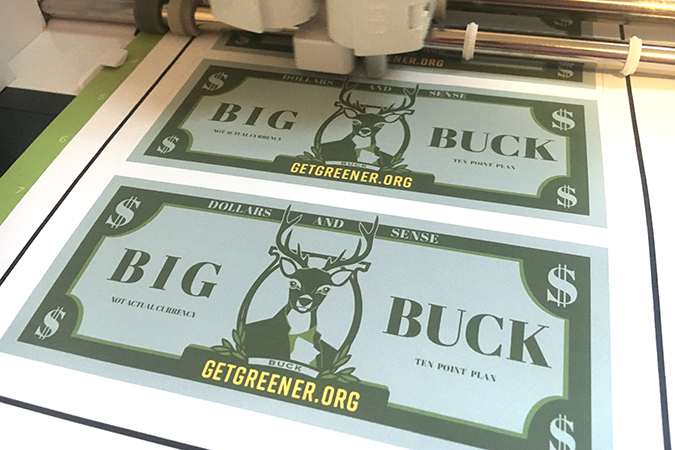 The ability to make a positive impact on climate change is not limited to large corporations or national governments. Eight students in the Department of Art & Art History have used their design skills to create a marketing campaign that promotes common sense ways all of us can reduce daily expenses—and our carbon footprint.
The "Dollars and Sense Climate Action Initiative" was developed during the Fall 2019 semester as part of ART 406: Branding Design. Led by Assistant Professor Andy Deck, students were tasked with the creation of a public service announcement campaign. The class chose climate change as their issue, approaching the topic in a unique way.
Rather than focusing on the big picture and long-term implications of climate change, the PSA simply provides a 10-point plan for saving money on a daily basis. One tip, driving an electric vehicle, does not highlight the harmful effects of burning fossil fuels; instead, it draws attention to the $7500 tax break one can receive from the federal government for driving electric. Reducing carbon emissions is a natural consequence of following the campaign's advice, but not the motivation provided for doing so.
Once the plan was developed, the group of eight students worked to put it into action. A mascot, "Big Buck," was developed to make the campaign relatable and visually interesting. Posters were created and screen printed on campus by students. Stickers, t-shirts, and social media posts were developed as well.
Alongside these more traditional strategies was a guerrilla marketing initiative playing on the theme of "Dollars and Sense." Fake wallets were created (who isn't motivated to pick up a wallet, hopefully, to return it), the contents of which were "Big Buck" faux money with the 10-point plan on the reverse side.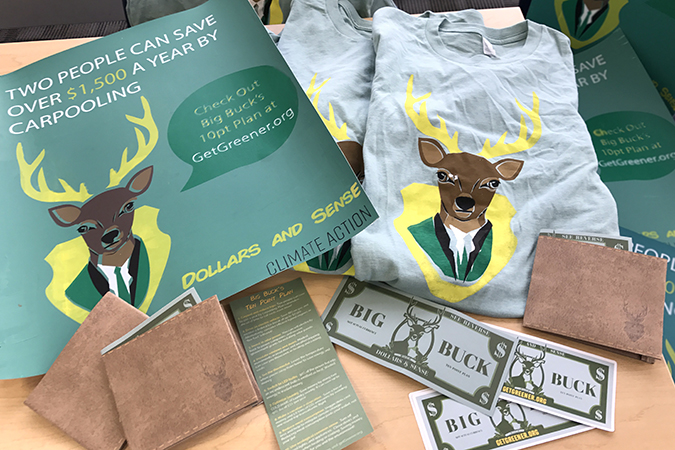 "We researched common PSA campaigns that we would be familiar with. One, in particular, was Smokey the Bear and forest fires," explains senior Visual Communication major Codi Green. "We thought maybe our campaign could be character-driven, too, and together we came up with Big Buck. Big Buck would tell us how to save a buck on our energy bill!"
Working on projects that can be implemented outside of the classroom is a hallmark of the Department of Art & Art History. In Deck's ART 335: Web Design course, the class worked to create a website for the Flint-based Zohaar Women's Shelter. Working in groups and in collaboration with community partners provides valuable experience for students.
"This is a fairly realistic way that our students might find themselves working on a campaign in a professional context. They have to coordinate things like their color palette, the fonts they are using, and the illustration qualities they are using in their different products. There are a lot of ways in which this class resembles a real marketing agency," explains Deck.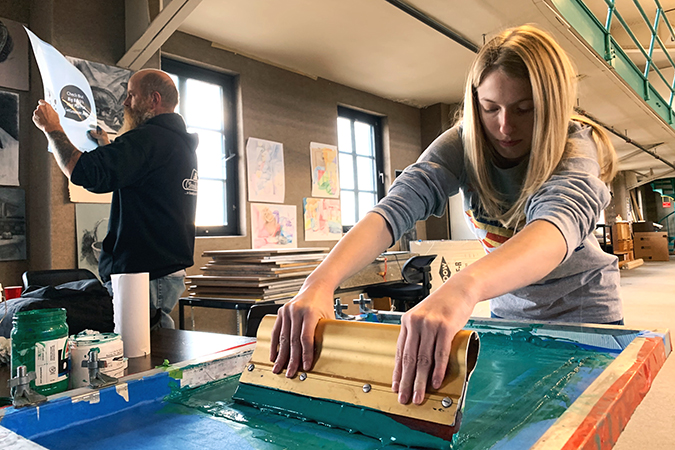 Projects such as these provide more than an opportunity for students to hone their design skills. They exemplify the creative and flexible nature of education at UM-Flint, one that prepares students to succeed as responsible citizens in a complex world. In fact, this project is related to innovative programs in Climate Design that are currently being developed by an inter-disciplinary team consisting of Andy Deck and Benjamin Gaydos of Art & Art History, Victoria Morckel of Political Science, and Greg Rybarczyk of Sociology, Anthropology, and Criminal Justice.
"This design work is related to a new multi-disciplinary Climate Design program that is in development for UM-Flint. Like this project, the new programs invite solutions to urgent climate change problems," Deck says.
"These proposed BA, minor, and certificate programs will prepare students to be trailblazers in this emerging field that merges art and design, climate science, social science, and urban planning. It will create a niche for students who want a results-based approach to climate pedagogy."
Logan McGrady
Logan McGrady is the marketing & digital communication manager for the Office of Marketing and Communication.