DEI Committee setting action plan for UM-Flint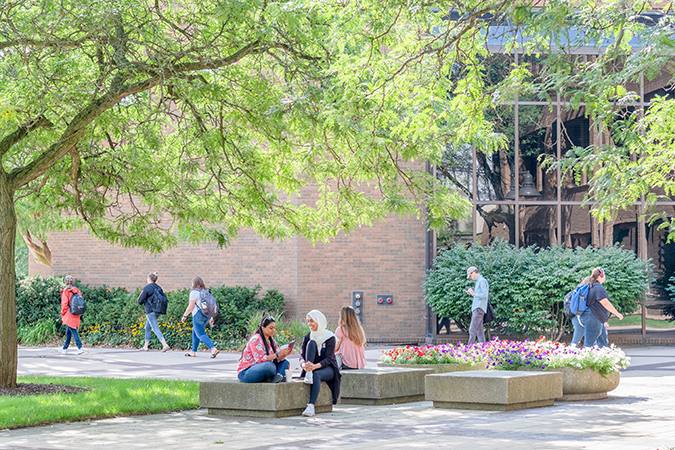 The University of Michigan-Flint is bringing together students, faculty, staff, and administrators from across the university to increase diversity, equity, and inclusion on campus.
The university launched its Diversity, Equity, and Inclusion (DEI) Committee in December 2019, and the members are now creating short- and long-term goals in a multi-faceted action plan for UM-Flint.
"The University of Michigan is well known for excellence in many dimensions. And at the University of Michigan-Flint, we recognize that our commitment to excellence for Flint, the state of Michigan, and the region is inseparable from our continuous efforts to become more diverse, equitable, and inclusive," said Dr. David Luke, interim Campus Diversity Officer and director of the Intercultural Center. "This means identifying and removing structural barriers connected to racism, homophobia, misogyny, or other forms of oppression, and looking to new and innovative ways to ensure that every member of our community has a chance to succeed."
Faculty from each school and college, university division, faculty and staff councils, the undergraduate and graduate student bodies, and the Provost's Office comprise the committee. Luke and Dr. Jan Furman, professor of English and director of the Master of Arts program in Liberal Studies, are co-chairing the committee.
The guiding vision for their work, said Furman, is an affirmation of shared humanity in an intellectually vibrant community of diverse students, staff, faculty, and administrators. Furman and Luke will report the committee's progress to Chancellor Deba Dutta and the UM-Flint Cabinet.
The committee started meeting in January. Members are assessing the current DEI landscape to make immediate changes in their respective areas. The DEI Committee has requested an audit from units across campus to catalog and organize all current DEI efforts at UM-Flint. That information will be shared with the campus and used to identify goals for the committee's four planning domains: (1) Recruitment, Retention & Development; (2) Education, Scholarship & Curriculum, (3) Equitable & Inclusive Environment; and (4) Service, Outreach & Engagement.
DEI Committee members are focusing on achieving short-term goals while planning long-term for UM-Flint, Luke said. Among other university documents and related information, including direct feedback from the campus community, members are looking at themes from the 2016 Campus Climate Assessment Survey to develop a draft action plan by Spring/Summer 2020. The review process will include an open comment period for all community members to share insights and provide feedback. The draft plan will be posted to the DEI web page during the open comment period.
Furman and Luke will lead the DEI Committee to partner with key campus members and external constituents to identify training and development initiatives and cultivate learning and work environments in areas such as cultural competency, gender differences, disability, power and equity issues, inclusion, and other topics designed to increase awareness and support DEI values.
In recent weeks, Furman and Luke have met with a number of faculty, staff, and student committees and organizations to discuss the DEI Committee aims and gain valuable insights from these campus partners. These collaborations will continue, and meetings with other groups are being planned. Furman and Luke both emphasize the importance of hearing the ideas and insights from people throughout the campus in this initiative.
The committee is actively seeking input from the campus community. Anyone can share their thoughts with the committee members, while information about the meeting minutes, resources, and more are available on the DEI Committee web site.
Lindsay Knake
Lindsay Knake is the Communications Coordinator for the UM-Flint Division of Student Affairs. Contact her with any questions, comments, or ideas about the DSA newsletter, social media, events, and communications.