Regents approve $3.4 million renovation plans for William S. White Building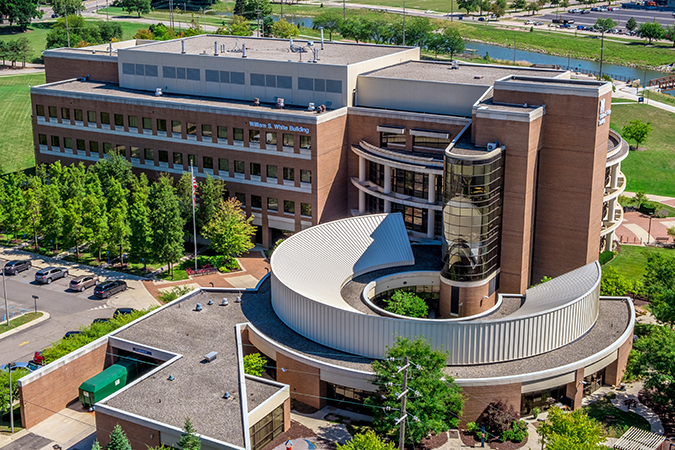 The Regents of the University of Michigan approved designs for renovations to UM-Flint's William S. White Building at their monthly meeting on March 26, 2020.
The planned changes to the White Building will further boost multiple programs at UM-Flint within the School of Nursing (SON) and the College of Health Sciences (CHS).
The renovations include a new physician assistant teaching lab, an expanded health assessment center, nursing simulation center updates, physical therapy lab and research upgrades, computerized and active learning classrooms, and additional office support spaces, according to UM-Flint design project manager Ryan Craven.
"These renovated spaces will provide more room for growth within our healthcare-related programs while providing a more modern approach to learning, maximizing classroom efficiencies, and improving the overall building atmosphere," said Craven. "The renovations will incorporate modernized building systems for improved energy efficiency and management as well through mechanical and electrical designs."
SON Dean Dr. Margaret Andrews detailed some of the planned changes, including an "on-campus health assessment laboratory, a 60-station computer classroom, and a contemporary, flexible, multipurpose instructional space specially designed to promote effective communication, teamwork, and students' active engagement in their learning."
"The new spaces will enable the School of Nursing to keep pace with continued, sustained enrollment growth in all of its bachelor's, master's, doctoral, and post-graduate certificate programs," Andrews said.
CHS Dean Dr. Donna Fry said the renovations are highly beneficial for multiple programs.
"Renovation of this space allows the College of Health Sciences to now offer the first University of Michigan Physician Assistant and Occupational Therapy programs to support health care needs in our region," said Fry. "These programs are designed to offer students a high-demand, top-caliber education on the UM-Flint campus."
The first classes began last fall for the university's Occupational Therapy program, which became the first entry-level Doctor of Occupational Therapy program in the state of Michigan. Classes begin January 2021 for the Masters of Science, Physician Assistant program.
The estimated cost of the project is $3.4 million, with funding provided by UM-Flint resources. Construction is expected to be completed in winter 2021. The building will remain open during the project.
Contact University Communications & Marketing with comments, questions, or story ideas.