UM-Flint to add Physician Assistant Department in College of Health Sciences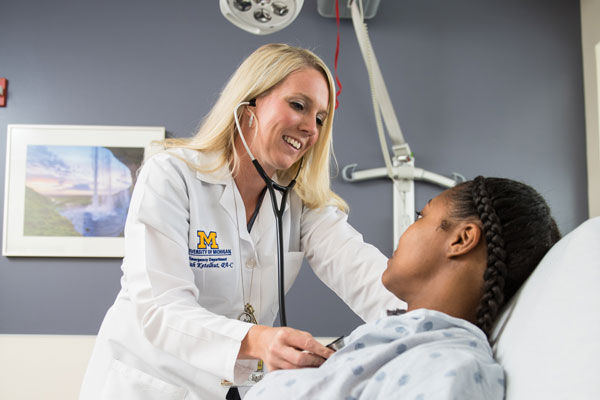 The University of Michigan-Flint will add a new Physician Assistant Department in the College of Health Sciences October 1, as the campus prepares for a Master of Science Physician Assistant (MSPA) program, slated to launch in June 2020.
The MSPA program will be the first physician assistant program offered at any of the three University of Michigan campuses. The new physician assistant department also will serve as the foundation for the future growth and expansion of related academic offerings.
"This is another great example of UM-Flint being responsive to our region's workforce needs," said UM-Flint Chancellor Susan E. Borrego. "In conversations with local health-care leaders, the need for more physician assistants was referenced consistently. We are pleased to offer such a program that will help fill the gap in this area for hospitals across the region and state."
The new program will enroll 40-50 students per cohort in the 27-month program. UM-Flint has seen a sizable spike in interest for its health sciences programs, which has led to the expansion of programming in the College of Health Sciences over the past few years.
Once the MSPA program is well-established, the college plans to add post-graduate residency programs and joint programs with UM-Flint's Master of Business Administration and the Master of Public Health.
In addition, the College of Health Sciences plans to include physician assistant participation in a joint doctoral program with other departments that will be proposed within the next few years. Additional faculty will be added to the department as these programs are developed.
"This is a really good complement to the other programs we offer, giving our students a wider array of educational pursuits in the health sciences," said Donna Fry, dean of the College of Health Sciences. "We are aligning ourselves closely with Michigan Medicine, and in fact, will soon post a position for the medical director of our MSPA program."
Contact University Communications & Marketing with comments, questions, or story ideas.